LAS VEGAS — What happens in Vegas stays in Vegas — especially if it's TV-related.
On Tuesday, I swung by the famous Gold and Silver Pawn Shop featured on Pawn Stars, now in its 10 year on History Television. The series — seen in Canada on Corus' History specialty channel — has taped over 500 episodes and shows no signs of slowing down.
Pawn shop owner Rick Harrison and store sidekick Chumlee made time for an interview. I brought along three antiques for them to evaluate — my high school buddies Rob and Pat Bullock and Dave Kerwin (above). Like a lot of the stuff brought into the pawn shop, they barely work and run a little slow.
The boys came in handy, though, as we all sat around a table asking questions. Rob wanted to know if there was anything brought into the store over the years that Rick simply refused to buy. "Nazi stuff," said the owner with a grimace.
A voracious reader, Harrison has a great memory for facts and figures and when he gets stumped in the store as to the value of an artifact, he calls in an expert. He's already become an expert on television.
"Gunsmoke did 635 episodes, The Simpsons in closing in at over 600, Lassie 547, then there's us at 511," he said. "Who knew Timmy fell that many times into a well on Lassie?"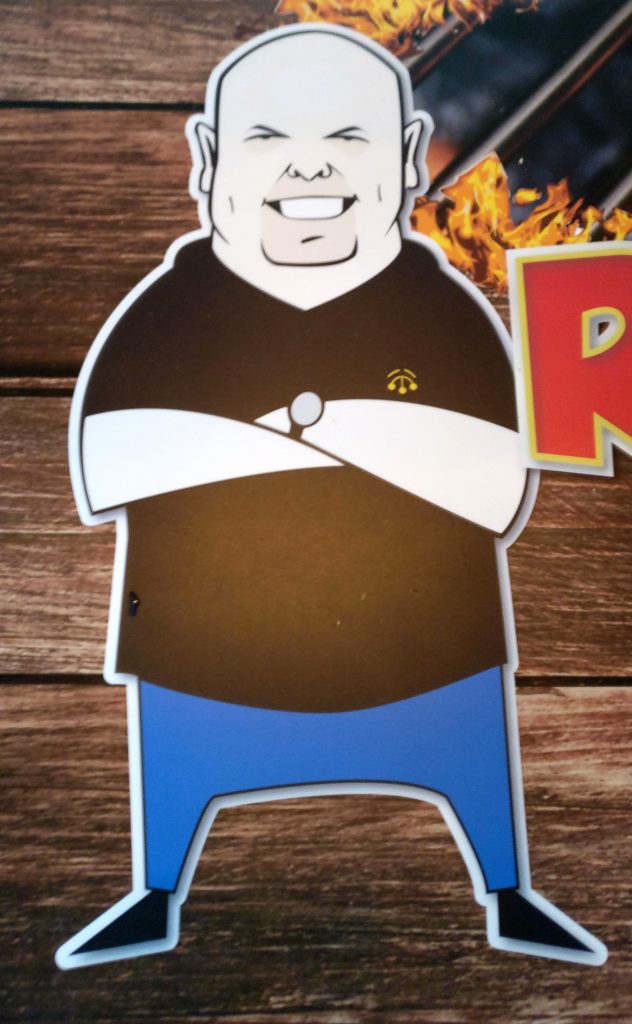 The series is exported into over 100 territories worldwide and is dubbed in over six languages. Rick and Chumlee have extended the business into new directions, opening a compact little rib eatery and a candy shop in a container mall at the other end of the parking lot. Chumlee joked (I think) that the reason his candy shop was on the small side was that "Rick is soaking me for rent." The rib joint offers some delicious baby backs by the way, all tested by my always hungry cuisine crew.
Pawn Stars recently teamed with the newest stars in town — the Vegas Golden Knights. Chumlee recently shot a promotional segment  for the NHL's newest franchise where he was padded up as a goalie and turned into a target. "I stopped a few," says Chumlee, who does not skate and stood in the crease with his boots on the ice.
Unlike a few stray pucks, success doesn't seem to have gone to their heads. Chumlee has a few more tats since I last interviewed him in 2012, and Harrison a few more cars and bikes, including a newly restored 1947 Dodge truck.  Their clothes for this meeting, however, were even more pawn shop casual than ours — and that's setting the bar mighty low.
The shop remains one of Vegas' top tourist attractions and is a popular stop on the Big Bus Las Vegas Hop-On Hop-Off tour. It's about a mile or two off The Strip; just follow the colourful little wedding chapels till you see the gold and silver sign.