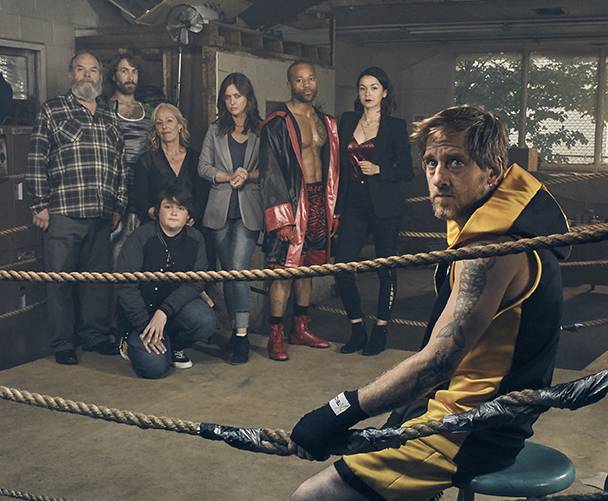 Joel Thomas Hynes has been punching beyond his weight for a while now. No matter what ring he steps into — novelist, screenwriter, actor, musician, director — he seems to shine.
The 41-year-old Newfoundland native finds an apt outlet for most of his talents with Little Dog, a black comedy premiering Thursday at 9 p.m. ET on CBC. The series opens with welterweight boxer Tommy "Little Dog" Ross (Hynes) spitting out his mouth guard and committing a major ring no-no by quitting mid-match and walking away from an opponent.
Shame and ridicule rain down from the outraged on-lookers in the stands. That's nothing compared with withering disdain and contempt that hits Ross like a right cross from the members of his own highly dysfunctional family.
The biggest punch to the gut comes directly from Ross' frosty and self-centered mother Sylvia, a failed lounge singer. played through clenched teeth by Irish actress Ger Ryan. She never misses an opportunity to put her son down, to his face, to her family, to the media.
The rest of the brood fall in line. Tommy's do-nothing brother "Lowly" (Stephen Oates) revels in his "mom-always-liked-me-best" status. Sister Ginny Katharine Isabelle) offers nothing but cold shoulders.
The only family member in Tommy's corner is Ginny's son, young nephew Chelsey, played by wide-eyed newcomer Billy Cochrane. The character reminds me of that kid from "About a Boy" only a spec older and much thicker between the ears.
That role was originally supposed to go to Percy Hynes White, the teenage son Hynes shares with Little Dog showrunner, co-screenwriter and frequent collaborator Sherry White. (Percy had to turn down his parents' TV offer when he landed a role on the Marvel X-Men Fox series The Gifted.) Hynes and White split up 10 years ago but still like each other enough to make TV shows together. Now there's their next black comedy.
Unlike those tourist ads for Newfoundland and Labrador, Little Dog won't make you want to book a vacation to Gros Morne National Park. The series explores some of the seedier parts of St. John's. There's a grittiness to scenes indoors and out that adds atmosphere and authenticity.
There is also a world of hurt and weariness in Hynes' worn-beyond-his-years features, especially his battered blue eyes. They've seen a lot of pain and rejection, in and out of the ring.
The seven-episode series is all about family and second chances, not the most original idea for a TV show, but Little Dog bobs and weaves and earns its shot. As Sylvester Stallone did as "Rocky," Hynes trained hard to get his body in shape for the ring scenes, including sparring with a real professional boxer. Everything tilts towards an inevitable rematch, and viewers will root for this Dog to finally get his day. Keep your head up though — there are plenty of fake outs and surprises.
Read more about Hynes and Little Dog here at this feature I wrote for The Canadian Press.