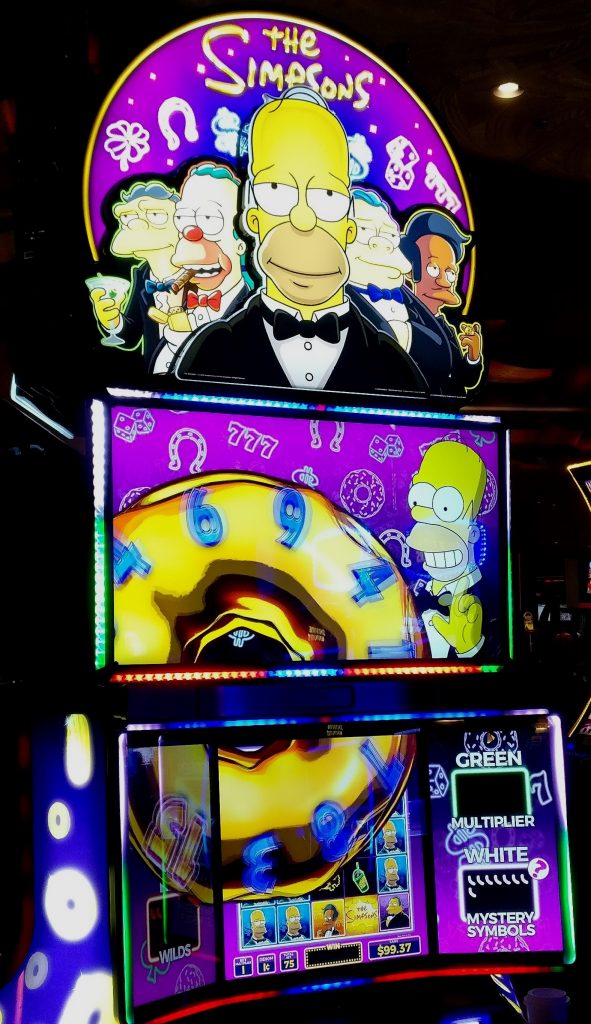 LAS VEGAS — Playing slots is a lot like watching television. Both require sitting on your ass and pushing buttons.
So it's no wonder TV show graphics are on many of the slot machines found in Las Vegas casinos. Even The Simpsons –noticeable by its absence in casino slots the last time I visited Vegas in 2013 — is now a brightly lit presence in various venues along the strip. Homer, Krusty, Moe and Apu are prominently displayed on large machines where donuts are turned into dollars.
I asked a Simpsons producer about gaming tie-ins a few years ago and was told the series had always turned down slot machine marketing. I guess everything eventually has its price in Vegas.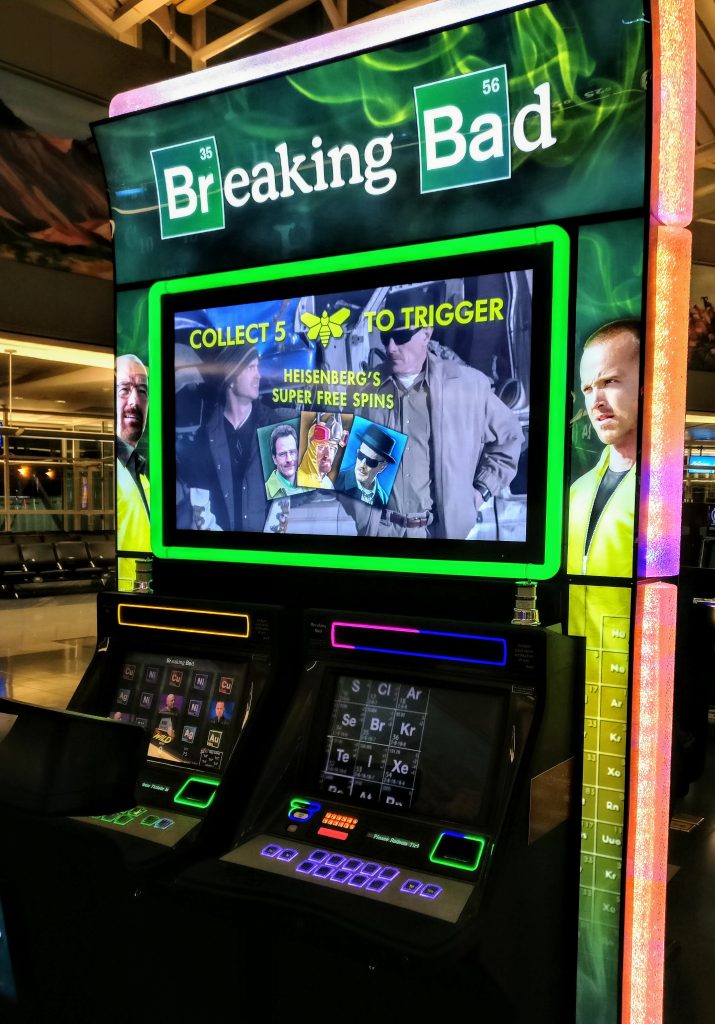 TV's biggest hits all seem to be part of the slot machine landscape. There are many large Game of Thrones machines in the Wynn hotels and casinos as well as in Caesar's Palace and The Mirage. The Walking Dead no longer applies just to the customers at The Flamingo or at Treasure Island.
Even at the new Vegas airport terminal, a huge Breaking Bad machine stood near by the Air Canada gate. How did that get past customs?
One of the most ubiquitous slot machines is decorated with large portraits of daytime talk show host Ellen DeGeneres. Sweet Betty White lures customers to her "Tall Tales" slot terminal. The Sharknado machines feature portra
its of Ian Ziering, David Hasselhoff and Tara Reid as well as tanks of propane with smiley faces on them. These can even be found downtown in the older casinos such as the Golden Nugget and the Four Queens.
Netflix is represented now in Vegas. One of the largest slot machines I saw featured portraits of five of the stars from Orange is the New Black.
Some older shows remain in casinos long after they've left the air. There's a big bank of Sex and the City machines, usually grouped in four, in every casino in town. Landing on Mr. Big seems to pay the most.
Reality shows are also part of the landscape. There are American Idol machines with big screens featuring former winners, The Amazing Race has a slot tie-in, as does Survivor, which features portraits of long ago favourites such as Jerri Manthey and Rupert Boneham. Gone, however, are machines featuring Deal or No Deal, which were everywhere just five years ago.
The Pawn Stars, of course, are immortalized in gaming. Rick Harrison says he was sitting in a bar with son Corey ("Big Hoss") when a slot machine manufacturer at the next booth couldn't help overhear several of Hoss's wisecracks. A meeting took place right there in the diner and a year later the Harrisons plus Chumlee were immortalized in neon and chrome.
There are also a few golden oldies featuring shows from the '50s, '60s and '70s. A colourful Wonder Woman machine  onside Treasure Island featured both Lynda Carter and Lyle Waggoner. Around the corner was a "Bam!" "Pw!" Batman machine. The Monkees could still be found downtown in the original strip casinos.
I even spotted a You Bet Your Life slot machine at Treasure Island, remarkable since the Groucho Marx game show went off the air in 1961.
There's also a Cheers game which features the actual voice of John Ratzenberger as Cliff Clavin. Cliff grunts and moans when you spin and lose, blurts that he has to meet his wife anyway when you get up and leave.
If somebody really fat sits down the machine automatically shouts "Norm!" No it doesn't, because, hey, this is Vegas and it would be shouting "Norm!" all day long.