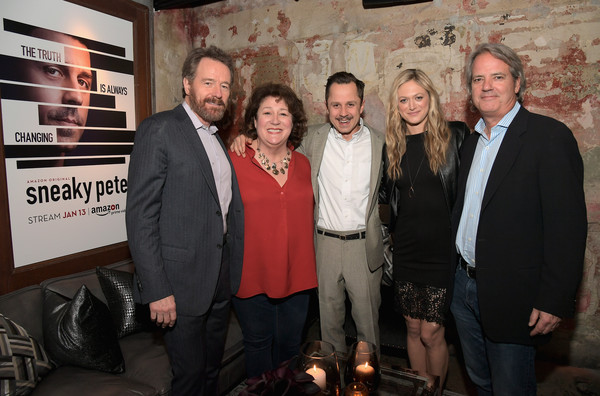 Graham Yost claims he didn't learn all that much at the University of Toronto.
"I majored in football, pinball and trying to take a girl to the dance," he claims.
None of those activities prepared him much for a career as a major Hollywood film and TV screenwriter, executive producer and showrunner. Still, he found a way.
Two of his shows return this month: The Amazon Prime Video hit Sneaky Pete returns for a second season Friday March 9, with The Americans returning to FX for a sixth and final season beginning March 28.
"I didn't take enough film classes," says Yost, who studied at U of T's Trinity College. "Took classes in film and theology."
Yost, 58, was at U of T around the same time I was. Back then he was probably best known as Elwy's lad; his father was the long-time host of the popular TVO series Saturday Night at the Movies. Graham was also in a kooky Toronto band called the Lavamen where he was joined by mutual friends BJ Del Conte, Andy Ryan and Paul Budra. Think Barenaked Ladies with saucier lyrics.
"I played drums," says Yost. "I played very poorly but at least I played."
I spoke with the Emmy Award winner last week on the phone as he and some of the Sneaky Pete cast members were promoting the second season from the show's production base in New York. The first two new episodes, by the way, are excellent, continuing the neat blend of laughs and serious consequences from season one.
Yost told me he kinda stumbled into writing and performing through the side door at U of T, first at a Trinity review and then by acting in some drama society plays.
He also wrote a short play as part of a drama course and got some encouragement from the prof.
"The play wasn't terrible," says Yost. "It wasn't great—a college student writing a one act play—but at least it wasn't terrible. It had some ambition."
That gave him the courage to keep writing. Eventually he was penning scripts for movies such as "Speed" and "Broken Arrow." The NBC series Bordertown followed, as did Band of Brothers, Justified, and more.
What he learned collaborating with the late, great, Elmore Leonard on Justified was worth more than a stack of university degrees, he suggests.
"He was so supportive of Justified and just the greatest guy to spend time with," Yost says of Leonard. "There are elements to his writing that everyone on Justified learned that we will take with us hopefully for the rest of our years."
Read more about Yost and this season of Sneaky Pete here at this story I wrote for The Canadian Press.