On an Easter Sunday traditionally more about bunnies than kitties comes Catwalk: Tales from the Cat Show Circuit, premiering April 1 at 9 p.m. (9:30 NT) on CBC Docs POV. (You can also stream it here).
Yes, it is premiering on April Fools Day, but this isn't a gag. The documentary, from Markham Street Films Inc., hails from award-winning filmmakers Michael McNamara and Aaron Hancox (ADHD: Not Just For Kids).
This is no mockumentary in the style of  Best in Show. It's a real doc on cats, perfectly pitched to a network where one of the top programming heads is Sally Cat-to.
It basically follows a season in the lives of two top cat fanciers, Shirley McCollow and Kim Langille, and their prize-winning felines: Oh La La, a fluffy Red Persian, and Bobby (full name: Boston Rob!), a white Turkish Angora. Both are vying to be the year's Top Cat.
This all takes place under the auspices of the Canadian Cat Association. Again, trust me, not an April Fools Day joke.
Anyone who is owned by a cat, including me, knows these creatures do one trick: cough up fur balls. My 18+ year old black house cat, Milou, has it down to an art.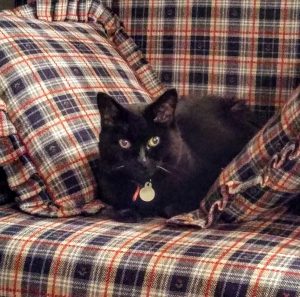 There is no trotting about on leashes in cat shows. The pampered felines in contention are basically lifted out of their cages by five different judges who seek the best cat in the house. The whole deal is one big, blow dried beauty show.
The doc follows Bobby and Oh La La through contests in Moncton, NB, Mississauga's International Centre and several other venues, including a final show in Windsor, Ont. The places are generally curling rinks and Kiwanis Clubs. One was doubled booked for a weekend and the cats had to share the joint with wrestlers.
There is no big cash prize for the participants, just bragging rights. Still, Langille and McCollow are shown trekking hither and yon on their own dime, hauling cages and various kittie contraptions.
Now everybody has their hobby. I collect 16mm films, and my peeps gather annually in places such as Liverpool, N.Y. and Columbus, Ohio. We watch obscure, sometimes silent-era flickers and work the dealer's rooms in chain hotels that better offer free breakfasts. We are a room full of film gypsies who all carry a slight scent of vinegar.
The cat show hobbyists are no less eccentric, which makes for good television. You start to notice how the cats resemble the owners and vice versa. Catwalk viewers visit an owner or two at home and can almost smell the empty cans of cat food piling up in the trash.
There is some drama to the hour as late entry Oh La La starts gaining ground on Bobby. There are some clever animations showing the cats trotting towards the finish line. Well edited and told without judgement, this tale has an ending that should leave cat fanciers purring.