Way back when I was a young Turk at TV Guide Canada I was asked to get Steven Bochco on the phone.
I thought the request was pure madness. At that time and for many years afterwards, Bochco was TV's top showrunner, the much-admired writer/producer behind such groundbreaking hits as Hill Street Blues and L.A. Law. I thought I'd have an easier time getting The Pope on the phone.
Yet not that long after I put the request through to NBC's PR team in Los Angeles, the phone rang.
"Hi Bill, it's Steven Bochco."
The reason for the call was to get a response from Bochco for L.A. Law winning "Favourite Drama" in one of our Reader's Choice Awards. He'd already won some of his 10 Emmys and four Peabodys by the time I spoke with him in the late '80s, yet he was gracious enough to call and thank readers in Canada for enjoying his show.
Sad to report that Bochco passed away Easter Sunday after battling cancer. He was 74.
He always remained friendly and approachable over the years as I caught up with him on other shows. In person he always looked to me like a friendly dentist; interviewing him was the opposite of pulling teeth.
The New York native's roots in TV date back to his days as a writer on such fondly-remembered cop shows from the '70s as Columbo, Ironside, McMillan & Wife and even Lorne Greene's short-lived Griff. His career as a producer blossomed after a move to MTM later in the '70s.
By the time I joined the Television Critics Association in the mid-'80s, Bochco was already mayor. He'd be the unflappable one up on stage during panels for Hill Street Blues and L.A. Law and through such short-lived wonders as Hooperman, Doogie Howser, M.D., Cop Rock, Capitol Critters, Civil Wars and Murder One.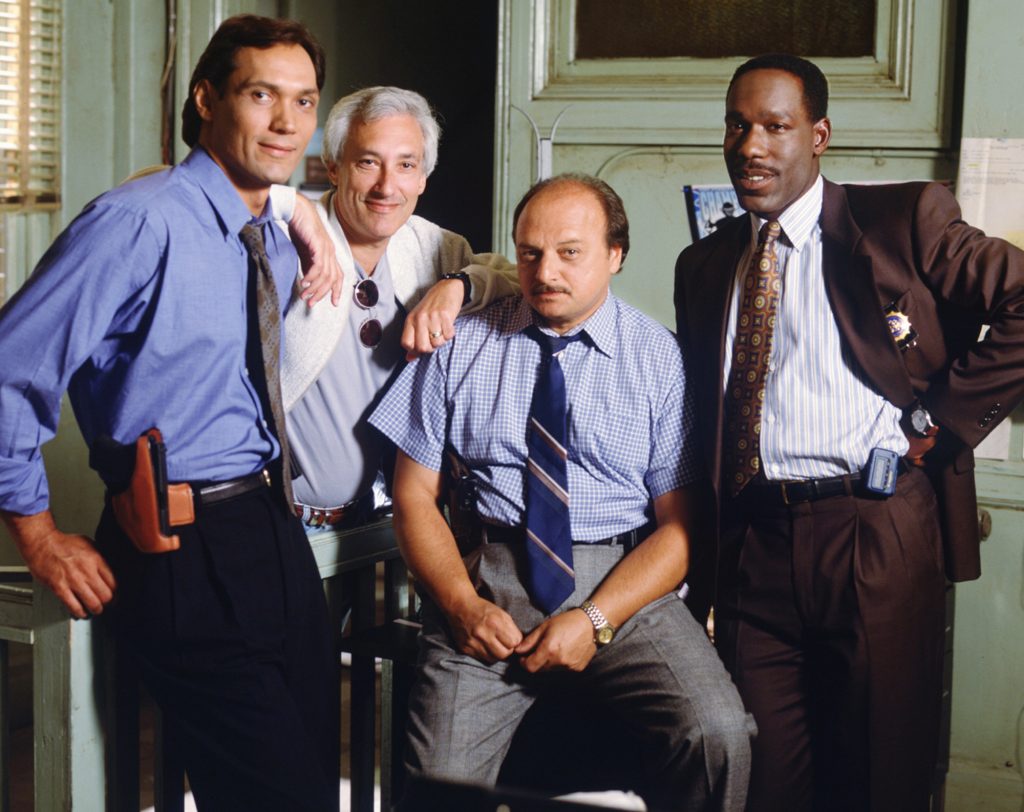 Bochco seemed to push the envelope a bit more with each series, with NYPD Blue specifically marketed as a network drama where its characters could swear and strip with the best cable had to offer. It wasn't exactly true, but headlines about advertisers and affiliated bailing was the best promotion any network series could get back then. NYPD Blue enjoyed 12 seasons and won a ton of Emmys.
In 2005, Bochco was jazzed to greet critics who shuttled an hour or so north of L.A. to check out desert-like locations for the Iraq-based military drama Over There. Toronto-born Luke Macfarlane (Killjoys) played one of the young soldiers, and remembers Bochco as fairly hands-on and friendly "for a man with a jet." It only lasted 13 episodes, but Bochco's enthusiasm for making television never seemed to dim.
A year later, he gamely took over as executive producer on the troubled ABC series Commander-in-Chief. Mid-way through the only season, critics were shuttled to the set for a press conference with stars Geena Davis and Donald Sutherland flanking Bochco. There were some TV tasks not even a master showrunner could fix, with Bochco later describing the experience as "horrible."
If you judge somebody by the people they work with, Bochco again stands tops among TV executives. David E. Kelley was mentored by Bochco, and collaborators such as David Milch are considered groundbreaking storytellers.
He was revered, too, by the actors who worked with him the longest, including Hill Street alumni Charles Haid, Jimmy Smits (L.A. Law and NYPD Blue) and especially long-time collaborator Dennis Franz.