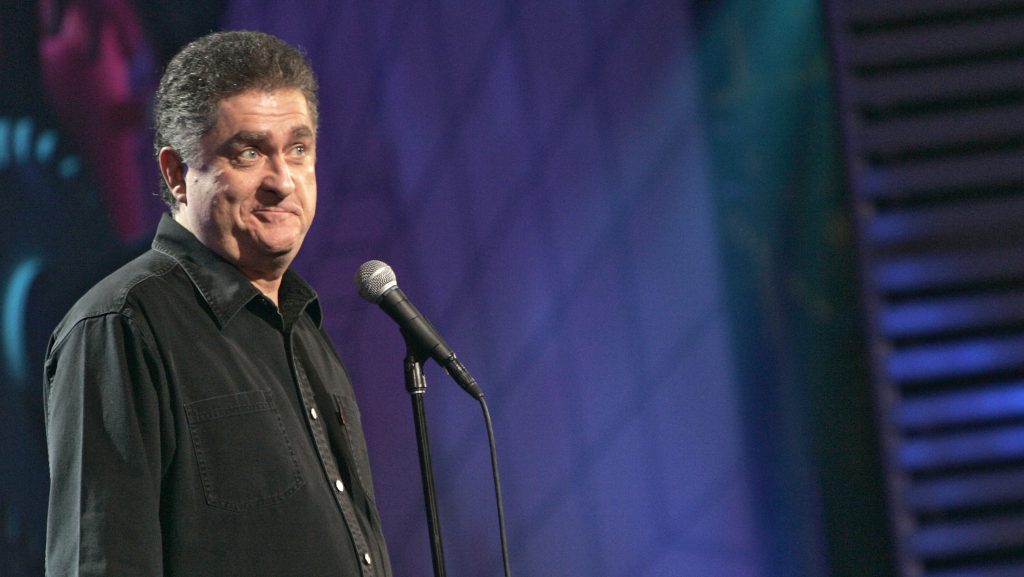 Comedian Mike MacDonald's death at 62 on March 17 wasn't totally unexpected. He suffered from serious health problems in recent years, at one point requiring a liver transplant. Still, his passing was decades premature and jolting for me personally because it stirred memories of shared comedy club stages way back in the day.
I had the good fortune to catch MacDonald's act in the early '80s in and around Toronto. MacDonald was The Guy at Yuk Yuk's and other clubs, the headliner who finished the night. He sustained a remarkable career as a club comic, including a 30+ year iron man run at Just for Laughs.
The act I was in, Bullock & Brioux, was the opposite of MacDonald — two guys, no staying power, one Yuk Yuk's appearance. MacDonald was like a testy big brother at the time, and, frankly, scared the begeebers out of me and other comics who snuck in from the suburbs.
He'd mellowed — but was no less candid — by the time I caught up with him in 1989 on the set of his short-lived CBC series Mosquito Lake (which co-starred my grade school chum Dan Redican). I was blown away by his honesty then, and by the magazine for letting it all run. Here's an excerpt from that TVG story:
"People say I've changed," says Mike MacDonald. "Well, when you stop doing drugs, that changes you — I don't care what anybody says."

For over a decade, Mike MacDonald, star of the new CBC sitcom Mosquito Lake, was one of the most brilliant and intimidating acts on the comedy club scene. The complete antithesis of a more marketable yukster like hyper Howie Mandel (a Toronto club mate before his break on St. Elsewhere), the bushy-browed MacDonald drew upon his personal demons and fearlessly exorcised them on stages across Canada and the U.S. The angst was no act: fledgling comics were warned to keep clear of ol' Bad Attitude, a.k.a. the King of Sarcasm, or Mr. 666 to you, pal.

"He was a wild, maniacal, intense, driving, passionate fringe character," says Toronto Yuk Yuk's impresario Mark Breslin. "But in a business which is extremely competitive and backbiting, nobody ever questioned Mike MacDonald's talent. He was the best I ever saw at the club — period."

Redican (left) and MacDonald back in their Mosquito Lake days

What people did question, particularly film and TV producers, was MacDonald's lifestyle. After countless one night stands in dingy club after comedy club, MacDonald admits he was a full-blown cocaine and heroin addict. "I don't know how many times I promised God — 'Get me down, and tomorrow I'll quit," says the 34-year-old comedian between cigarettes. "Finally, it got to a point where I said, 'Hey, I'm not going to give you all these false promises because I can't live up to them — the drug's got me.'"

Sick of feeling "like a dirtbag every night, feeling really ashamed of myself," MacDonald credits a talk with his "maker" with helping him through one last dark night. Then, "Boom," he says, snapping his fingers, "right like that, I stopped."

At first, the hyenas back at the club didn't buy it, "but eventually some of the other guys started asking me how to get off. All of my friends have seen what had happened to me before — when I was dark — and after I quit. And, obviously, these last three years have been everything."

Those years include a stabilizing marriage to longtime love Bonnie, and a long-considered career move to L.A. "I was always looking for something to get me off the road," says MacDonald, "because, after 11 years man, I've had enough already. You just reach a burnout stage where it's really hard to stay fresh."

Still, he was reluctant to make the move. "The problem with Los Angeles is, it's the last place. I know guys who went there 10 years ago and they still haven't even got a commercial."
The article, written long before any links on-line, went on to list MacDonald's TV appearances on Letterman and Arsenio Hall as well as several CBC specials. Mosquito Lake lasted just the one season. The cottage country-themed sitcom was generally lambasted by critics. That didn't stop MacDonald from wondering how even crappier Canadian-made shows such as Learning the Ropes had somehow been exported to the States. "Check the mail box!" MacDonald would say back home in LA. "If Lyle Alzado's pickin' up a cheque down here — hey hey hey — wait a minute!"
The comedian never really got another series shot, but lives on in all those Just for Laughs appearances. He would have been proud of the love and respect that poured in on Twitter from peers these past few weeks. He certainly seemed to be in a happier place when I spoke with him for that article in '89.
"You don't get medals for staying like that — angry and dark," he told me, adding that he was tired of that stance. "It's really draining after a while.
"Besides," he said, "after Belushi died, all that stuff's not hip anymore. What's hip now? Who cares?"