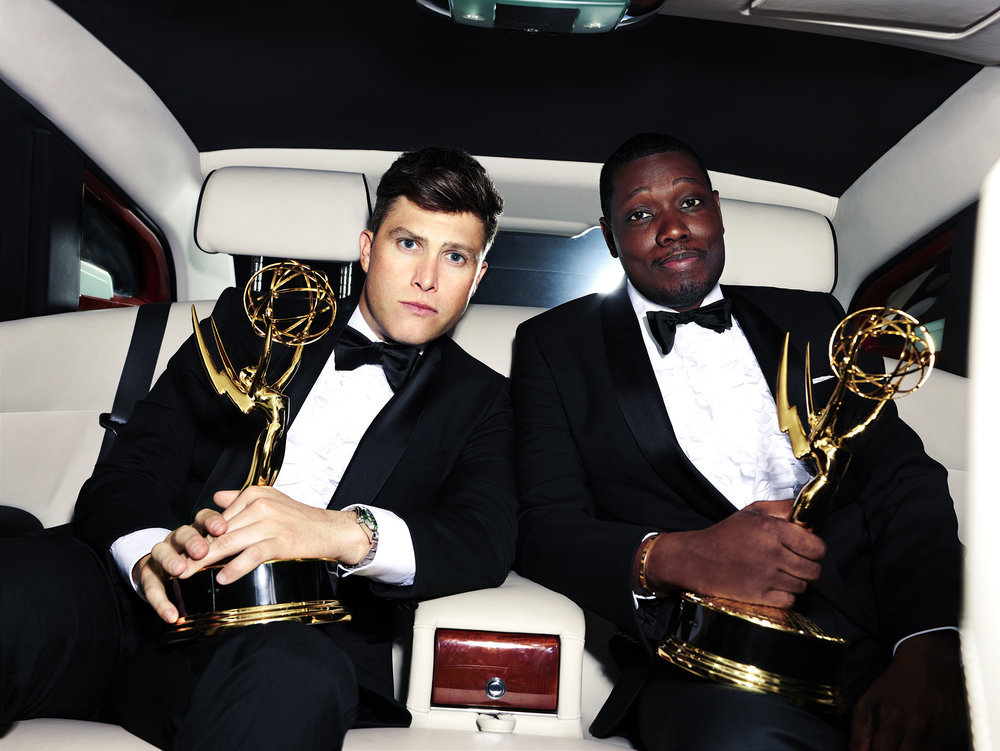 You get some idea as to where awards shows rank these days when The Emmys get bumped to a Monday night just because NBC won't surrender Sunday Night Football.
Fact is, the NFL primetime showcase is the No. 1 show on their schedule. The Dallas/NY Giants game averaged around 19 million viewers this Sunday.
The NFL isn't such a big  ratings draw in Canada, where TSN only scored 441,000 with the same broadcast.
CTV will likely do better, proportionally, with the 70th Annual Emmy Awards, than NBC. There is very little timeslot competition on either side of the border, and Monday Night Football will have more of an impact Stateside.
Where The Emmys still seem to have a lot of reach is on radio. I talked Emmys with 11 different CBC radio stations from across Canada early Monday morning. Told all of them the main reason I'll be watching Monday night would be to see how hosts Colin Jost and Michael Che fare. The Weekend Update anchors are a smart choice, given the ammunition they'll be handed heading into what will likely be a desk bit off the top. Besides all the usual Trump shenanigans there is the recent firing of CBS boss Leslie Moonves to goof on. At least CBS doesn't have the Emmys this year; that's a hot potato Stephen Colbert is probably happy he doesn't have to juggle.
The whole #metoo movement has already impacted this year's Emmys. Aziz Ansari and Jeffrey Tambor were both in the Best Actor comedy category just last year. Anthony Anderson made the cut this year, but he, too, has become the subject of an inappropriate behaviour accusation.
Walking the comedy tightrope on some serious stuff will be Che and Jost but also Lorne Michaels, who is producing this year's Emmy telecast. Other SNL alumni, such as Kate McKinnon and Tina Fey, are also expected to be in on the shtick.
That Fey's former Update partner Jimmy Fallon isn't hosting this year's Emmys is another indication that things have changed. Fallon's lead in late night once seemed insurmountable; this year he's not even nominated. (A break for Canada's Samantha Bee, who cracked the boy's club).
For the record, I'm hoping The Americans gets some Emmy love Monday night. The FX series flew pretty much under the radar for six seasons while Game of Thrones and The Handmaid's Tale took every trophy. The series should win in this it's final year of eligibility, along with leads Matthew Grys and Keri Russell.
In comedy I'd give it all to GLOW, which had a body slam of a sophomore season. Every episode seemed to end in a cliffhanger that kept you binge-ing till the end. If HBO's Barry won (along with lead Bill Hader and co-star Henry Winkler) I'd be OK with that. Same with The Marvelous Mrs. Maisel on Netflix, a compelling piece of storytelling with some snappy comedic performances. Then again, how do you not reward Donald Glover for stretching "Best Comedy" in a new and daring direction on Atlanta?
Almost all of these shows need their own categories. They don't seem to match with Silicon Valley, or with the show that always wins and isn't eligible this year, VEEP. That HBO series wins because it is downright hilarious. Some of the others being in a "Most Original" list.
I spoke with CTV News Channel's Beverly Thomson when the nominations were announced last July. Follow this link to that five minute video.