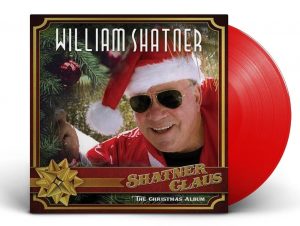 Set phasers to stun! William Shatner has released not one but two new albums of his unique, spoken word song stylings this year, including his brand new Christmas collection, Shatner Claus.
Follow this link to my Canadian Press feature about the enterprising actor and his latest musical efforts.
The Star Trek legend never seems to slow down. At 87, The Captain recorded the albums, released a book ("Live long And … : What I Might Have Learned Along the Way"), does countless Sci-fi conventions across North America, breeds and shows horses at his ranch in Kentucky and still found time to come up to Toronto to shoot another episode of the Jason Priestley-Cindy Sampson detective drama Private Eyes. Shatner reprises a role he did a season earlier as Priestley's character's PI rival. The episode, which also featured Sheila McCarthy as well as husband and wife comedy duo Colin Mochrie and Deb McGrath, will air in the new year.
Plus the guy never seems to age. I spoke with him on the Toronto set of the series last August, where he worked in a few interviews between takes.
I told him again how much I like his 2004 CD "Has Been," an artful collaboration with producer Ben Folds. Anyone who just knows Shatner the "singer" from his overwrought, psychedelic interpretations on "Mr. Tambourine Man" (found on his campy 1968 debut effort "The Transformed Man") should erase that impression with "Has Been."
Shatner calls "Has Been," his "peak moment" on record and feels his two new released "are of that quality." The country album, recorded with Jeff Cook of Alabama, is called "Why Not Me?" The new Cleopatra Records Christmas album, available from Amazon, contains mainly a collection of holiday standards including a surprisngly touching duet with Iggy Pop on "Silent Night." Shatner also teams up with Judy Collins on "White Christmas." There are also contributions from ZZ Top's Billy Gibbons; keyboardist Rick Wakeman (from Yes); guitarist Todd Rundgren; flutist Ian Anderson (Jethro Tull) and singer Brad Paisley on a countrified "Blue Christmas."
Throw this on at office Christmas party and voila: instant raise.
Beam over to Under the Radar to sample some of the tunes. My favourite: an electric version of "Run, Rudolph, Run" with Gibbons tearing it up on guitar. The "punk" version of "Jingle Bells" with added snarl from Henry Rollins is also guaranteed to wake up the room.