On Monday, CBS Corporation made it official: their Los Angeles TV temple at the corner of Fairfax and Beverly has been sold.
CBS Television City, a post-modern, multi-studio facility that sits on a 25-acre site right next to LA's historic Farmers Market, has been sold to Hackman Capital Partners for $750 million. The place The Price is Right calls home has been sold because the price is right.
In a city where buildings come and go quicker than TV shows, CBS Television City stands as the pyramids. The good news for those nostalgic enough to care about these things is that Hackman Capital plan to preserve and update the studio facility, which opened in 1952. Hackman has the track record: the company previously modernized other entertainment properties, including the landmark Culver Studios.
Sale of the property, however, is another signal that the era of the big broadcast networks dominating the TV landscape is over. Like former CBS CEO Leslie Moonves, nothing and nobody lasts forever in this business. CBS Corporation Acting CEO Joseph Ianniello made Monday's announcement, saying the sale "unlocks significant capital for strategic growth initiatives such as additional content investment." I said the same thing when I sold my mom's house in Toronto.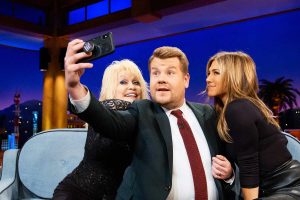 The deal will allow CBS to continue to produce The Price is Right, The Late Late Show with James Corden, The Young and the Restless and The Bold and the Beautiful within the Television City walls for at least five more years. Moonves and most CBS executives moved out several years ago and into new digs at their 40-acre CBS Studios site. The former "Radford" lot houses Big Brother as well as several sitcoms. Back in the day, it was home to Gilligan's Island, All in the Family, Mary Tyler Moore, Newhart and The Golden Girls.
Still, giving up Television City is big. Those of us who grew up watching big network comedy and variety shows such as The Carol Burnett Show or The Smothers Brothers will remember reading or hearing the phrase, "Live from Television City in Hollywood." The stark, black and white cube was also home to such legendary comedians as Red Skelton, who used to park right inside the building, and Jack Benny. In more recent years, American Idol and Dancing with the Stars called Television City home, as did Craig Ferguson and Tom Snyder.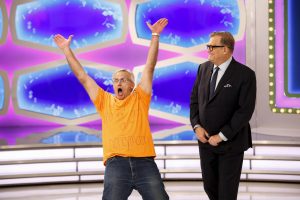 I've been inside Television City on several occasions. There was a memorable press conference there in 1993 when David Letterman came to CBS. Survivor threw a Tiki torch and tequila party there when it hit the ten year mark.
Way back when I was living in LA while working at TV Guide Canada, I managed to get my parents tickets for The Price is Right. They sat in the front row waving copies of that week's TV Guide with Barker on the cover. He came right to them and spent the first 30 seconds of the show making a fuss.
Mom still hasn't forgiven me for getting her a VIP seat that made her ineligible to win a washer/dryer.
Ten years ago, I was inside Television City and heading to a taping of Ferguson's late night show with TCA and AXS network publicist Cindy Ronzoni. We got off on the wrong floor and ended up on a dimly-lit studio level that was very still and shut down and – with nobody but cleaning staff to say, "Hey, you" — we poked around until we got to Studio 33.
For 35 years, that's where Bob Barker reigned on The Price is Right. The day glow primary colour scheme seemed a little faded, but as disciples of television, we both felt as if we were tip-toeing around Lourdes after dark.
Long before Barker started handing out refrigerators and Rice-A-Roni on Price, this was the studio where The Carol Burnett Show was shot in the '60s and '70s. Match Game used to tape in Studio 33 (hence the vague whiff of stale cigarettes and booze in the air. God bless you, Charles Nelson Riley).
We walked right out to centre stage where Barker once stood. In front of us were row upon row of red cushioned seats. The place was eerily quiet without tourists in T-shirts hopping and howling. Directly in front, just off the lip of the stage, were the four bidding podiums. Behind us were the giant showcase doors plus the final showcase area.
I wanted to take home the faded maroon and blue-grey CBS curtains, with their pattern of iconic CBS eye logos, but thought that might look a bit conspicuous at the Ferguson taping.
Instead, we genuflected and walked in reverent silence away from Studio 33. Past the cleaning staff, past the giant, spinning wheel, the "Plinko" game and other Price props and set ups.
You can buy a lot less for $750 million: two Bryce Harpers, for instance. You can, I suppose, put a price on people's memories. The good news is that new management intends to keep the Cube as a TV shrine – even if it may be a little harder to spot behind all those future condos.