Sometime before the most recent Canadian network upfronts last June, the folks at Sony Pictures Television struck a deal with Bell Media. The CTV peeps were looking for content to offer on two new VOD channels. Sony was looking to monetize its large inventory of off-air content.
Phil King, a former CTV programming boss who is now SVP distribution at Sony Canada, offered tons of movies and TV series from the studio's vault. Before you could say "CTV Throwback," the deal was done.
CTV Movies and CTV Throwback are the two new VOD services. I'm not too sure about the name CTV Throwback — I get the Instagram connection but it still makes it sound like these shows are like the fish that you throw back because they're too small — but the service is free, easy to use and loaded with goodies. Among them are sitcoms from past decades such as The Jeffersons (the '70s), Designing Women (the '80s) and Mad About You (the '90s) as well as recent gems including Community.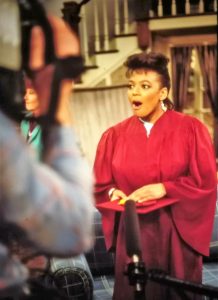 Fans of The Facts of Life will also find that sitcom at CTV Throwback. (Follow this link to the pilot episode.) One of the longest-running sitcoms of the '80s, it lasted over 200 episodes from 1979 to 1988. A spin off of Diff'rent Strokes, it starred Charlotte Rae as housemother to a group of girls at an all-female boarding school in Peekskill, N.Y. Lisa Whelchel, Kim Fields, Mindy Cohn and Nancy McKeon played the four most memorable student characters. Popping in occasionally were recurring and guest stars such as Molly Ringwald, George Clooney, David Spade, Helen Hunt and Richard Grecco.
Working in LA at the time for TV Guide Canada, I was invited to the set in the spring of 1986 as the cast celebrated the show's 150th episode. Then NBC president Brandon Tartikoff was there, and the network supplied a "150th Episode" cake and balloons. The story that week celebrated Fields' character "Tootie" graduating from Eastland, so the festive atmosphere was right in place.
Bell brought two of the stars — Whelchel and Fields — north to Toronto last week to help promote CTV Throwback. They both worked on the Facts of Life reunion movie that was shot in Toronto in 2000.
I asked Fields, who played the youngest student, about the unique bond that forms between viewers and TV characters and if she still encounters it some 30 years later.
"It's still very surreal that people don't think of us as strangers when they see us on the street," says the 49-year-old, who signed autographs at a New Jersey fan expo in September. "I think it is especially there for me because I had the most transformation going from age nine to 18 and beyond. I feel like people think I'm not a stranger because, before mobile devices, they would watch us in the privacy of their own homes in a very intimate space with their families. It definitely brings a very surreal sense of familiarity you don't normally find."
That viewer-character bond was evident last winter when another '80s sitcom, Roseanne, returned to record ratings. While Charlotte Rae passed away last August at 92, the four other main stars of Facts are still active in show-business. I asked Fields and Whelchel about rumours that the series is being rebooted.
"That's the word at the moment," said Fields. "The thing about a reboot in my opinion is just making sure that they get it right. Whether we're a part of it or or not, for The Facts of Life or any other shows, I think the ones that have been successful are the ones who understand how to maintain the integrity of what it wad while understanding how to move those characters forward in the here and now."
As for being part of this new Canadian VOD venture, both said all the right things.
"I'm thrilled, I love Canadians, I love Canada," said Texas native Whelchel. The 55-year-old mother of three gained new fans when she survived a Survivor stint in 2012, making it to the final tribal council.
Fields was especially glad that CTV Throwback was a free service, "so it's very accessible to anyone. I love that they're getting us for free now."
Free? I reminded them that Bell Media has deep pockets, even if it is Canadian cash.
"Okay, we're going to tell them you said that," said Whelchel.