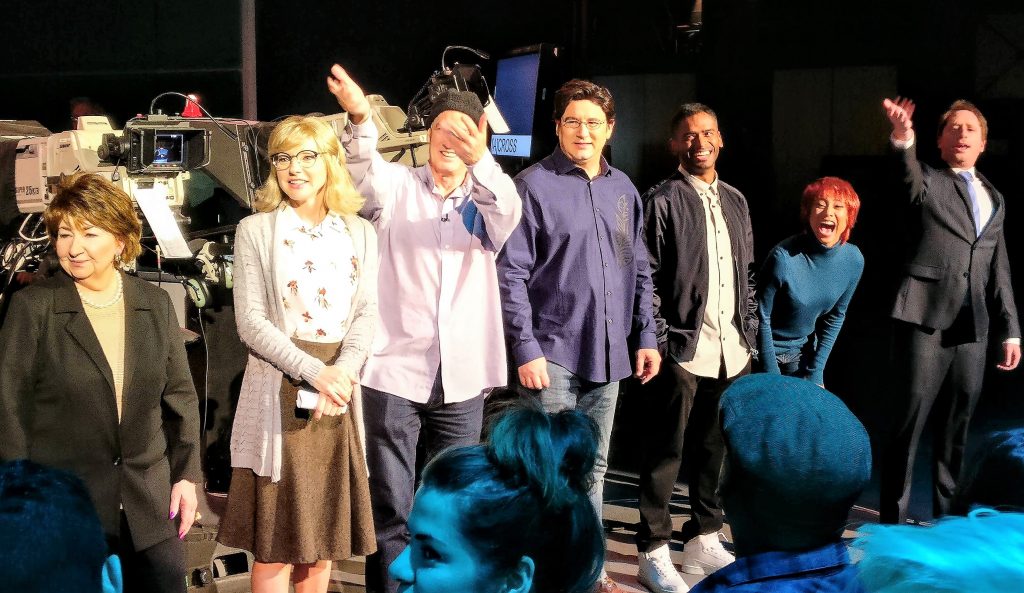 Friday I headed downtown to the CBC Broadcast Centre with my next door neighbours Doug and Roberta to see another taping of The Royal Canadian Air Farce. The occasion was the annual Air Farce New Year's Eve Special, a TV tradition that began in 1992.
And, yes, we did stop at Apache Burger later in Etobicoke. That ritual has been going on even longer.
The special will air — surprise surprise — Monday, Dec. 31 at 8 pm (8:30 pm in Newfoundland) on CBC and will be repeated just after midnight.
The 300 or so in the packed bleachers on CBC's biggest soundstage got several bonuses for attending this December. On Friday night, it was a chance to see a Canadian comedy icon join the troupe for a sketch. I don't want to spoil it, but here's a hint: the possession of cannabis was declared legal this past year in Canada, so who better to bring in for a laugh than this smokin' dude.
Frankie Drake's Lauren Lee Smith also guest stars.
The other surprise was more in the TV family nature. Between sketches, set decorator Adam Grassby got down on one knee, before 300 witnesses, and proposed to his girlfriend Lisa. It happened on the special's Buckingham Palace set, so I assume it will be a royal wedding.
Love was already in the air Friday night as cast member Craig Lauzon introduced his new bride in the stands; not to be outdone, recent cast addition Isabel Kanaan asked her fiance to take a bow.
Also in the air were germs. Farce founding member and executive producer Don Ferguson had the misfortune to be struck by laryngitis on the two days this year he most needs his voice, live taping days Thursday and Friday. He soldiered on with the annual monthly headlines sketch as anchor Franklin W. Armstrong and also put on the white lab coat as Dr. Von Rikkengord in the special's annual F-Bomb closing bit. The poor man may have to do a little voice-over looping before that sketch hits the air.
This year's special features several Farce Films directed once again by Rob Lindsay. Sure to be another viral favourite is a musical moment featuring Chris Wilson as Prime Minister Justin Trudeau, with Kanaan chirping in as Cardi B.
As for the F-Bomb's main target, surprise — it is not Donald Trump. Find out who gets splattered with goo when the comedy special airs Dec. 31.