Whenever nominations are announced for whatever TV awards, media outlets want to know: who will win, who should win; which star will give the most booze-soaked acceptance speech.
Nominations for the 76th Annual Golden Globes Awards were announced Thursday morning, with the gala being televised January 6 on NBC and CTV. The full list of nominees are here; my immediate reaction, as given to CTV News Channel anchor Marcia MacMillan Thursday morning, will be linked to here shortly.
Picking who will win and who should win is generally a relatively easy task. I am grateful, however, that I'm only asked to weigh in on the TV side. The movie list seems impossible to me, with many of the films being nominated not even released to the public yet. Clearly these award shows are now designed to promote upcoming content rather than reward shows or performances from the past year.
One that's been out a month or so got plenty of Golden Globes attention: "A Star is Born." Haven't seen it, but it seems like a two-hour red carpet event, tailor-made to tick every box in the award show voter's handbook: cross-over music artist; a remake of a film steeped in Hollywood lore; a chance to lionize a Hollywood leading man-turned-director.
My approach, then, is never to take the Golden Globes too seriously. This is, without question, the larkiest of award shows. In past years, it was primarily a chance to see Ricky Gervais cross the line. (Canadian actress Sandra Oh and Andy Samburg are hosting in January.) In other years, there were suspicions that Santa had come early for several members of the Hollywood Foreign Press Association.
So merit is about the fifth consideration when trying to forecast the results.
For example: Jim Carrey was, for me, an acquired taste this season on the Showtime/Crave drama Kidding. I found his long, dank hair a bit off-putting in his portrayal of a Mister Rogers-like kiddie show host who struggles to keep his own neighbourhood in check. He is the guy, however, you want to win for Best Actor in a drama, because he gave one of the funniest Golden Globe speeches ever and also because the political cartoons he currently shares on social media are so visceral and explosive.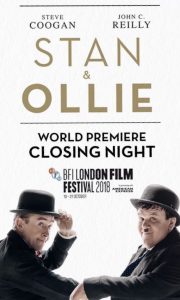 The other thing people always ask when it comes to these awards shows: Who was snubbed? Well, Bob Odenkirk and Better Call Saul for two, both crowded out of their categories by an ever widening field of choices. The Conners, which should have forced the creation of a whole new category: Best Reboot Ever. Mary McCormack also deserved a nomination for playing the Irish Catholic mom who keeps her eight boys in line on The Kids are Alright.
And if I can add one thumbs up on the film side: congrats to John C. Reilly for earning a well deserved nomination for playing the great Oliver Hardy in the upcoming feature "Stan & Ollie." It opens wide the end of the month; if you love the films of Laurel & Hardy, run to see it.