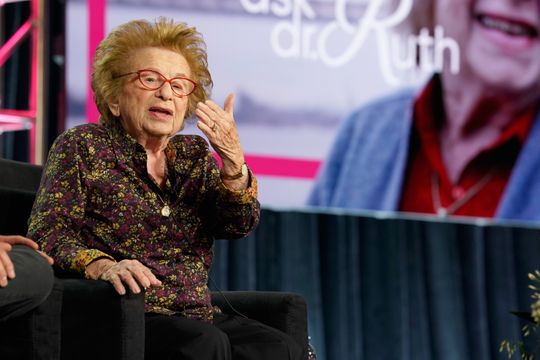 If TV shows can get rebooted, why not TV stars? There have been a few blasts from the past on this current Television Critics Association press tour, but none more senior than mighty mite Dr. Ruth Westheimer.
The peppery, diminutive sex therapist who hosted radio and television sex talk shows throughout the '80s and into the '90s returns in Ask Dr. Ruth, a Hulu original premiering in May on the U.S. streaming service..
Swiping left or right had a whole other meaning back when Westheimer was in her TV prime. At 90 "and a half," as she insists on putting it, she admits things have changed in the sex advice business. For two things, people are no longer looking for answers to things such as premature ejaculation or achieving an orgasm. "That has been done," she told critics Monday.
Westheimer, rather touchingly, is more concerned about a generation that can't mingle without a mobile device in their hands. "Young people are going to lose the art of conversation," she fears. She gets far more questions these days about loneliness than lubricant.
Some topics, she admits, are beyond her scope as a therapist. Asked about transgender issues, Westheimer says more research is needed before she could weigh in with any authority, although her golden rule is everyone must be treated with respect.
Why is she still working at 90.5? "I tell everyone not to retire but to re-wire," says Westheimer, who mentioned a few times how bummed she was that she recently had to give up alpine skiing. "Instead of walking with a cane I decided to to hang on to good looking guys." On Monday it was the director/producer of Hulu's Ask Dr. Ruth, Ryan White.
After the session, Westheimer was asked in the scrum about all those David Letterman appearances. She was one of Dave's most frequent guests, especially on his NBC show. On one early visit, she said, a member of the audience boasted that his girlfriend had a habit of tossing onion rings onto his erect penis.
On every subsequent Letterman appearance, when she arrived at 30 Rock and the late night talk show's green room for guests, there waiting for Westheimer was a full plate of onion rings.