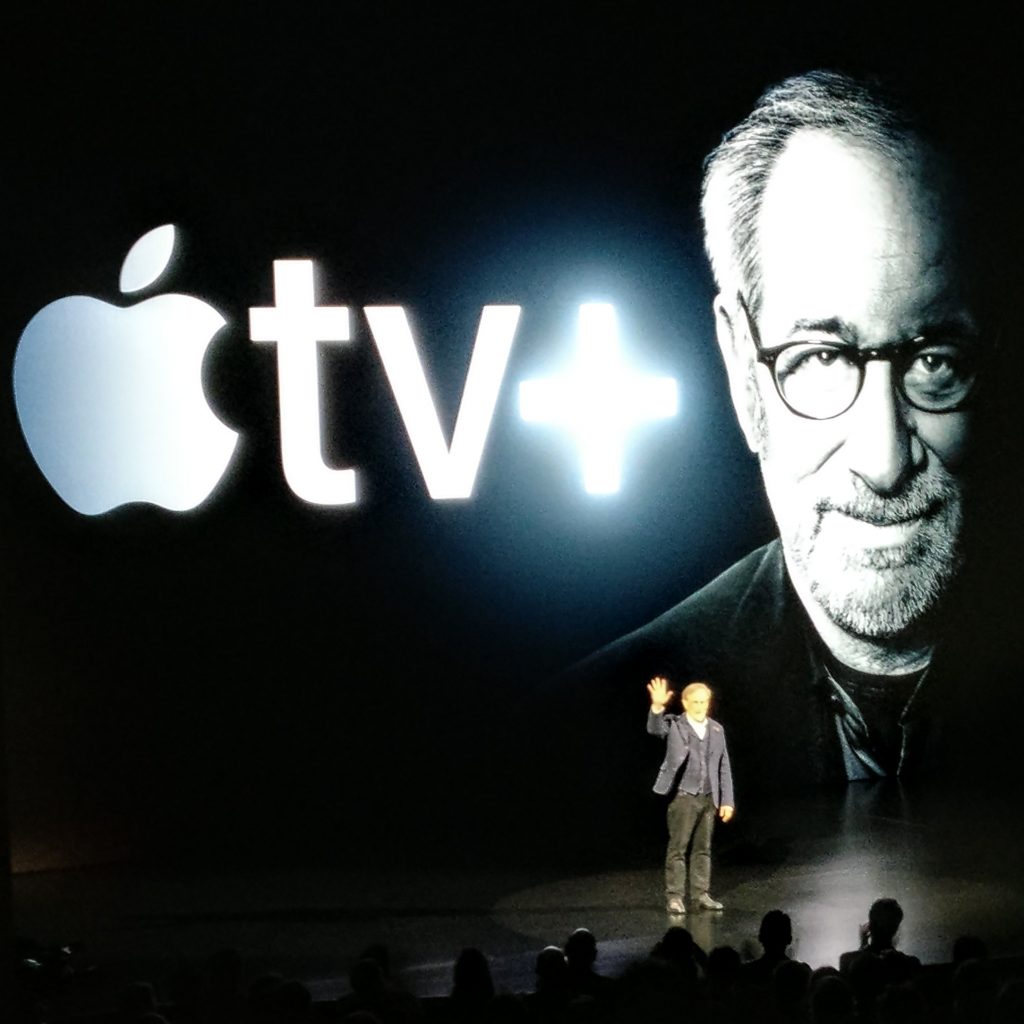 CUPERTINO, Calif. — Let it be said that this story was filed on a IPad, written at the Apple Visitor Centre and all while drinking — yes — apple juice.
Not the Apple Kool aid, however. I've always been a bit stodgy when it comes to the whole personal device revolution, clinging to my daughter's old Plus One and my wonky, unhinged Toshiba lap top.
Have to say, however, it is easy to be dazzled after spending a day at Apple's futuristic corporate headquarters in this Silicon Valley city. The tech giant has build a work playpen that looks like a flying saucer. Inside the equally impressive Steve Jobs Theater, CEO Tim Cook set out the company's vision of the future of streaming. Netflix, between this and other powerful new competitors, winter is coming.
Eleven big name stars took a darkened stage — standing in front of giant portraits of themselves — to persuade hundreds of reporters from North America and around the world that the future of the coming streaming wars belongs to Apple. It was quite a show, with Steven Spielberg, Oprah Winfrey, Jennifer Aniston, Jason Mamoa, Reece Witherspoon and even Big Bird on stage, in person, talking Apple TV+.
The service comes to Canada and the US and up to 100 other nations this fall. How much it will cost consumers will be announced later, but here is what was shared Monday: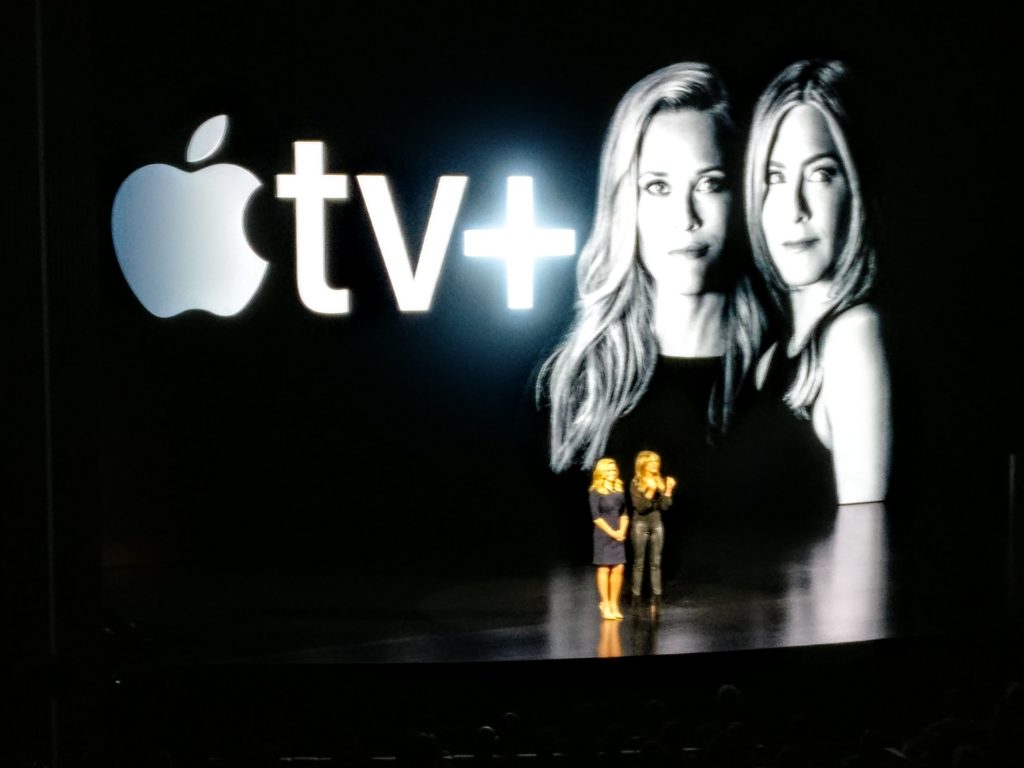 Spielberg – who recently made headlines by denouncing Netflix's inclusion on the Oscar race — emerged from the shadows to stand on stage and talk about his revival of Amazing Stories. The Twilight Zone-like anthology series, inspired by the pulp science magazines young Spielberg grew up reading, enjoyed a run on broadcast in the '90s. Jennifer Aniston and Reece Witherspoon followed with news of their scripted series The Morning Show. Steve Carell joined them on stage; he plays a news anchor. Again, details were as scarce as clips.
More was shown of a new series from Jason Mamoa called See. The Aquaman and Frontier star explained that the big budget sci-if series was about a world devestated by a virus, leaving only a few million survivors who are all sightless. Word in the theatre was that Mamoa is banking a million per for his Apple efforts. how many episodes, where it is shot are all details to follow, although there were hints during this press trip that Canada maybe among the production locations for some of these shows.
Others with new Apple offerings are Kumail Nanjiani, who fronts an interesting anthology called Little America. Close to his heart, this series will be told from the perspective of immigrant families. Big Bird was also on hand to squawk about a new children's series called Helpsters.
Then there was Oprah Winfrey, who stepped out to great applause. She will be hosting two documentaries. Does OWN owner Discovery know about this? Oprah didn't give much more away, not even a car or two.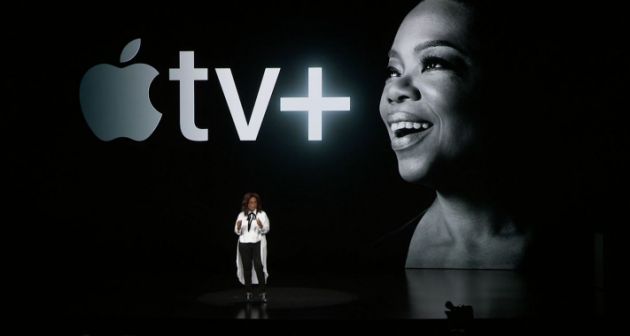 All the new shows will be available on all platforms on Apple TV boxes as well as iPhones, iPads, Macs, Smart TV's and other systems. All shows will be fully downloadable and ad free.
Beginning in May, US customers will also be able to subscribe to Apple TV channels and only pay a la carte for services they want, such as HBO, Showtime and Stars. A deal is apparently in place to make this work in Canada for Crave subscribers, too, although full details on that deal are not yet available.

Cook called Monday's event a "preview" with many details to follow. Canadians can, however, get right into his Apple News+, a magazine and newspaper platform built on the tech giant's purchase of Texture. The new app will offer consumers access to over 300 magazines, including popular titles such as Time, National Geographic, People and Sports Illustrated. The app goes beyond simply curating, with unique enhancements such as "living covers" (videos in place of static photos with faces and vistas that move) and other just-for-you enhancements. It's available now in Canada, too, with over 30 Canadian magazines on offer as well as a digital version of The Toronto Star. The US subscription cost for everything is $9.99 a month and in Canada it is $12.99.
There was also Apple Arcade, a new, subscriber-based gaming system that promises to be more family friendly. One subscription of about ten bucks a month brings you over 100 games.
All of this can be paid for with your new Apple Card, a titanium credit card with your name lazered right into it. Is there anything more Apple than that?

But will consumers use the card to instead subscribe to other new streaming services being launched this year by Disney and Warner Bros? It will all come down to content, and while Apple seems to be at a disadvantage in terms of inventory, these brand new shows do look intriguing. Cook seemed to take a page from HBO's philosophy in describing Apple TV+ as "the destination for the world's best storytellers." Viewers will judge for themselves next October.