Georgette Franklin: Why do people always send flowers when someone passes on?

Sue Anne Nivens: What would you suggest dear — fruit?
Georgia Engel, the soft-spoken actress best known for playing innocent Georgette on The Mary Tyler Moore Show, died April 12 of undisclosed causes. Nominated for five Emmy Awards for her work on both Moore's show and Everybody Loves Raymond, she was 70 years old.
Last July, Engel appeared before reporters on a PBS Network panel saluting her former MTM co-star Betty White. Colleague Gavin MacLeod (Murray Slaughter) was also on the panel. Engel and White remained friends and, as Engel told it, their friendship deepened over the years.
"What people don't know is I was coming closer to Betty when not much was happening in my career," said Engel. "Betty is one of my dearest friends, and so it was a special joy when I got to be on Hot in Cleveland with her. But my favorite times with Betty don't have to do with show business. She opened adventures with animals to me, and I've had the most wonderful time getting to know animals through Betty's love of them."
White evidently has a special pass into the Los Angeles zoo (of course she does) and on a couple of occasions invited Engel along to visit "Bam Bam," an eight-hundred pound grizzly bear. "She told me how to give Bam Bam a marshmallow with my teeth and the bear takes it," Engel told reporters. "And Betty was so happy because she didn't know anybody else that would want to learn that."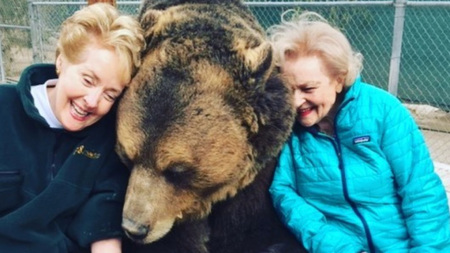 Of late, Engel enjoyed a career resurgence on stage, performing on and off-Broadway. Among her stage credits is the Canadian-produced theatrical hit "The Drowsy Chaperone."

"If you haven't seen her on stage, you haven't lived," praised MacLeod. "She's sensational."
After The Mary Tyler Moore Show ended a seven-year run in 1977, White hand-picked Engel to be part of the spin-off, The Betty White Show.
"It was a short lived series, but it just speaks to Betty's self forgetfulness," said Engel. "Whenever she is with friends, she isn't thinking about herself. She's thinking about the other people."
Less than a year after that press conference, it is surprising that Engel is the one who has passed away. White is now 97; MacLeod is listed as 88 on Wikipedia but said he was 89 last year at that press conference. In the New York Times obituary, a friend of Engel's is quoted saying that her cause of death is unknown because she was a Christian Scientist who never went to the doctor.
On the classic Mary Tyler Moore Show episode, "Chuckles Bites the Dust," the WJM news crew return to Mary Richards' apartment after the funeral of the station's kiddie show host. As fans will recall, "Chuckles" was squashed in a parade by a rogue elephant. As Murray so eloquently put it, "Born in a trunk, died in a trunk."
"All's well that ends well," Georgette softly said after the funeral. The character often appeared dim and naive, a needed contrast to the cynical news veterans and a good foil to the hard-bitten Nivens. Besides, she had to appear dumb enough to marry Ted Baxter (played by Ted Knight).
"You know, it's the sort of funeral I would want," continued Georgette, who saw the brighter side of everything.
"Not me," said Nivens. "I want to be cremated and my ashes thrown on Robert Redford."