Way back last April I was invited to the set of Nurses, a Canadian-made hospital series set in Toronto. Nine months later, it premieres this Monday night at 8 p.m. on Global.
I'm not here to pan it or even bed pan it. There are some folks behind it who have made several very successful TV series, shows such as Rookie Blue and Saving Hope. The pilot has its moments, and the young cast members are all appealing and well chosen. Ultimately, this series will come down to how well they connect with audiences.
Let's check some vitals. First among equals of the five main cast members is Vancouver actress Tiera Skovbye (Riverdale). She plays Grace Knight, a.k.a. "The Heart." The nurses are all named after body parts, a storytelling device (Knight's character kind of narrates these nicknames over an opening montage scene) that perhaps worked best as part of the bible on this series; I know these nurses are young, but they're not Disney Family Channel young.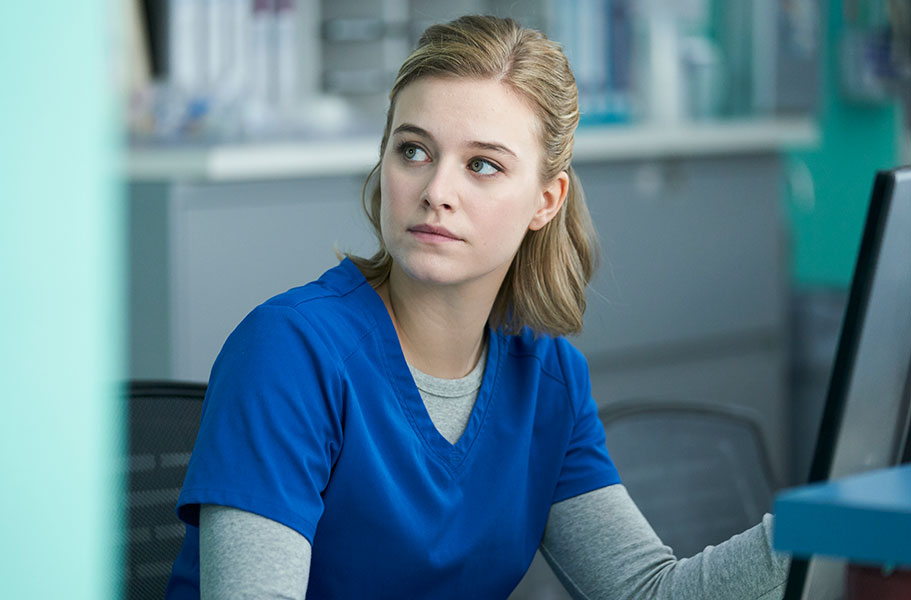 Knight is a real go-getter. As several patients are wheeled into the emergency ward — victims of a deranged driver trying to mow down pedestrians — Knight is way ahead of the seasoned nurses. Her charges are prepped and ready, a result of her having a year of practical training before ever hitting this hospital. The blue-eyed blonde seems all willow-y and delicate, but she has as much spine as, well…
Toronto lad Jordan Johnson-Hinds plays Keon Colby. His designated body part: The Spine. Knight sees him as the backbone of the team. He screws up early on Day One, however, alarming a pregnant patient by failing to find her baby's heartbeat. His mistake spreads like a social media virus throughout the hospital so he better have thick skin to go with that spine.
Another BC-based actress, Natasha Calis, plays Ashley Collins, a.k.a. "The Liver." The character, described as an "adrenaline junky," is much edgier. She's more liver and onions.
Sandy Sidhu plays Nazneen Khan, nicknamed "The Brain." She seems more vain than brain at first, snapping selfies in the hospital. When she complains about being stuck in the ICU, a prissy receptionist hisses, "This isn't a dream come true for me either, princess." These kids aren't going to get a free ride at this hospital!
Donald Maclean, Jr., plays Wolf Burke, or "The Lungs." In the pilot he is literally given the finger. Two fingers to be exact.
Executive producer and showrunner Adam Pettle (Saving Hope, Rookie Blue), whose father is a doctor and whose stepmom is a nurse, told me he was excited at the opportunity to "flip the medical drama on its head a little bit. Nurses are usually background performers on TV. I wanted to see a show from the nurses' point-of-view."
That absolutely happens throughout the first hour. The episode builds towards several emotional high points, including one where a mother has to decide if her dying son's last act could be donating organs to help save some of his students who were also seriously injured in the homicidal auto attacks.
The life and death drama plays out in sure-handed if predictable ways. The set is a stunner and looks like a real hospital. The pilot episode direction, by veteran Ken Girotti, is lively and engaging.
Just… if you like seeing all the stops pulled out to achieve payoff, this show could be for you. The student who screwed up is a hero by minute 40. A baby is born and held aloft Simba-like as a pop ballad soars over the soundtrack. For one of the characters, there's a weird domestic twist out of nowhere specifically designed to keep viewers keen next week. At the very end, after the worst first day ever, the (little too) well-groomed gang of five end the episode with one more selfless act.
There's a "Rookie Blue Nurses" or "Saving Hope Scripts" vibe to this new series. That's not unexpected. Besides Pettle, two executive producers behind those series, Ilana Frank and Linda Pope, also make the calls here. To be fair to them and everybody else, every pilot is an exercise in squeezing cliches into a brisk story that viewers can "get" as soon as possible.
Therefore, the long-term prognosis is that viewers will stick with Nurses if they get so invested in these characters and these actors that they can't live without the Heart, Spine, Liver, Lungs and Brain. The next ten weeks will tell the tale.