In recent years, American networks have revived such classic TV games shows as Pyramid, Card Sharks and To Tell the Truth. Jeopardy! remains one of the hottest draws in supper hour television. Even CBC are in on the games revival with the launch of Family Feud Canada.
So how come there hasn't been a reboot of classic Canadian TV game shows?
Well, classic may be too strong a word. Canadian game shows tended to be very low-budget affairs, with laugh trax filling in for studio audiences and prizes amounting to little more than loot bags at a kiddie party.
Still, some of the biggest names in American game show hosts were or are Canadian, including Alex Trebek, Howie Mandell and Monty Hall.
They and others are celebrated in The Search for Canada's Game Shows. The six-part documentary series, from Decently Creative, premiered last week and continues Thursday nights on Game TV.
Full disclosure: writer/director/producer Dave Hodgson asked me to take part in the series. That's me explaining Front Page Challenge and Bumper Stumpers on a few of the episodes.
I was a contestant on the latter as well as on a series shot out of Toronto in the mid-'80s called Guess What? It was basically an attempt to cash in on the Trivial Pursuit craze. Hosted by Robin Ward, it featured teams of families and was shot in Agincourt at what was then CFTO.
My mother, Margaret, had enough Lucy Ricardo in her to want to be on game shows. One of my earliest TV studio memories is being dragged out to what was then the brand new CFTO studios in the early '60s as she appeared as a contestant on the Canadian version of To Tell the Truth. As it does on the new, ABC version of the game hosted by Anthony Anderson, the goal here was to have three players claim to be one semi-famous person. My mom was one of two fake nutritionists on her appearance. If you tricked one of the judges into voting you the real deal, you got $25 bucks. My mom, I think, walked out with $50 — pretty good money in 1963.
I learned a valuable life lesson that day from my mom: Lying pays.
My mom also dragged me — and my dad — onto Guess What in the mid-'80s. There, teams consisting of family members competed against a similar family grouping. Contestants had to hold up a ping pong paddle with A, B, C or D on it to weigh in with an answer. My dad, who did not hear very well (an impairment that dates back to a WWII war injury), just kept picking up the D paddle. He was the high scorer on our team.
We won five games. Seven was the ultimate goal, with a grand prize of white water rafting down the Ottawa river. Thank god we dodged that.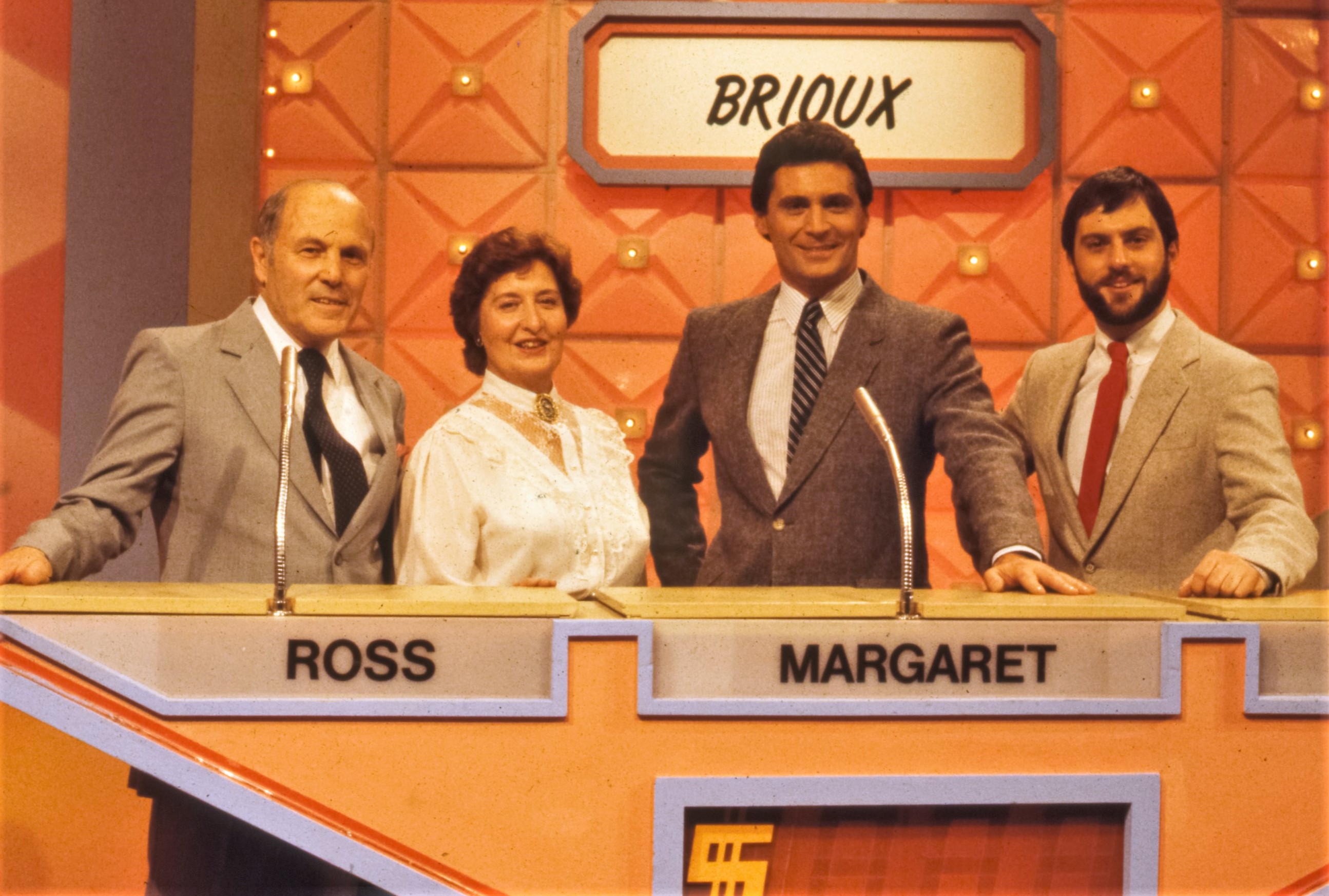 We won bathing suits, sneakers, sweat pants, a word processor that could preview up to 24 characters and a sewing machine that still sits in my basement and was maybe used once.
By the time I was a contestant on Bumper Stumpers, prize money had gone up in Canada. The idea of that game, which was produced by U.S. game show icons Dan Enright and Wink Martindale, was to unscramble the meaning behind the vanity plates you see to this day on the roads.
There were two member teams, usually consisting of couples. I was paired with my ex-wife. We were on the verge of figuring out that ICNSIDPLN was "I can see de plane!" (Tattoo's catch phrase from Fantasy Island) when time ran out and so did our chance at $1000 bucks.
The host of that series was Al Dubois, at the time a Global weatherman. He's part of The Search for Canada's Game Shows as are Mandell, Martindale, BC-based host Wayne Cox and many more. Along with Canadian game shows such as Definition and Just Like Mom, there is a look at the classic Canadian panel show Front Page Challenge, must see for close to 30 years in Canada.
Check the documentary series out Thursdays at 7 p.m. on Game TV or follow this link to stream on line.