Wednesday, just in case you didn't already have the willies from the deadly spread of the Coronavirus, CTV launches the new medical series Transplant. This is the second new, private network, made-in-Canada hospital drama this season. Nurses scrubbed in first last fall on Global. CBC already sort of has a hospital show in Coroner.
Canadian network schedules are already up to their bedpans in hospital shows, with New Amsterdam, Chicago Med and The Good Doctor joining long-running Grey's Anatomy near the top of the Canadian TV ratings list.
While you can't always judge a book by it cover or a series by its pilot, this Transplant should not be rejected. The first hour delivers a lot of promise, with the potential to be better than all the other medical shows listed above.
What makes Transplant stand out? Hamza Haq, for one. He plays Bashir "Bash" Hamed. The character flees war-torn Syria to start his life over in Canada. It is a hard road ahead, with Hamed starting at the bottom.
The character lifts this show beyond the usual miracle-of-the-week medical rut and into a dialogue on the changing face of Canadian society. This is a series as much about refugees and immigration as it is about universal health care and waiting rooms.
It quickly becomes clear that Hamed is medically trained but, as a new Canadian, is forced to find his way first as a short order cook in a run down restaurant. In the opening moments, patrons at the eatery are literally run down, including Hamed. What happens next sets up the entire hour. It is an explosive opener, so see it from the beginning. It sets up a brisk and ultimately very moving hour, one of the best network opening episodes I've seen in a long time.
The question in the first hour: can Hamed get past a cop's suspicions and prejudice and somehow arrive at a turning point that will put him where he belongs — on the front liners of a Toronto hospital emergency room? That won't be easy. As Hamed says at one point, this cop is ready to bust him for everything including 9/11.
Haq, who played a menacing villain a few years ago in comedian Russell Peters' short lived series The Indian Detective, brings a powerful sense of urgency and authenticity to the pilot. He is totally alive under this guy's skin. The actor has lived his own immigrant story and, like his character, takes his shot, despite all obstacles, and seizes it by the head, neck and throat.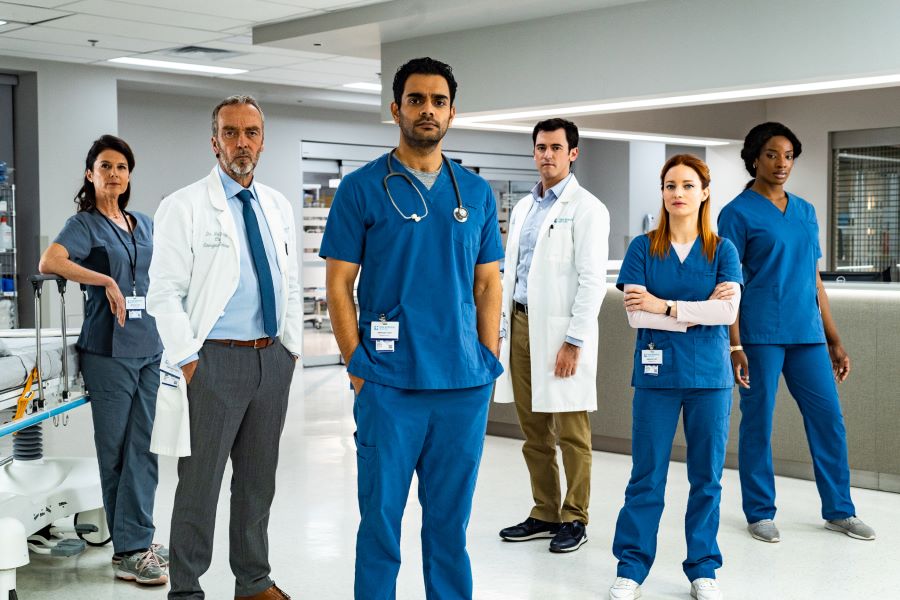 John Hannah, the Scottish actor famed for the "Mummy" movies as well as his own breakthrough role in "Four Weddings and a Funeral," co-stars as crusty chief of emergency medicine Dr. Jed Bishop. We learn early on that Hamed and Bishop have met once before. We find out where by the end of the episode.
There are several other captivating performances. Laurence Leboeuf co-stars as Dr. Magalie "Mags" Leblanc; Jim Watson plays Dr. Theo Hunter; Ayisha Issa plays Dr. June Curtis and Torri Higginson is chief nurse Claire Malone — the only one not afraid of Dr. Bishop. They are all terrific.
Another key co-star is the set. You'll swear it is a real hospital but it isn't. It took months to build and is enormous, with everything detailed right down to the dog-eared magazines in the waiting room. It is so authentic you forget about it immediately — leaving all your attention where it belongs, on the actors and the story. Most unforgettable of all — Haq's star-making performance.
Transplant is produced by Sphère Média Plus, the same folks behind the excellent Canadian police drama 19-2. Virginia Rankin, Joseph Kay and Jocelyn Deschenes are among the executive producers. Kay wrote the pilot, which was directed by seasoned veteran Holly Dale.