Not sure if you've heard, but there's an election coming up in the United States. There's even a debate featuring two presidential candidates happening Tuesday night.
The November 3 presidential election has been an ugly, partisan pissing match for, what, almost four years it seems. Therefore it's nice to see something with a little civility wade into the fray. That was the case Tuesday on-line as ABC began two days of virtual press sessions by showcasing Kal Penn Approved This Message, a political primer for the next generation of voters. The second episode premieres Tuesday night on the Disney-owned US cable channel Freeform. (It can also be streamed on Hulu).
Penn has somewhat of a young following from, as he referenced during the virtual press session, his "stoner movie career" making those "Harold & Kumar" features. Older fans loved him on House. He also has political cred from serving as a White House staff member during the Obama administration.
The 43-year-old says he has no ambitions to ever be a real politician but was happy to throw himself into a project that might help motivate young people to get out to the polls and vote. As he points out in one episode, "If 100 per cent of young Americans voted, we could have a completely different country."
One topic explored on the series is the possibility of lowering the voting age from 18 to 16. There are "VOTE16" movements in many states, including a San Francisco chapter showcased on an episode of the series.
Could such an age-lowering actually happen? Doesn't the current president want to eliminate all voters under 70?
It happened before. The 26th amendment, passed in 1971, brought the age down from 21 to 18. The fight to reach that limit started after soldiers, who fought for their country in WWII at 18, came home and felt that if they were ready to fight for their country, they should be ready to vote.
So who did those first 18 year old voters help put in office? Richard Nixon, who won re-election in the '72 presidential race in a landslide — almost as if he has bugged his opponent's Democratic Headquarters.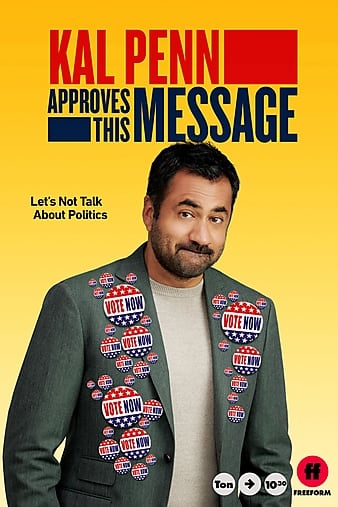 Penn sees the series basically as a civics lesson for young people. He and his fellow executive producers Stuart Miller, Julia Cassidy and Romen Borsellino, however, have a surprising inspiration for how to best put their series across to their tender demo: CBS's Sunday Morning. The never-rushed New York-based newsmagazine is the darling of the sixty set, with Jane Pauley hosting and a veteran correspondent crew.
What Penn admires is, besides the civil tone, is Sunday Morning's non-partisan detachment. He suggests that "most young people don't consider themselves Republicans or Democrats," and don't want to box themselves in with one political party.
Don't think they're not invested in certain issues just because they're non-aligned, he adds. There are plenty of hard lines taken daily by young adults in Twitter. Penn, however, is aiming to teach civics through conversation, not angry tweets. He'd rather have conversations that replicate what people talk about, "after you've had three beers."
Thar sounds more like Harold & Kumar.
The series came about fairly quickly, just in the last two months in fact. They produce one episode a week, spending two days shooting and two days editing. Penn's segments are shot in isolation in Toronto, where he's working on another project. When somebody such as Ruth Bader Ginsberg dies, an "importance of the supreme court" agenda is set, but the producers ever strive to keep opinion out of each presentation and to stick to facts.
Penn wanted to also avoid replicating what was already happening in Late Night on shows such as Patriot Act. He sees Kal Penn Approved This Message as more of "civics at an introductory level."
There will be special guests. Tuesday night's episode will feature Hilary Clinton; the week after, Penn will be joined by Jonathan Adler, a conservative advisor from the Federalist Society. No chairs or abuse gets hurled, although, as producer Borsellino put it, in one episode, you will see a "grandma playing beer pong — look for it."
"It's fairly easy to not follow the vitriolic path," says Penn, when the aim is to have "conversations about experiences in systems of democracy."