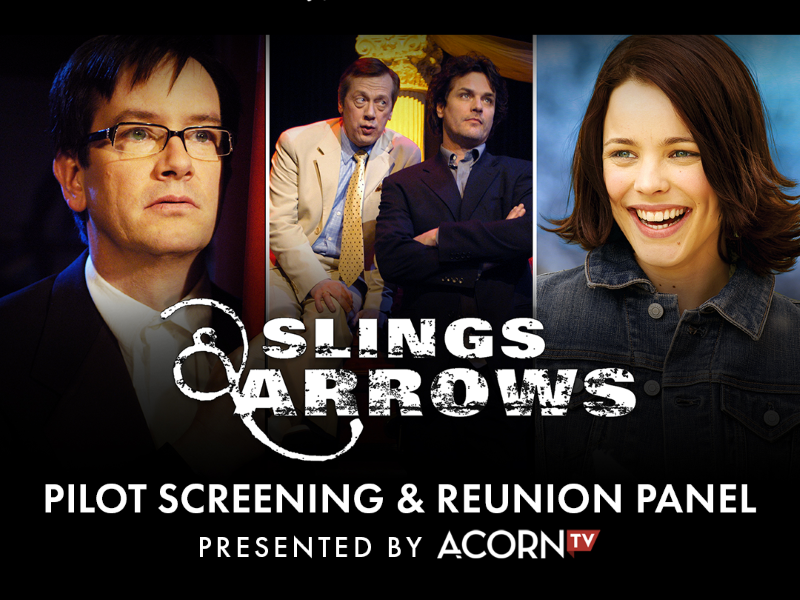 I'm sometimes asked to name the best TV show ever to come out of Canada. The first that jumps to mind every time is SCTV. The SCTV of Canadian drama, however — although it was also funny as hell — is Slings & Arrows.
As usual, it takes a foreign network to tell us it's great. The folks at Acorn TV are hosting a virtual reunion panel, live YouTube chat and exclusive screening this Sunday night, Oct. 18 at 4 p.m. PT/7 p.m. ET.
The series, which won 13 Gemini Awards, originally ran from 2003 to 2006 on The Movie Network, Movie Central and Showcase. It's basically "Best in Show" set in Stratford, Ont. (called the New Burbage Festival), focusing on a dysfunctional Shakespearean threatre troupe. Each of the three seasons was hung on a different play by The Bard. And, yes, there are ghosts.
Taking part in the live virtual chat are series creators Bob Martin, Susan Coyne and Mark McKinney along with star Martha Burns, Luke Kirby and Paul Gross. Stratford veteran Stephen Ouimette ws also a standout.
Moderating is The New Yorker's Emily Nussbaum, who calls the series "the single best TV show about theater ever made."
So take that all you other TV shows about theatre. It's all part of the on-going ATX Television Festival. Get links and more information here at their YouTube home page, then get thee to a nunnery!