The past seven or eight months have been hard on families all around the world. Folks have been dealing with serious illness and, in way too many cases, the loss of a family member. Then there is mental fatigue, coping with isolation, job loss and relentless uncertainty.
Television has largely provided a diversion for the grim realities of life, especially scripted fare. As one might expect, however, not The Conners. The series takes an unblinking look at how COVID has changed everything as the comedy returns this Wednesday for a third season on ABC and CTV.
Showrunner and executive producer Bruce Helford summed things up last month for critics who took part on a virtual ABC zoom call.
"The characters were built for disaster," said Heresford, "and we've been following their life and their trials through all the things that have been going on since the 1980s. It just seemed natural that we would be in ‑‑ you know, in the middle of this and do it. I know there are a lot of shows that probably aren't going to be reflecting what's really going on, but we felt that it was an obligation to our viewers and to stay relevant and to show them what it's like for a family that knows how to get through hard times but is thrown a curve like never before."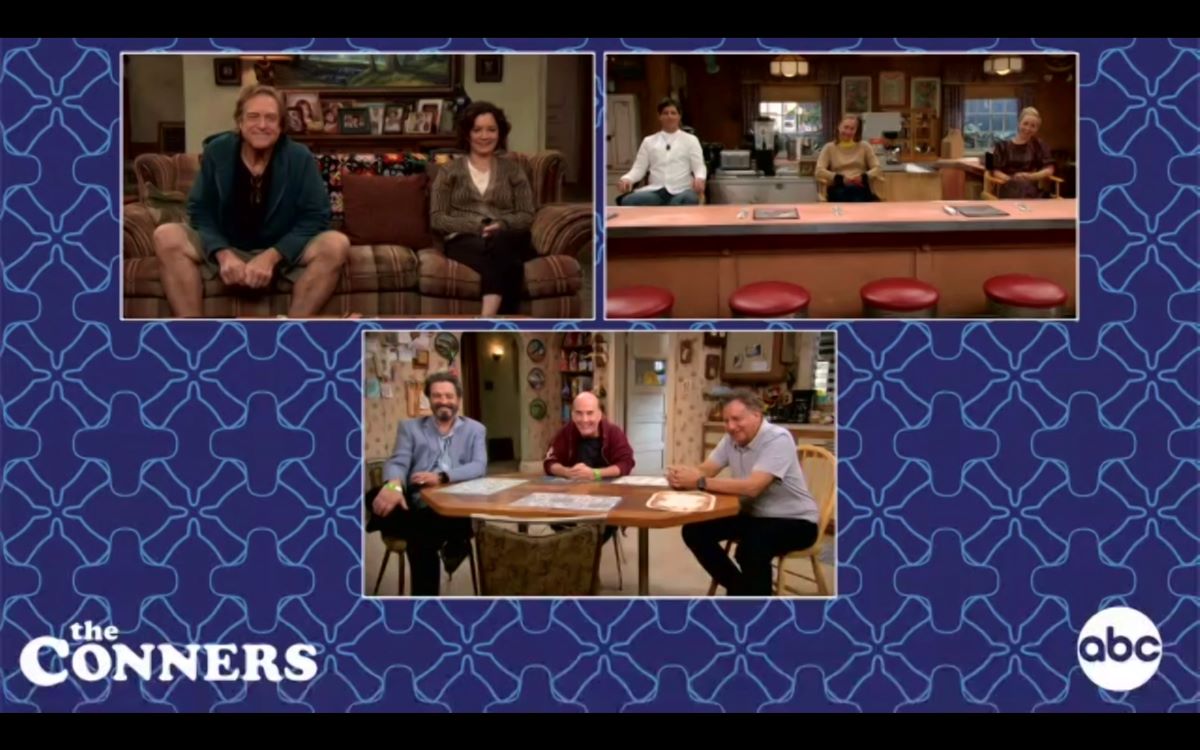 Helford joined stars John Goodman, Laurie Metcalf, Lecy Goranson, Michael Fishman, and Sara Gilbert — also an executive producer on the series — on the virtual press conference. They sat on the set of the series, Goodman and Gilbert right on the Conners' iconic couch. Also on set were executive producer and writer Bruce Rasmussen and executive producer and writer Dave Caplan.
They had shot the first four episodes back at the time of the call. On the opener, titled, "Keep on Truckin' Six Feet Apart," Dan (Goodman) gets the dreaded call from the bank, threatening to foreclose on the mortgage if a narrow deadline is not met. Darlene (Gilbert) and Ben (Jay R. Ferguson) are publishing a magazine so they're doomed; Jackie (Metcalf), still clinging to the "Lunch Box" diner, is down to delivering meals by bicycle.
The one ray of sunshine in Dan's life is his budding relationship with girlfriend Louise, who is back in the Season 3 premiere. How much longer though is in question. Actress Katey Sagal has already signed to do the new Erin Brocovich-inspired ABC series, Rebel, co-starring Andy Garcia.
"Katey, I know, wants to be here as well," said Gilbert, "and we want to have her here as her schedule permits, so our plans are to keep her a part of the family."
Back in the Roseanne days and into The Conners, the series always made a big deal out of Halloween. Helford says that tradition will continue even though the real Halloween is shut down in many cities in 2020.
"Once we found out that we were going to be on the air on October 28th, we rushed into production to do an episode that discusses Halloween for one thing, because Halloween won't be the same this year," says Helford. The Conners are going to find a way to do Halloween "a little bit better at their own homes without being able to go out and trick or treat because of COVID."
Helford says the US presidential election and the polarization of America are all going to play out this season. Roseanne's support of Trump — both in real life and through her character on the series — got the series back on a contentious footing when the series was re-booted early in 2018.
Of course, the stars, crew and producers all had to work safely once production on Season 3 began. As on other sets, rigid protocols have been put in place.
"The way we're reflecting life is pretty close to the exact thing," says Helford. "The only thing different ‑‑ and it really isn't different — is that the family doesn't wear masks or social distance amongst themselves, because they're quarantining together when they're in the house."
You'll see youngest son Mark (Ames McNamara) checking everybody's temperature before they come in the house and making sure everybody is washing up. All the actors and crew members are tested before coming to the stage. Says Helford, "We're being extremely, extremely careful with everyone's health."
Another big change: for the first time ever, The Conners is shooting without a live, studio audience. "We've talked about it and we feel that the risks aren't worth the benefits even if we're testing people," says Gilbert. "We're just dealing with safety issues. And as an actor, I can feel insecure or feel like it affects my performance, but the producers swear it doesn't. So, you guys will have to judge."
To this viewer, based on the first episode back, there is no difference.
Metcalf says she felt nervous coming in on the first day. "But when I saw all the safety precautions that had been taken and had talked with fellow cast and crew members about how seriously we were all committed to keeping the set extremely safe, I felt much more comfortable," she told reporters. The hardest part, she added, "was when we finally did tape a scene and finally dropping our mask, and that felt very naked."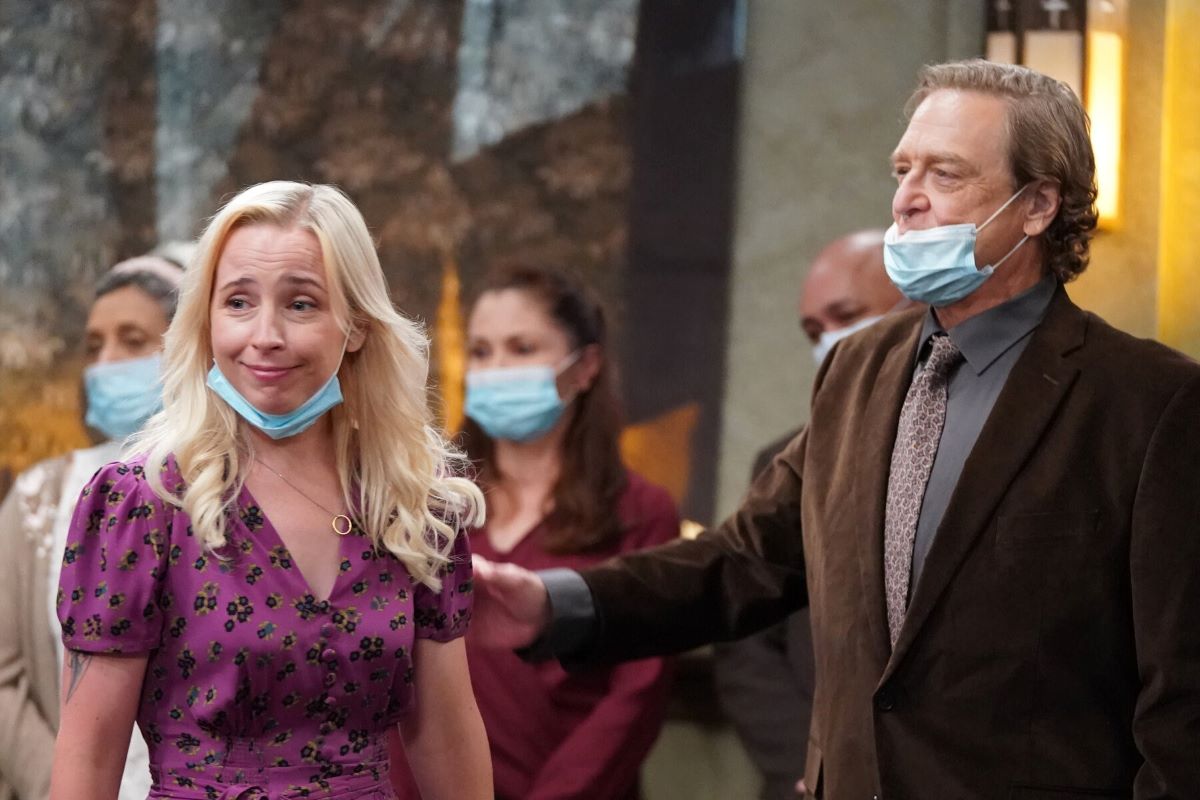 Gorenson and Fishman talked about the mental and emotional impact of the times. "Like Lecy said, there is a psychological toll," said Fishman, "and I think what we're showing is the strength and the ability to depend on each other but also the way a family comes together on screen in the way hopefully families are coming together at home. You love your family, and by now they're driving you absolutely insane. So, what you have to do is find small breaks, ways to take a break, ways to connect with people and focus."
Goodman, generally a man of few words at press conferences, was asked about continuing on in the role of Dan post-Roseanne.
"I love this show so much that I was just thrilled at the idea of doing it again and see where he is 30 years down the line. It's pretty much where I'm at, where, like, broken down, a shell of my former self, and on my knees begging for mercy from God."
Later in the session, TCA veteran Margie Barron singled out a line from the new episode: "The way the Conners get through everything is watch TV, drink, and blame the government." She then asked Goodman what gets him through the lockdown/quarantine?
The actor — much shier than he appears in character — got serious for a moment.
"The appreciation of the small, little things in my life that make me very happy. I've been working very steadily for the last few years. I've been grateful for that, but it was nice to have some time off and just appreciate the things that make up my life. And it's just the gratitude that I have now is something I hadn't had earlier in my life, and I'm glad it's come to me now. And thank you for asking. I'm very grateful for your question."