Academy Award winner Anna Paquin stars in Flack, a British dramedy about high-powered publicists. Her boundary-busting character Robyn is asked why she does what she does.
"I enjoy it," she says. "Makes the most of my natural talents … lying and drinking."
Two six-episode seasons, both shot in London pre-COVID, were produced. Paquin and husband and former True Blood co-star Stephen Moyer are among the executive producers. The series was written and produced by Oliver Landley, who pounds in enough cheeky dialogue to make even Sex and the City and Emily in Paris creator Darren Star blush.
The series begins with a bold disclaimer: "WARNING: The celebrity culture you see is highly manipulated. Behind the scenes it is sordid, shocking, and salacious… just like this show."
Paquin, born in Winnipeg and raised in New Zealand, plays the X-Men-ish super publicist of the drama; unstoppable but damaged and deadly to touch. The series seems like a period piece from the '90s at times because the publicists at her firm seem to have unlimited budgets and stamina and are fueled on copious amounts of cocaine.
They're also outrageously un-woke. Looking for ideas to stoke a 17-year-old singers career, Robyn suggests a sex tape. The girl's grasping mom insists her meal ticket go for it and gets too involved in the caper. Paquin is that good of an actress that you still care about Robyn, and her character does show moments of caring and conscience but there's a deep, deep well of cynicism at the core of Flack that can be off-putting.
As guilty pleasures go, however, the series is all in. Besides Paquin as the ballsy American in the British PR den, the scene stealers include Sophie Okonedo as Caroline, head of the PR firm. Outrageously deadpan, she makes the most of Lansley's delicious one-liners.
"You've got lovely skin," she tells Robyn at one point. "I would kill you and peel it off if I could."
Lydia Wilson plays Eve, Robyn's anesthetized coke and sex compadre at the firm. Rebecca Benson plays Melody, an innocent young intern who gets a crash course in coarse.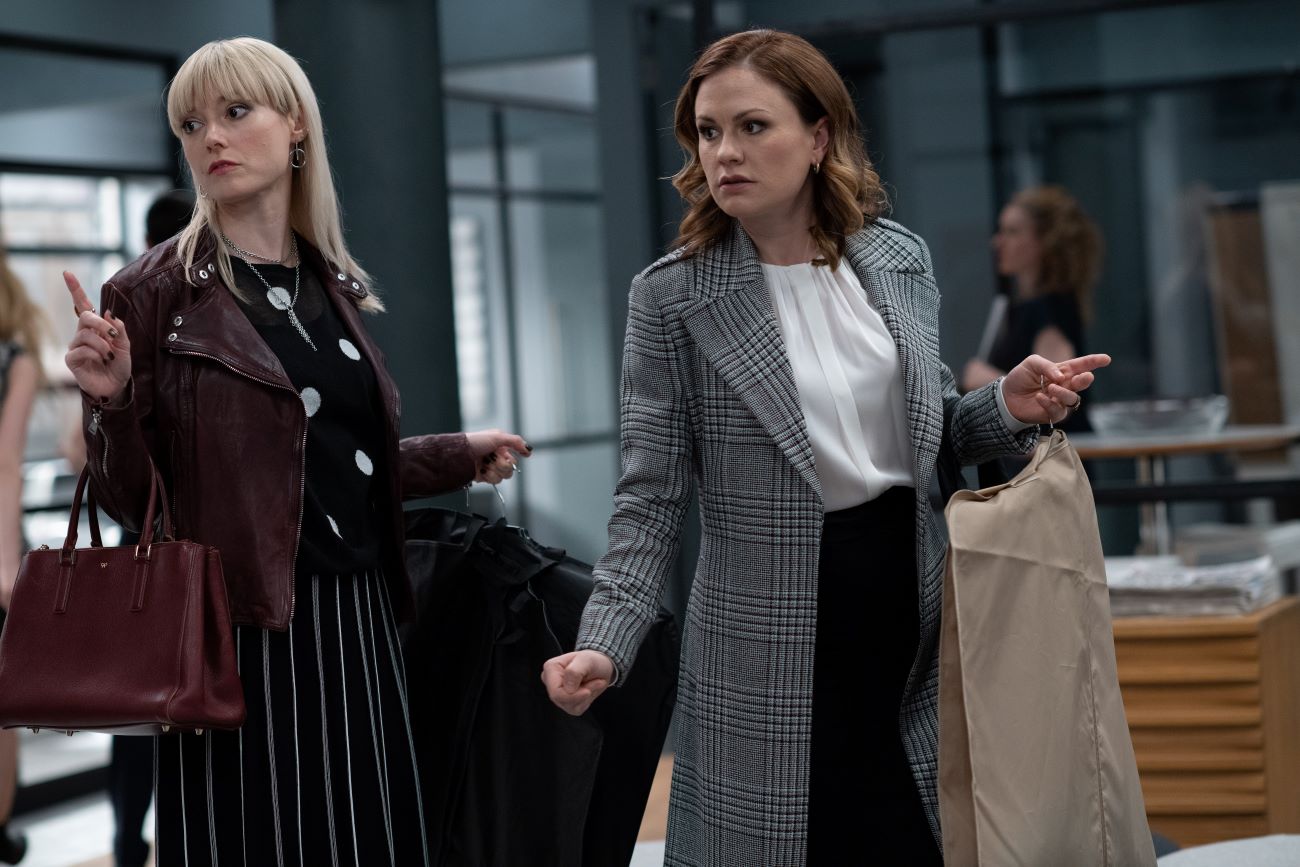 The series begins with Robyn pulling celebrity chefs and soccer stars out of public relations jams. That she'll go to any length to change the narrative seems only too believable to audiences who have lived through four years of presidential outrageousness.
Look for some fun guest star turns, including scenes featuring Bradley Whitford, Sam Neill and Daniel Dae Kim.
I was in on an international press zoom call with Paquin a few weeks ago and asked her to share the most hair-raising, true-life tale she'd ever heard from a publicist. Paquin, however, would not spill the beans. She'd heard some juicy stories no doubt but it all stayed in the vault. She'd make a good publicist!
I've heard a few over the years and should probably keep them out of this post as well. Let's just say that Lansley probably did not have to make up any of the bizarre PR-related adventures found in Flack.
All 12 episodes are up and available now for streaming on Amazon Prime Video.