Housing markets are heating up once again, and the trend is clear: people are fleeing big cities and migrating to small towns and rural areas. Hey, if we're going to be isolated at home, give us those wide-open spaces.
Heritage properties, such as farmhouses, are suddenly among the most sought after homes. Helping to restore and renovate them one at a time are the sibling design and renovation team of Carolyn Wilbrink and Billy Pearson, hosts of Farmhouse Facelift. The 10-episode series premieres Wednesday, March 3 on HGTV Canada.
On the first hour-long episode, the sister-brother act tackle a farmhouse near Paris, Ont., that has been in a family for four generations. Owners John and Kristine love their home, but have had enough with the uneven floors, a disconnected bathroom and too many entrances out front. Their wish: to retain the country charm but to finally "make it ours."
A budget of $150,000 is agreed upon, and priorities are identified. Wilbrink, who has her own home design business (CW Design & Co.), says she starts every project consult with a question: "What is going to make your life better? So if it's a kitchen or a bathroom, then that's what we're going to do."
An added touch in the house featured in the opening episode: a very cool mudroom complete with a stylish — and heated — tile floor. Even farmers appreciate warm boots.
Wilbrink favours symetrical designs as seen in Episode One when a window has to be shifted a foot or so to create the right finished effect. Pearson resisted at first — hey, he's the one who has to figure out how to work around a load-bearing header — but saw sis's point in the end.
The brother-sister dynamic generally works, although — particularly during the odd 11- or 12-hour series production day — the two don't always agree.
"Our show is like a PG version of our regular life," jokes Wilbrink, who adds being honest and direct is the key to a good sibling working relationship. "We can just speak our minds to each other and in that way we don't have to worry about offending the other one."
Well, honest to a point. "We still have to be able to sit next to each other at the annual Christmas dinner," adds Pearson, "so, yeah, we get over things."
Neither was particularly focused on launching careers in front of the cameras. Wilbrink studied broadcast journalism at Mohawk College in Hamilton but leaned into design courses later after she and her husband Craig bought their first home together. Years later, they moved into a farmhouse that Carolyn's great, great, great grandfather helped build.
As the family grew, they renovated another house and posted pictures of it on Instagram; that brought them to the attention of the folks at SONAR Entertainment.
Pearson honed his carpentry skills at a young age helping his dad out at the family farm. He still pitches in there (Dad Alec makes a carpenter cameo in Episode One) while sharpening his skills the past 16 years in the construction field.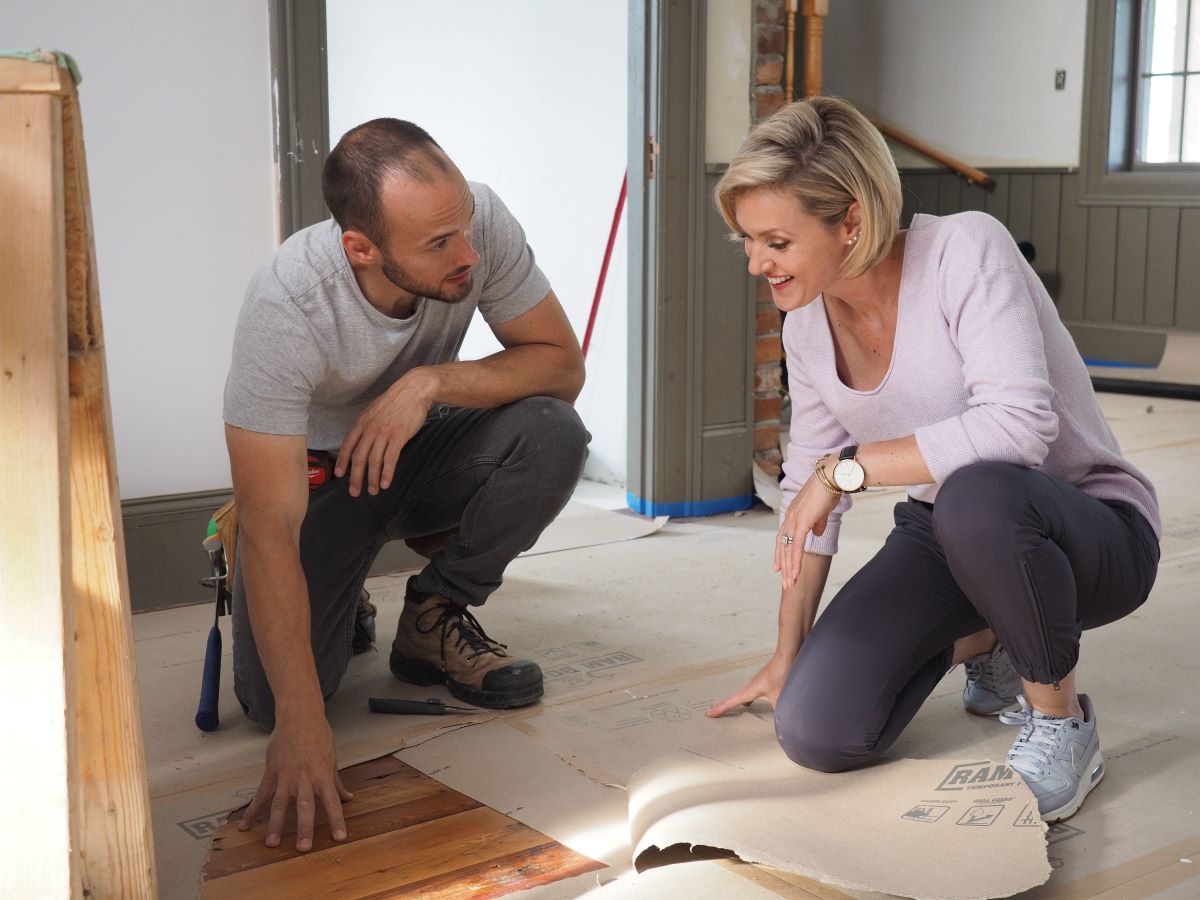 SONAR, which produces everything from the Al Pacino series Hunters, Tom Hardy's Taboo as well as several family-friendly Christmas movies, thought the siblings had just what it takes to front farmhouse makeovers. Pearson admits he was skeptical at first. "I thought it was a scam."
Ten episodes in, he's getting used to working in front of a camera crew. As for home renovation shows he admired growing up, Pearson points to the granddaddy of them all, PBS's This Old House with Bob Vila.
Production on the series began in the summer of 2019 and continued into 2020 before COVID arrived and temporarily shut things down. Completing a new series spread across various construction sites throughout Southern Ontario was a challenge but it all got done under strict testing and other safety conditions.
The renovations took the siblings as far as Shelburne, about an hour north of Toronto. Pearson was told that community, once best know for its annual fiddle contest, is now the fastest-growing small town in the province.
On the series, the duo rummage through favourite antique stores and woodworking shops — including a well-stocked flooring mill — in search of just the right kind of touch to add finish to their designs. The venues are not identified on-air, but curious viewers can check out who supplied what by consulting the Farmhouse Facelift pages on the HGTV Canada site.
Farmhouse Facelift airs Wednesday at 10 p.m. E/P on HGTV Canada.