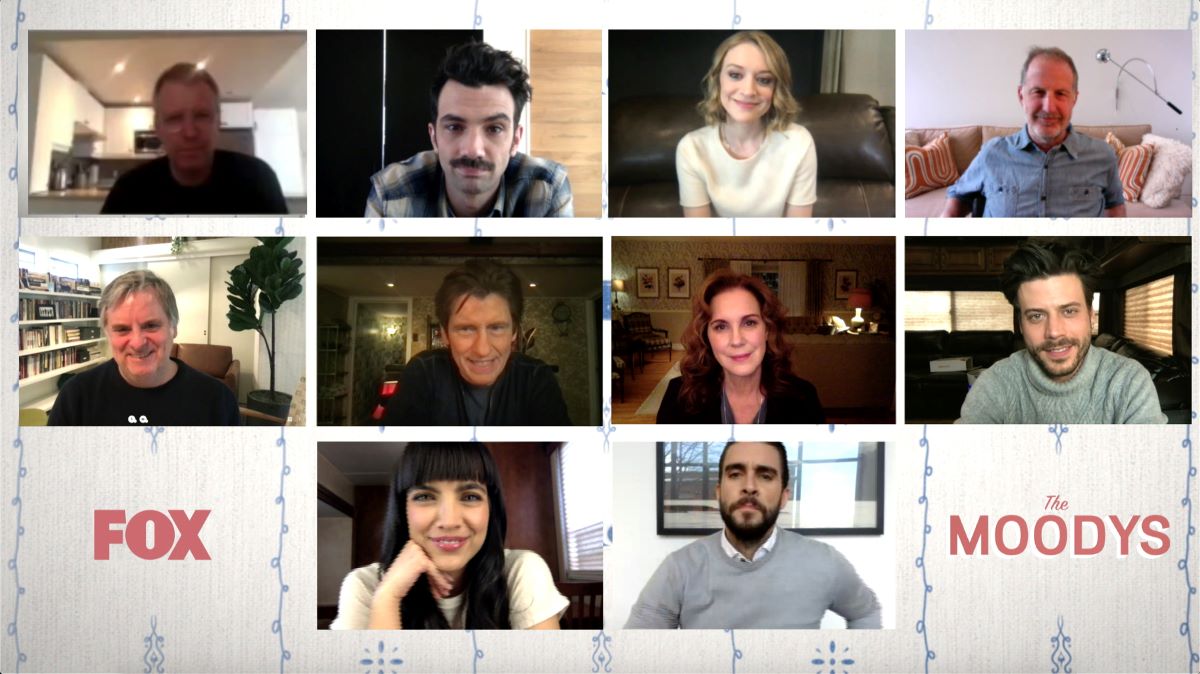 What's the funniest series shot in Canada right now? I'll nominate The Moodys, which returns to Fox April 1.
The comedy, which is in production in Montreal, is returning for a second season in April even though many viewers will not even remember the first.
It stars Denis Leary and Elizabeth Perkins as a cranky yet committed couple who find all three of their adult children have moved back home just as these empty nesters are set to retire.
Based on an Australian series, it snuck onto Fox way back in December of 2019 in a few Christmas-themed episodes. Canadians Francois Arnaud (The Borgias) and Jay Baruchel ("Goon," Man Seeking Woman) play the battling-brother sons. Chelsea Frei plays the just-divorced daughter. Gerry Dee (Family Feud Canada) has some funny scenes as an overwhelmed widowed dad in the Season Two premiere.
Fox hosted a TCA Zoom session Wednesday with the main cast plus executive producers Rob Greenberg, Bob Fisher and Tad Quill.
Leary is a TCA All-Star, setting records for F-bombs and laffs through memorable past sessions promoting Rescue Me and The Job. Reporters back then were in tears through hilariously profane sessions featuring Leary, Lenny Clark and Peter Tolan.
Leary told critics on yesterday's zoom call that he misses doing TCA live because he and the others always "had a blast with the room."
We just went out there to try to make people laugh, make them laugh their asses off. We knew they were tired of hearing actors talk about boring actor stuff. So we would just come out with all guns blazing and try to make them laugh, and so I miss that part of it.
As a veteran TCA reporter, I have to say that after another two weeks isolated in a press tour hotel, that effort was always appreciated. In that spirit, I asked O'Leary Wednesday if hockey scenes — featured in his earlier shows as well as on The Moodys — had to be part of anything he shot for television.
"It's in my contract," he answered. "You can ask Rob and Bob and Tad and FOX… Anything I do has to have a hockey scene, minimum of two hockey scenes."
Born in Massachusetts, the 63-year-old is a lifelong fan of the Boston Bruins. For 25 years he has fronted and organized a Boston-based cancer hospital benefit for his pal and former Bruins' great Cam Neely. Back when he was shooting Rescue Me in New York, Leary went out of his way to cast hockey playing actors to stock weekly games of shinny.
Can't speak for Arnaud but Baruchel and Dee would both be ready to lace them up on this set. Trouble is, COVID has shut every rink, especially in hard-hit Montreal.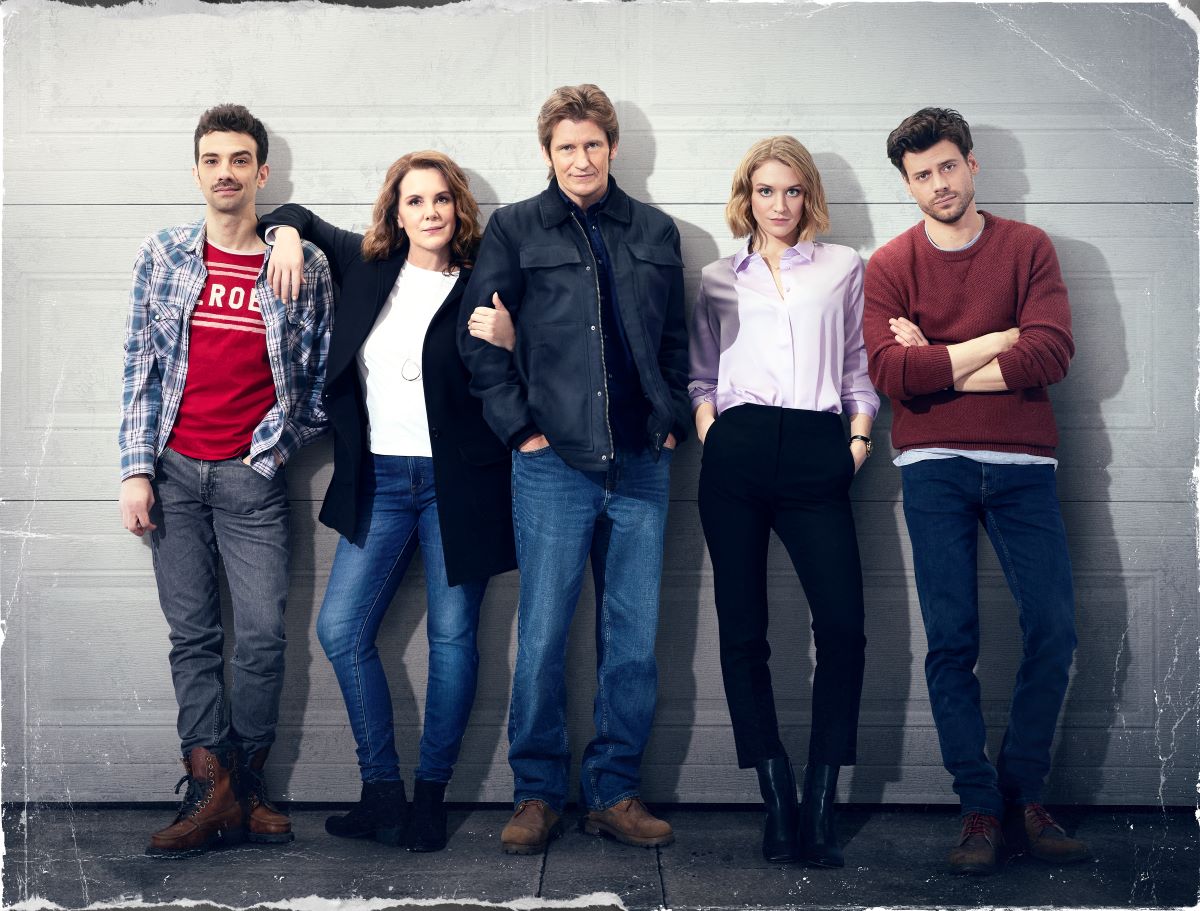 Outdoor rinks were shut down as well Leary said Wednesday — and even if they were open, "for the sake of getting together the cast and crew, we didn't. The only days we skated were the day that we shot [the hockey scenes in the series] and the day before [when they were rehearsing those scenes]."
Even then — as they were on the set of Disney+'s reboot of The MightyDucks out in Vancouver — the hockey scenes were shot under the strictest of safety protocols.
"The scenes are very improvisational many times," Leary said. So while protocols are taken care of, and two cameras are used quite often to cover the action, it works and doesn't look confined. "If you didn't know this show was shot during COVID protocol, I don't think you'd be able to tell from the energy of the show."
I felt much better about my little hockey query after some idgit-who-must-not-be-named asked Perkins one of the worst questions ever at TCA, zoom or no zoom.
From the transcript:
QUESTION: Hi. My question ‑‑ I'll let Queen Elizabeth Perkins finish her cup of coffee there. Elizabeth, I'm going to show my age because I remember reviewing some of your films. I remember "Big," "About Last Night," "The Doctor," and I was curious. I really thought you were going to be like that Julia Roberts kind of movie star career.

ELIZABETH PERKINS: Yes.

QUESTION: That's the kind of ‑‑ I was going to say, when you didn't get the first rating, did you get concerned? Was there a time you said, "Do you know what? Maybe I'd better look for another profession?" because it is a tough business (inaudible) the height. So I just want to get your feedback.

ELIZABETH PERKINS: So the question is?

QUESTION: Well, was it ‑‑ did you ever think show business was more frustrating than you realized? because you had that early success. And this looks like a success with THE MOODYS, but there was a lot of times where I'm sure people said, "Whatever happened to Elizabeth Perkins?" Have you heard that?

FRANCOIS ARNAUD: She was nominated twice for Emmys.

JAY BARUCHEL: Why did you ask that question?
Remember — while this is going on, every TV critic on the line has all ten of the participants from The Moodys session in front of them on their home screens. We can see the blood drain from all of their faces; we can see some trying to disappear into the backgrounds.
Perkins — heroically — took the high road and answered with far more dignity than the question deserved.
"No, I'm glad you asked the question," she said. "I'm absolutely thrilled at my career trajectory because it's leading me here. I get to work with Denis Leary and Jay Baruchel and Chelsea Frei and this incredible cast, and I feel really blessed. I mean, sure, Julia Roberts has a great house in Malibu and I don't, but other than that, I couldn't be more thrilled to be here today with everyone."
And that's how you do it. Executive producer Tad Quill, who joined the session late, gallantly followed by saying that he was "absolutely thrilled to work with Elizabeth Perkins every day. I think she's amazing."
I do not see the name of the fool who asked the question among those listed on the TCA members guide, but perhaps whoever he is could get a job as on-ice hockey fight co-ordinator the next time Leary and company lace them up.
Season Two of The Moodys premieres Thursday, April 1 on Fox.