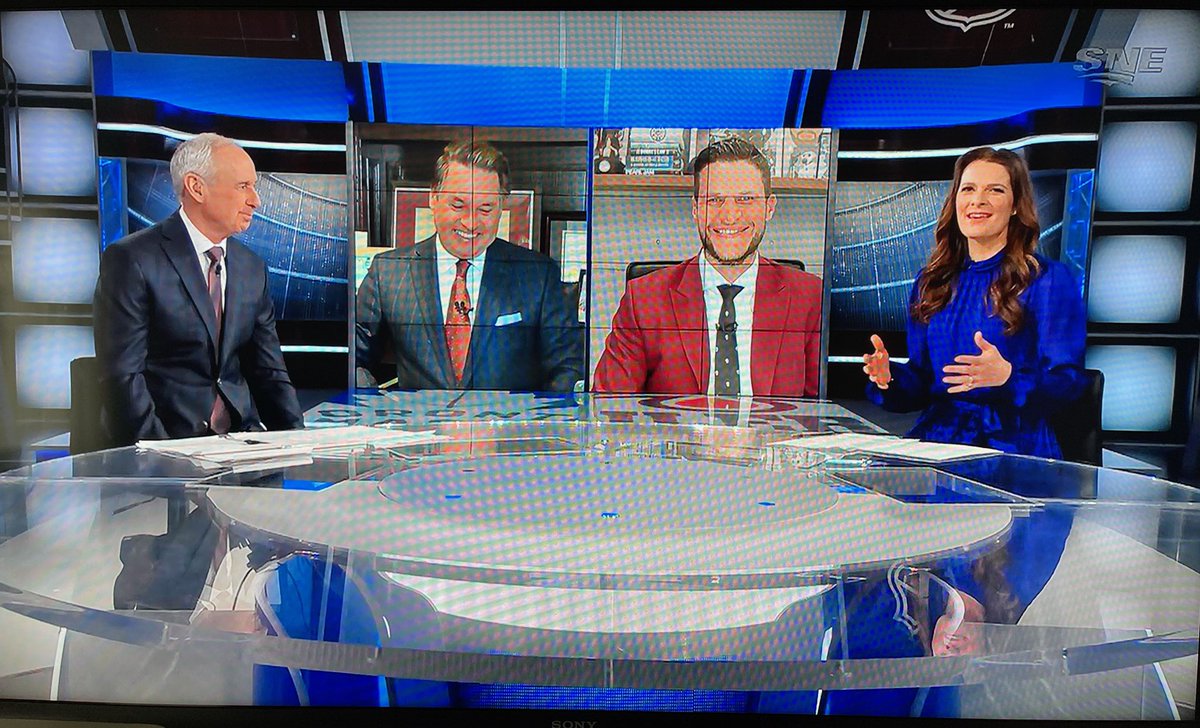 Here's what I find offensive about all the Ron MacLean bashing today on Twitter: all the piling on and knee-jerk ageism.
MacLean is being trolled with "time to go" cracks and photos of Grandpa Simpson. The outrage is over a jab the Hockey Night in Canada host aimed Tuesday night at analyst Kevin Bieksa. The charge by some is that MacLean was making a homophobic remark.
People, please. I watched the intermission segment Tuesday night. My reaction: man, is that panel on fire. It moves like lightening. The comments are informed and precise and quite often illuminating. Bieksa, who was added last season, came ready made, impactful from the start. His keen insights are delivered with assurance. He seems also to have re-ignited Kelly Hrudey, who has raised his game with great perspectives from the goal crease.
Jennifer Botterill, a three-time Olympic hockey gold medalist, is a welcome addition to the panel. Her game and player knowledge and overall perspective broadens the dialogue. Her voice is as loud and valid as the others and if you don't think host MacLean has been nurturing her along, you haven't been watching.
The other thing that stands out: they all look like they're having fun.
MacLean is the glue that holds it all together. He's the ultimate TV traffic cop, throwing to voices in the studio, virtually on screens and inside his head. If occasionally he over-reaches for a joke, that's another part of his job. He's not just there to keep it moving; he's there to stir things up and keep it all entertaining, and to also occasionally wade in with his own perspective.
That his joke Tuesday night was too complicated, or seemed random, leaves it open to too much interpretation. If you take what he says out of context and just type it out on Twitter, here's what you've got:
"You have a photo of a guy with his tarp off, you're definitely positive for something."
What does that mean? Bieksa, reporting virtually from home, has a photo behind him on a shelf of an ex-teammate in the buff. The context of that jab takes three paragraphs to explain, which is likely why Botterill made a face. What it is not is homophobic. MacLean's sensitivity to others is evident after a three-minute conversation. (Please listen to our podcast conversation from last fall for further, well, context.) His support of LGBTQ+ causes is dedicated and meaningful.
As for him being too old for the job, at 61, he's less than a year older than a guy who just landed a role as a hockey analyst for Turner' Networks NHL coverage next season – Wayne Gretzky. The Great One has finalized a deal to join NBC's top duo of Kenny Albert and Eddie Olczyk at Turner after this year's Stanley Cup is awarded.
Gretzky is going to kill it at that job. His insights on the game are, like his playing career, on another level. He and his new Turner booth mates, however, could do worse than study MacLean and company's act during this spring's NHL playoff run.