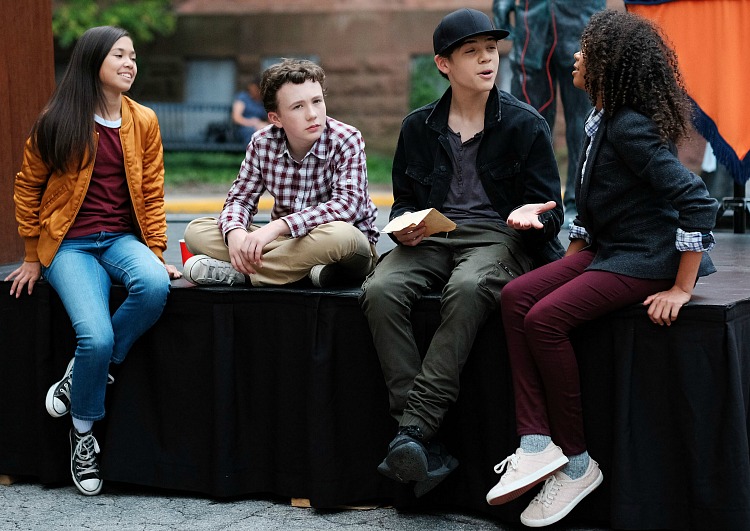 Attention all school-age snoopers! Production is underway on the third season of Detention Adventure.
Aimed at tween viewers, Detention Adventure was CBC's first original kids scripted series for CBC Gem. The award-winning series follows three nerdy, Grade School seniors who form an unlikely alliance with the school bully. Together, they suffer through various detentions in order to investigate hidden, science, history and art treasures — sometimes buried right underneath the floorboards of the detention room.
Season Three finds this pre-teen Breakfast Club joined by a couple of newcomers, including Carolyn Taylor from Baroness von Sketch Show. The comedy veteran joins the series in a five-episode arc.
Newcomer Dante Price will play a charismatic new art school student named Dash. He'll join series regulars Simone Miller Castoro-Qualizza, Tomaso Sanelli, Alina Prijono, Jack Fulton and Lilly Bartlam. Andrew Moodie plays Principal Lounsberry. Benjamin Ayres is also back as guest star "Bruno Black."
The shot-in-Toronto series, from LoCo Motion Pictures, has been sold to more than 125 territories including Latin America, the US, the UK, Spain and Australia by Blue Ant International.
The third season features an arty storyline: the Detention Adventure Team is out to discover a secret hidden in a Lauren Harris' painting given to them by Principal Lounsberry. Sounds like a sneaky way to get kids to learn about Canada's fabled Group of Seven — not that there's anything wrong with that.