Pleased to be in several newspapers and web sites today, including The Toronto Star, reporting for The Canadian Press on the early response by TV viewers to the 2020 Olympic Summer Games fro Tokyo.
Despite a 13-hour time difference from Tokyo to Toronto, CBC's live morning coverage and prime time replays are starting to gather momentum for Canadian viewers, both on traditional broadcast channels (TSN is also carrying some events) and digital streams. While Friday's opening ceremonies were watched by small TV audiences than the last two Olympic Games, that was to be expected given the pronounced time difference, COVID delays and broadcast erosion in terms of the overall TV landscape.
Here's how the Tokyo Olympic opening ceremony TV audience compares to the past two Games, all covered in Canada by CBC (data compiled by Numeris and shared by CBC Research):
Tokyo 2020
Opening Ceremony live early morning broadcast: 2+ average audience of 836,000
Opening Ceremony prime time encore broadcast: 2+ average audience of 1,010,000
Pyeongchang 2018
Opening Ceremony live early morning broadcast: 2+ average audience of 1,054,000
Opening Ceremony prime time encore broadcast: 2+ average audience of 1,254,000
Rio 2016
Opening Ceremony live prime time broadcast (live in ET): 2+ average audience of 3,337,000
Keep in mind that the Rio Summer Games took place in a matching time zone, allowing North Amerian viewers to catch all the action live in prime time. Also there were about 17 fewer competing streaming services in 2016.
The good news for the public broadcaster is that CBC reported growth over the first three days over the Tokyo Games coverage. That was especially true as swimmers Maggie Mac Neil and Penny Oleksiak won Gold and Silver medals Sunday in the pool. Mac Neil's win was CBC's peak viewing moment Sunday, drawing 2.358 million Canadians at 10:06 p.m.
The steady climb in prime time CBC viewing measured in average minute audience went like this: Friday: 1,010,000; Saturday: 1,112,000; Sunday: 1,325,000.
Also as expected, CBC's digital take is higher in 2021 than it was in 2018 or 2016. On Saturday, there were, according to Adobe Analytics, a total of two million video views with online web views up 43 per cent compared to Day One in Pyeonchang. Engagement time was up 50 per cent onn CBC Gem and over 40 per cent on the CBC Olympic App day-over-day.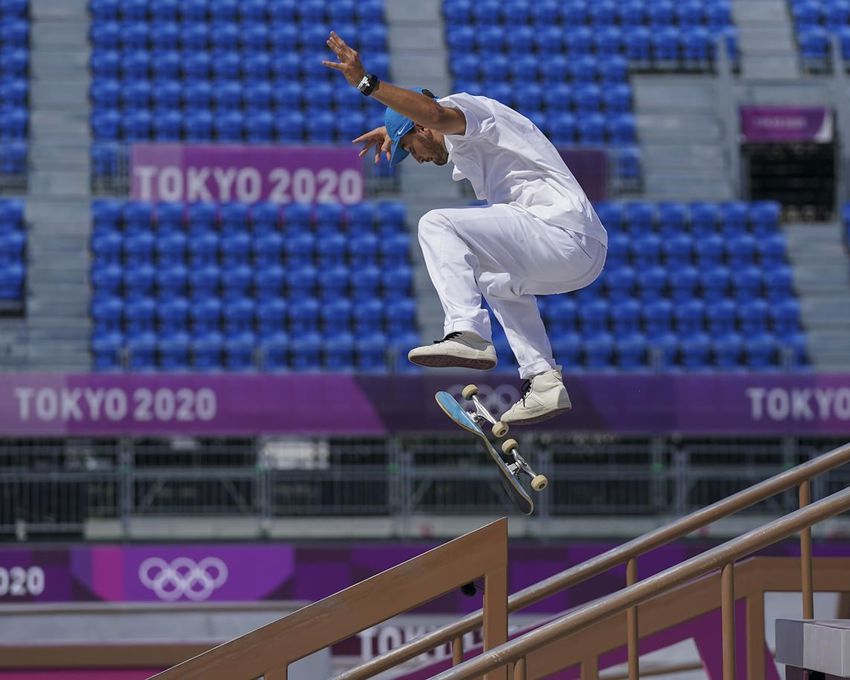 The most-watched live video on digital? men's skateboarding, of course. Men's and women's surfing came next. Adults may grumble these aren't your father's Olympics but the kids love the hang-time action.
I was one of those digital viewers, streaming the Games on cbc.ca live from the cottage. For the first time ever, a placeline on a CP story I wrote reads "OLIPHANT, Ontario."
Streaming, writing, and sending using my mobile as an Internet hub — that, to me, is gold medal-worthy.
The CP assignment came about as editors wanted to know if these "Safety First" or "Recovery" Games would wash with viewers. Might all those masks and empty seats impact audience levels?
My take is this: depends on the events. There's no difference, really, if you're watching rowing or cycling. The big arena sports such as soccer, baseball and swimming do look a little odd, but viewers here are used to empty rinks throughout the recent Stanley Cup playoffs.
Canadian beach volleyball contenders Melissa Humana-Paredes and Sarah Pavan were masked while interviewed Saturday. That sport is played at a venue where empty seats are unavoidably part of the shot. Viewers, however, may have been distracted by the fact that the competitors' attire is as skimpy as stadium attendance.
Bottom line (if you'll pardon the segue): Canadian viewers will embrace these Games so long as our athletes are winning medals. It was ever thus.