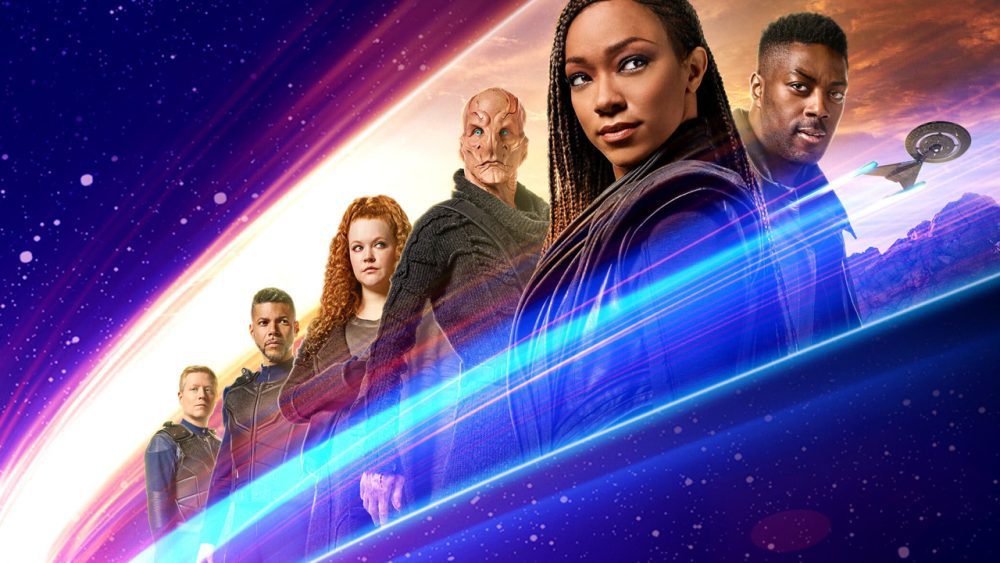 There's a line in tonight's fourth season opener of Star Trek: Discovery that neatly defines Captain Michael Burnham (Sonequa Martin-Green).
President of the Federation Rillak (Chelah Horsdal), a new character who quickly books herself aboard Discovery, sees Burnham barely pull her crew through yet another deadly crisis. She commends the captain for her nimble and heroic actions, but tells her the risks to the many are not part of the Federation playbook. "There is a fine line," she says, "between a pendulum and a wrecking ball."
It's a line that could apply to original space cowbody Captain Kirk or, really, any of the Star Trek captains. Rillak, however, has read Burnham's history. She knows that a tremendous loss in the captain's formative years has left her with a pathological need to save everybody.
Burnham sees that as a compliment. It's also why we watch Star Trek: Discovery.
The season opener is filled with the usual pendulum swings. Things get off to a fast start and Burnham and boyfriend Book (David Ajala) persuade the "Butterfly People" of a former Federation world to share their dilithium crystals. The success of that transaction seems to herald a new era of peace and understanding, as well as stability in the fuel supply. There is some mention that the Feds needs to reduce their dependence on dillithium, a subtle nod to today's world and fossil fuels, part of the Star Trek tradition of relating it all back to our century.
There's a swearing in of new cadets and it seems, 20 minutes in, as if the universe is unfolding as it should. Then, of course, all hell breaks loose. There's an urget request for help from a ship under attack. Burnham and crew are sent to answer the call and the president herself insists on beaming aboard. Burnham sees the new blond as somebody just ticking the boxes.
They jump, and so does the story, back and forth to other worlds. We follow Book back to his planet, and a touching scene in the woods. We jump to the ship under attack, where Commander Nalas tells Burnham that the situation there is "a shit show — Earth for bad I'm led to understand." Good to know some expressions keep getting handed down through the centuries.
Tilly (Mary Wiseman) and Ensign Adira are sent to power up the damaged ship but things go south and everything looks grim. Chief engineer Stamets (Anthony Rapp), barely in this episode, isn't sure he can keep the shields up much longer as the attack of giant frozen methane soace boulders rain down on all ships, blowing out "the Heisnsenberg compensator!"
Viewers also jump to a whole other storyline featuring Saru (Doug Jones) among his peeps back on planet prostethetics. Look for him back on Discovery soon.
The episode is action-packed and the special effects remain dazzling. The script, by Michelle Paradise, Jenny Lumet and Alex Kurtzman, is too talky at times, yes, but not bad as this series goes. Discovery seems to be boldly going on an action-adventure path not unlike the original Star Trek, times many more millions spent each episode. Hats off to the Toronto cast and crew for getting the fourth season off to another exciting start.
Star Trek: Discovery's fourth season streams exclusively on Paramount+ in the United States and also premieres Thursday, November 18 in Canada on CTV Sci-Fi Channel. It can also be streamed starting Friday Nov. 19 on Crave. New episodes premiere each week.