Did you celebrate George Jetson's birthday Sunday? There were various Internet reports — so it must be true — that the cartoon character was born on July 31, 2022.
There is some logic behind the birth announcement. The Jetsons, a follow up to Hanna-Barbera's pre-historic animated hit The Flintstones, premiered on ABC in 1962. The adventures of this new space-age family supposedly took place 100 years into the future. Dad George and his wife Jane had a teenage daughter Judy (and a younger son Elroy) when the series premiered, so George was about 40 in 2062. Subtract 40 and you get back to today, 2022. Thank you, Internet.
So where are all our flying cars that fold up into briefcases? Presumably Elroy, er, Eldon Musk, is working on that for 2062. On the series George worked for Spacely Sprockets, so start buying stock now.
Whether July 31 was George Jetson's birthday or not, here are some even more amazing things about the series and the actor who gave him his voice:
Until the late 1980s, there were only 26 episodes of The Jetsons. If it seemed as if that episode where Rosie the Robot was hired was in constant reruns, it was. That one-season order was repeated on Saturday mornings throughout the '60s. Back then, us kids, all hopped up on sugar-y cereals, would sit glued to anything, especially if it had a great theme song (which The Jetsons' did).
Who voiced George Jetson? George O'Hanlon did, but first he starred as an ordinary bumpkin in a series of theatrical "Joe McDoakes" shorts in the '40s and '50s. You will never convince me and Leonard Maltin that these are not all hilarious.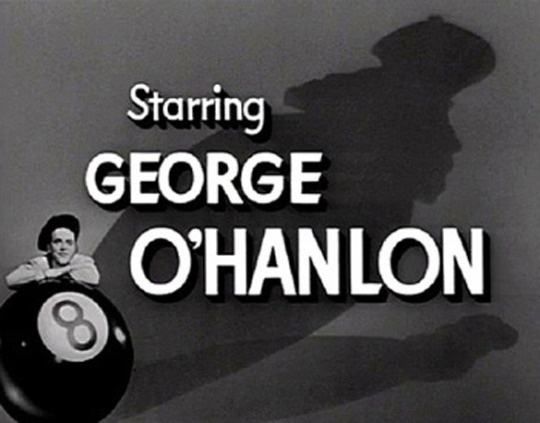 That series brought O'Hanlon some fame but not much fortune. When McDoakes concluded in 1956, O'Hanlon auditioned to be the voice of Fred Flintstone, but Alan Reed was cast as the head of the modern stone-age family. Casting directors at Hanna-Barbera remembered O'Hanlon, however, a few years later when they were looking for a dad from the future.
O'Hanlon still had some laps to go to get on that Jetson treadmill. The first choice for the role was Morey Amsterdam, then playing Buddy from The Dick Van Dyke Show. A sponsorship conflict apparently kept him out of the 21st century cartoon. O'Hanlon got the part.
Jump ahead 23 years. In the mid-'80s, Hanna-Barbera wanted to re-launch the series in syndication but realized that they needed to make more episodes. Twenty-six wasn't enough; they needed at least 65 in order for stations to buy in and strip it five-days a week for 13 weeks.
Remarkably, most of the 1962-63 voice cast was re-assembled, including Daws Butler, Mel Blanc, Don Messick, Penny Singleton, Jean Vander Pyl and Janet Waldo.
Recording director Gordon Hunt — the father of actress Helen Hunt –was searching around to cast a new actor to voice George Jetson. Maltin, on one of his excellent Maltin on Movies podcasts, talks about hearing of Hunt's efforts. The critic and author, who wrote, "Of Mice and Magic: A History of American Animated Cartoons," knew O'Hanlon was still alive. Forget looking for a George O'Hanlon sound-alike, Maltin suggested to Hunt. Hire the original.
O'Hanlon, however, was not in good health by 1985 when the recordings were being scheduled for this revival. Then in his seventies and on his third wife, he had suffered a stroke, was legally blind and had limited mobility.
On his good days, however, he still sounded like George Jetson. Hunt met with the actor, and decided to roll the dice and hire him, even though it meant many hours of extra care, feeding O'Hanlon lines and coaching him through each recording.
It was an act of great generosity, one that the actor, who had written and directed for others shows but who had fallen on hard times, was very grateful for. He dearly wanted to bank this last income in order to leave something for his wife, Nancy Owens, who he had wed in 1953. The couple had two children.
A few years later, The Jetsons revival was extended with an order for Jetsons: The Movie. O'Hanlon was nearing the end of his duties on that project when he complained of a headache and was taken to a hospital in Burbank, near the Hanna-Barbera Studio. He died there after suffering a second stroke.
The Internet does not tell us when George Jetson died, but George O'Hanlon died on February 11, 1989. He was 76. He died doing what he loved, knowing he was providing for his family, and playing a role that would last well into the 21st century.