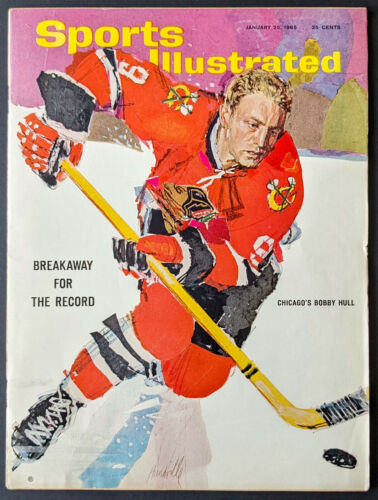 When I was a young lad in the 1960s growing up in the wilds of Etobicoke, Bobby Hull was the greatest thing on skates. He passed away Monday at 84.
The muscular left winger was power personified on ice, lifting you out of your seat with end-to-end rushes and a cannonating slapshot. It was an era of manned space missions and rockets to the moon and Hull, who broke into the league with a head full of blonde hair, was nicknamed the "Golden Jet."
He scored 50 or more goals in the NHL four times in the '60s and five times in 15 seasons with the Chicago Blackhawks. Nobody topped his single season goal total of 58 until Phil Esposito — and he had Bobby Orr setting him up.
The Hockey Hall of Famer because a cause celeb in '72 when he jumped to the Winnipeg Jets of the World Hockey Association with a million-dollar signing bonus. Many professional hockey players got hefty pay raises in the '70s thanks to Bobby Hull. He was punished, however, by petty NHL owners who shut him out of the 1972 Summit series. "To Russia With Hull" signs and buttons were everywhere that summer.
One thing Hull had over many of the greatest hockey players back then or even today was charisma. Even stars like Bobby Orr and Wayne Gretzky started out relatively shy. Consequently, he was one of the busiest NHL stars off the ice in terms of marketing and promotion. At one point he made a few commercials with my uncle Norm "Buster" Brioux, who was a stock car champion in the '50s and a former Hell Driver at Toronto's Exhibition Stadium.
Walkathons were a big craze in the late '60s, early '70s and I went on several to raise funds for charities along with several classmates. The reward for finishing one half-marathon was getting to line up with thousands of other kids and get Bobby Hull's autograph. I remember the thrill as I got closer to the NHL superstar. Finally I was standing in front of him. I might have been 12. As he signed my walkathon certificate, I told him the only thing that came to mind, which was that he knows my Uncle Norm Brioux.
Without missing a beat, Hull flashed that big grin and said, "Of course! Great guy. Please say hi to Norm for me." Then he continued signing another thousand autographs.
Stories of Hull signing every single autograph for every kid in every rink are legendary. He always gave back to the fans.
Hull wasn't perfect as some are pointing out today. One asterix beside his name is that, according to a Russian publication, he once suggested that "Hitler had some good ideas. He just went a bit too far."
Hull always denied complimenting Hitler. He did like to enjoy the odd beverage, and it is not hard to imagine something being taken out of context that was said at a bar. This Hour Has 22 Minutes goofed on the incident, with fake news anchor Rick Mercer announcing that Hull had been misquoted. What he actually said was that "Sittler had some good ideas."
Hull wore three numbers with the Blackhawks but is best remembered as No. 9. In all, he played pro hockey for 23 seasons. In one season, skating with playmaking Jets' linemates Anders Hedberg and Ulf Nilsson, he scored 77 goals in the WHA. This despite the drag of wearing one of the worst hairpiece's ever.
His Hall of Fame son, Brett Hull, is one of only a handful of players who have scored more than 77 goals in pro hockey. His 86 goals with St. Louis in 1990-91 is the third highest ever in the NHL. Brett eventually scored more career NHL goals than his famous father.
I'm guessing, however, that he did not sign more autographs. Bobby Hull was an original from the "Original Six" era. Condolences to his family, friends and many fans.
Bobby Hull, the first NHLer to score over 50 goals in a season, dies at 84https://t.co/89e6PDje6i pic.twitter.com/vVZzJU143t

— Hockey Night in Canada (@hockeynight) January 30, 2023