This week's guest on brioux.tv: the podcast is the always charming and hilarious Sabrina Jalees. She can currently be seen in two summer TV shows — Farming for Love (Sunday nights on CTV) and Roast Battle Canada (Mondays on CTV Comedy). What's next? Dyeing her hair gray and replacing Lisa Laflamme on the CTV News? Sabrina Jalees must be stopped before she takes over the entire Bell Media world! She already admitted on this podcast to stealing really expensive and presumed healthy candy bars from the CTV upfront media lounge. Where will it all end?
Actually Jalees can take over all of the CTV airwaves, that would be fine with me. She said hosting Farming for Love out in British Columbia last summer was a dream gig. It is that rarest of reality shows, a surprisingly non-icky dating competition series.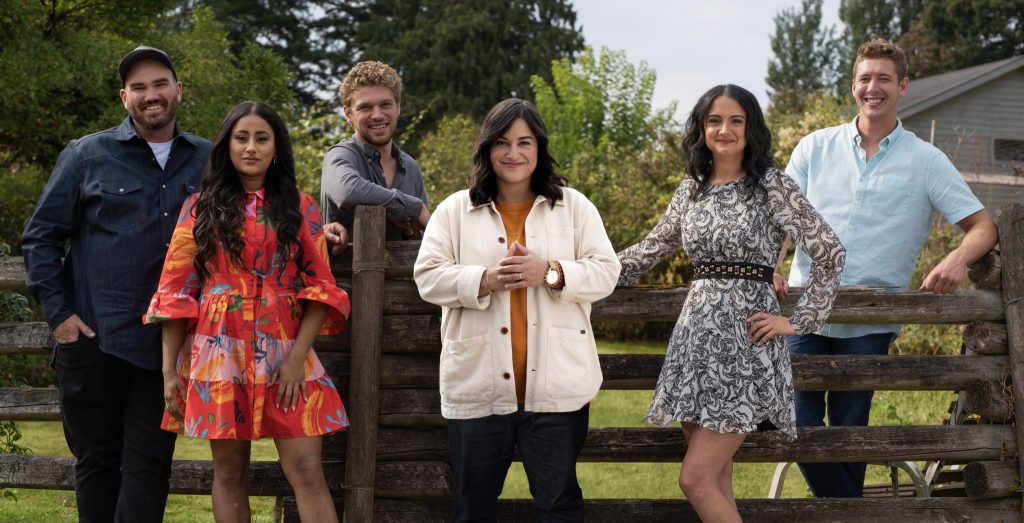 There she was, as she describes, "slurping oysters" at her Vancouver hotel bar. Then, once she got her, "Farming for Love bat-call," she was whisked by seaplane to some farm location just long enough to coo, "So, who did you kiss last night, Doug?"
Jalees has always been ahead of the curve. The Toronto native jumped out to a fast start as a teenage correspondent for The Toronto Star, a standup comedian at YukYuks and Just for Laughs and as a judge on MuchMusic's cheeky music roast, Video on Trial. Recent credits include Search Party, Harley Quinn and as a young MD on the CBS Patricia Heaton comedy Carol's Second Act.
Hear why she feels some of these farmers, male and female, are genuine catches on Farming for Love, already harvesting new suitors for Season Two. Jalees also talks about being a mom to young Wolfie, sets up some exciting news about a future project and tells the back story to the entire candy bar caper.
To listen, simply click on the white arrow in the blue circle link above.