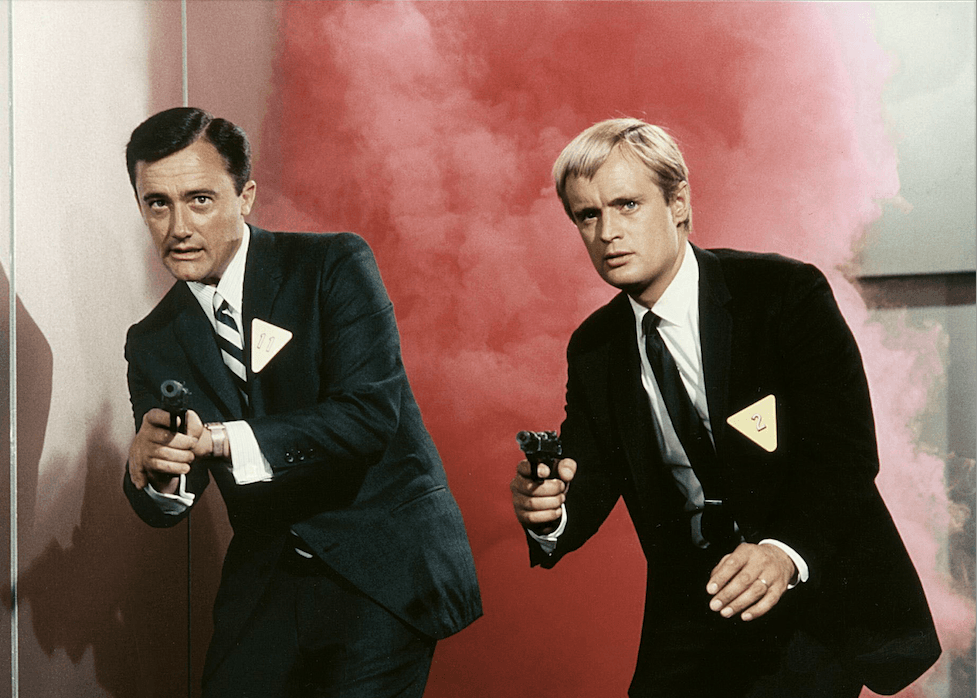 Critics, reporters, castmates, publicists, network executives, they all loved David McCallum. Judging by the outpouring of affection on social media at news of his passing at the age of 90, so did TV viewers.
McCallum, who died September 25, enjoyed a long and profitable career, peaking as Russian-born spy Illya Kuryakin on the '60s series The Man from U.N.C.L.E. Then, after a few lean years (including some forgettable "Hollywood North" films shot in Canada), McCallum landed a role that forever postponed his retirement, endearing himself to a new generation of fans for twenty years as medical examiner Dr. Donald "Ducky" Mallard on the worldwide hit NCIS.
"It certainly has been the icing on the cake," the affable actor told me ten years ago, in 2013, at a CBS press tour party in Los Angeles. It was one of a handful of occasions when I had the good fortune to speak with the Scottish-born actor.
Outdoors at LA's Pacific Design Centre, McCallum, in his camel-coloured tweed jacket, looked less like an international spy, more like a well-tenured college professor. He was always humble and friendly but also delightfully quick to flash his droll, Scottish wit.
It would have been interesting to have interviewed him back when he was in the eye of the Man from U.N.C.L.E. hurricane. McCallum was a swingin' '60s sensation as enigmatic Russian spy Kuryakin. Opposite dapper, buttoned down Robert Vaughn, McCallum with his blond Beatles 'do, was a Fab 007 for the small screen.
"He was a teen idol," as his NCIS co-star at the time of the NCIS event, Pauley Parrette (forensic specialist Abby Sciuto), pointed out. For a while, Kuryakin became such a sensation the actor was getting more fan mail than anyone in the history of MGM studios.
The spy drama wasn't a spoof like Get Smart! (which came a year later). Veteran film star Leo G. Carroll added some gravitas to the project as the British head of the international organisation, Number One. (A moniker Mike Myers goofed on years later by having Robert Wagner play No. 2 in the Austin Powers movies.) Still, the series had enough comic book elements that even 10-year-olds could get most of it. Vaughn's character's name "Napoleon Solo" (suggested, apparently, by Bond author Ian Fleming) still makes me laugh.
How long ago was it? Bonanza, The Lucy Show, Red Skelton and The Beverly Hillbillies were Top-10 TV draws at the time. Flash forward nearly 50 years to the CBS party and McCallum was the hip grandfather in the room. Few would believe he'd be turning 80 within a month. He lived – and worked – another decade, passing away just days past his 90th birthday.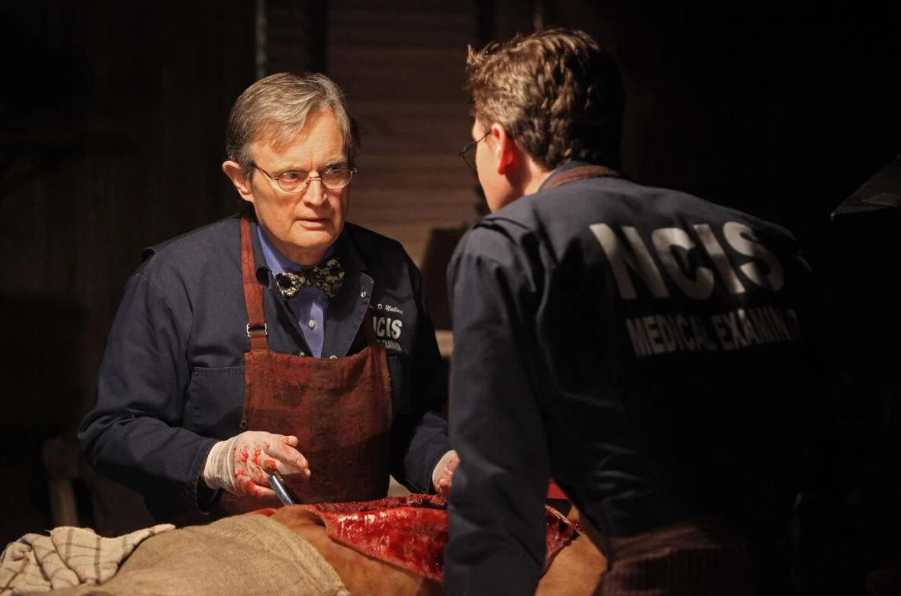 Born in Glasgow, McCallum came to America in the late '50s after appearing back home in movies such as 1958's Titanic epic, "A Night to Remember." He can be seen alongside Steve McQueen in 1963's "The Great Escape." His early TV appearances included roles on The Outer Limits and Perry Mason.
In his early days in America, he recalled swimming off the coast of Malibu and being the only person in the ocean because, "for everyone else, it was freezing cold. For me, it was balmy and warm because I'd come from Britain."
A few years later he was driving along Sunset Boulevard in a white, '61 T-bird, listening to The Supremes on the radio and thinking, "What took me so long?"
Even McCallum seemed stunned when I suggested he was one of the few actors (the only one?) who could boast about doing over 100 episodes on a series in the '60s and – at the time of the interview – over 200 on another in the next century. He eventually appeared in over 400 NCIS episodes, including what turned out to be his final bow in last season's finale.
"For me, the numbers don't add up," he told me in 2013. "I mean, how old I am, [the] years on this show, it's all just wonderful. And I have an extraordinary wife and wonderful children and grandchildren and everybody is progressing, you know, the way they should."
McCallum married second wife Katherine Carpenter 56 years ago in 1967. They had two children. The actor also had three children with first wife Jill Ireland, who he met in 1957 when the two were working on the UK feature, "Hell Drivers."
All that early fame came with a price, McCallum wryly noted. "My first wife [Ireland] went off with Charles Bronson."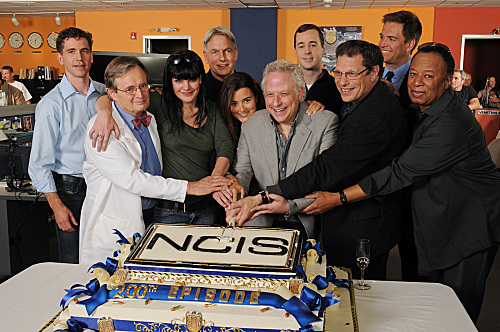 McCallum, who became a naturalised U.S, citizen in 1999, took his character's allegiance to the U.S. armed forces seriously. The American flag pin he wore on his lapel was in remembrance of two Marines: his father-in-law, Capt. Edward Carpenter, who fought in WWII at Iwo Jima, and his wife's brother George, killed in Vietnam. The McCallums worked closely with the Marine Corps Scholarship Foundation.
"I wear this," he told me, "in respect to the one percent of the people in this country that have volunteered to take care of the other 99 percent."
At an earlier CBS press gathering, I asked McCallum why he thought the show was such an enduring hit.
"We've had changes along the way that have, in my opinion, greatly influenced us," he said. "I think Cote de Pablo coming to the show was a big change for us, obviously, and one that changed us."
De Pablo was a NCIS regular from 2005 to 2013, returning a few times in later seasons. With the death of McCallum and the departure of Mark Harmon in 2021, there are no more original cast members on the series – which, with the actors still on strike, may not return until the fall of 2024.
In later years, McCallum enjoyed a very cushy schedule. Living in New York, close to his grandchildren, he was flown in to Los Angeles for a day or two a week to shoot his scenes. No wonder then that he was in such a good mood when a CBS publicist brought a cool piece of TV history to one of these press tour events: a Man from U.N.C.L.E. lunchbox. McCallum was happy to sign it. This sort of thing never got old for the grateful actor.
He told me he was listening to a band in Long Island, N.Y. at a 4th of July concert when one of the band members approached with a box. Inside was a toy gun from The Man from U.N.C.L.E.
"It was quite extraordinary," he told me. The man's mother had died, and the toy had been found among the things the mother had kept since the man was a child.
"Pretty damn cool," said McCallum, who was pretty damn cool himself.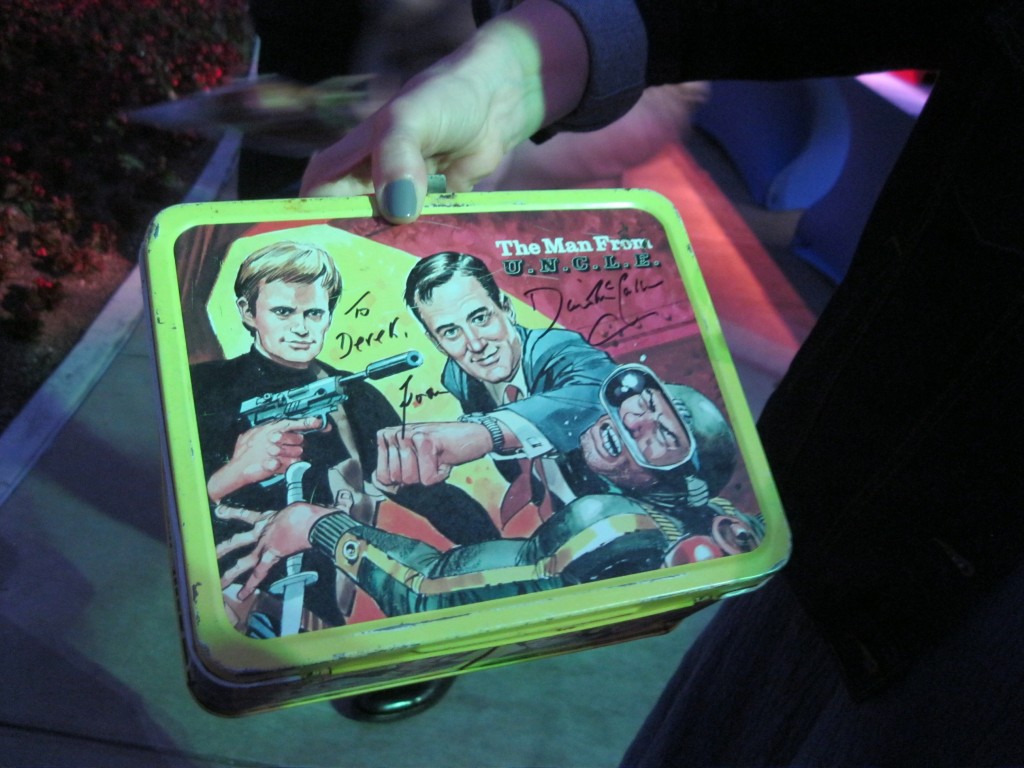 One final note: McCallum wasn't the only cool one in the family. If you want to drill even deeper into the actor's box seat on pop history, there is this: his father, orchestral leader David McCallum, Sr., was for many years the principal first violinist of the Royal Philharmonic Orchestra. He was an admired and oft-recorded musician but for Beatles nuts like me, he was also one of the guys in the background swelling the long fade out on the band's biggest selling single, Hey Jude. True story.