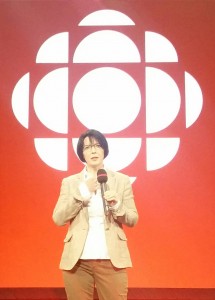 They're still using the slogan "Canada Lives Here" at CBC.
It was on-screen during the presentation reel at CBC's 2014-15 preview Thursday in Toronto. It seems to need an addendum now:  "Canada Lives Here–They Just No Longer Work Here."
Or, "Canada Lives Here–But the Kids Never Visit."  Or, "Canada Lives Here–Five Percent of the Time" or…this could go on but even a blog post has limits.
Suffice to say everyone herded into elevators, up to the 10th floor and into a studio presentation space Thursday knew this was a network in distress. As a colleague, who had pulled a punch or two in a recent newspaper story, remarked, attacking CBC now would be like "kicking a handicapped kid in the nuts."
So best to accentuate the positives from CBC's brave face presentation, and the first piece of good news is to report that that is actually possible. Executives maintained an upbeat posture, suggesting now is the time to take risks and get creative. Hey, it could happen.
The presentation itself was stripped down from past years, when hockey players on roller skates or scaffolding and rock bands made it seem more like a Cirque du Soleil production. This was just a well-lit, straight ahead pitch, with executives and talent standing on a simple black stage with short, smartly-edited promotional clips running behind them on a screen.
"As you know, there's not much really going on at CBC these days," was new EVP Heather Conway's opener. Her spin on the recent spate of publicity amid budget and staff cuts was that she loved the fact "people were interested enough to engage in the conversation" about the future of the public broadcaster. She said her focus would be on developing "great content" and confirmed she's looking at "a change in direction."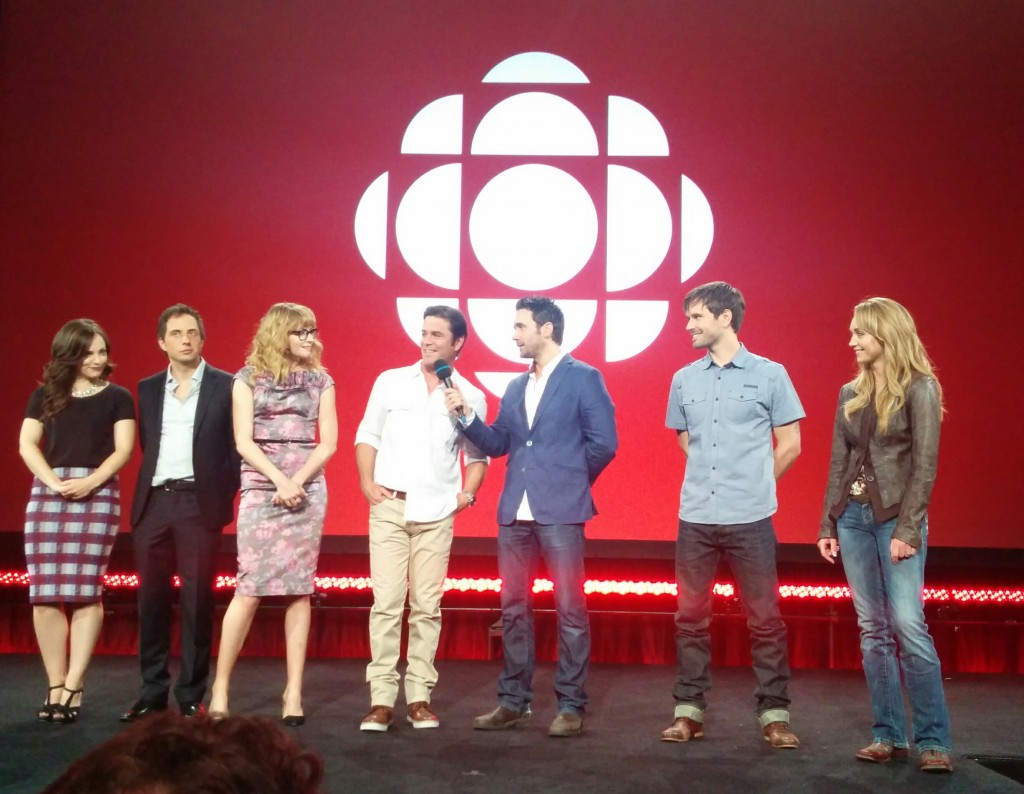 She stressed that she still sees CBC's National News as "Canada's newscast of record." Then she jinxed the Habs by saying she was hoping for a Canadiens-Blackhawks final to the Stanley Cup playoffs. Tip: bet on the Kings Saturday.
Scott Oake came out next and stood up for what's left of the sports department, pointing out they still have Olympic rights ahead. His pitch on watching CBC Sports instead of the competition: "It's free!"
Anna Maria Tremonti held a pep rally for the Radio One folks, then programming executives introduced a surprisingly robust slate of TV content in various stages of development. Camp X, from Flashpoint showrunners Stephanie Morgenstern and Mark Ellis, is about a top-secret spy camp that actually existed on the shores of Lake Ontario during World War II. Eight episodes are ordered and the series will debut in February. Strange Empire, set in 1869 Alberta, hails from Durham County showrunner Laurie Finstad-Knizhnik. It starts this fall. There's also The Book of Negroes, shot in South Africa and based on the Lawrence Hill novel, as well as the animated feature Pirate's Passage, a Nova Scotia adventure narrated and produced by favourite son Donald Sutherland. The Honorable Woman is a thriller set in the Middle East and starring Maggie Gyellenhaal. 
Conway feels audiences worldwide are looking for serialized dramas and she's keen on delivering same to Canadian audiences.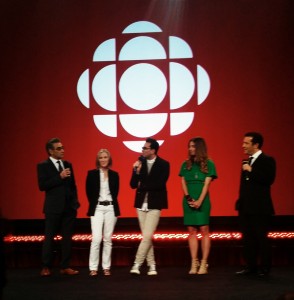 Rick Mercer welcomed the stars from Schitt's Creek to the stage and they managed to banter without the aide of a TelePrompTer. Catherine O'Hara said she'd been carefully avoiding sitcom pitches for years in order to dodge working long hours "with a bunch of strangers," but couldn't resist this pitch from her old SCTV pal Eugene Levy. Besides, in playing half of a snooty couple who loses almost everything, there was the chance to "live in poverty wearing the most annoying clothes."
Allan Hawco was up next and confirmed the story that broke here Thursday morning that Republic of Doyle would be back for one last season. It will begin Oct. 2, and air Wednesdays at 9 p.m. through December. Hawco, who was joined on stage by the entire cast, said the decision to bow out while the series was still solid came sometime in the middle of last season. They'll have 77 episodes in the can by the time this sucker wraps, which is a pretty good run in Canada.
Hawco stayed on stage and welcomed the casts of Murdoch Mysteries as well as Heartland. "What would Detective Murdoch never do?" Hawco asked Yannick Bisson. "Get lucky," came the reply. The good detective would probably never diss his bosses at their own event, either, but after a season where there was little to celebrate, it seemed a bit odd to me that CBC's No. 1 scripted drama didn't get singled out more on stage. Conway sang Murdoch's praises later in the one-on-ones. Bisson is again directing the opening episode of the new season, which finds his character face-to-face with a legendary lawman from out of the West–Bat Masterson.
Gerry Dee took the stage next. "I'd like to formally announce we're doing Season 8," he joked. Mr. D is back for a fourth season and bumped up to a 13-episode order. Production begins next week in Halifax. The former school teacher says he doesn't put much heed in ratings–which remain on the low side–pointing instead to younger demos and good engagement on Twitter.
News about a new season of Canada's Smartest Person was read off the TelePrompTer. Mark Critch thanked "Mike Duffy, Rob Ford and Justin Trudeau" for boosting ratings last season on This Hour Has 22 Minutes. The show is back for a 22nd season. Critich has been a writer there a dozen years and on-camera over 10. "I watched you when I was a little girl," needled relative newcomer Susan Kent.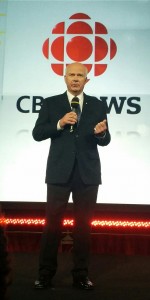 Peter Mansbridge also took the stage and stuck to the 'prompter, blowing right past any comment on the recent Toronto Star article by Vinay Menon. That story had him looking over his shoulder at desk mates hoping he'd get hit by a car on his way to his anchor desk.
To show it was all overblown poppycock, he had two dozen associates come out as he stood on stage–with his back to them. The move may have backfired–Mansbridge vanished and was not seen again at the upfront.
One other piece of good news for Farce fans: there will be another annual Air Farce comedy special this coming New Year's Eve on CBC.