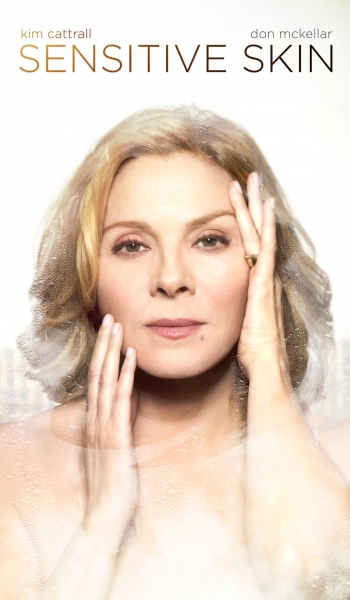 The folks behind Sensitive Skin are smart. Get too wordy in a review and you wind up sounding like Al, Skin's wannabe downtown Toronto hipster who clings to columnist status though he's barely a blogger.
Al is played by Don McKellar, also the director of this series which premiered July 20 on HBO Canada. I was out of town at the time of the premiere and catching up post-press tour. Was there much promotion and I missed it or is this another example of Canadian media companies not budgeting enough to get their shows announced through the clutter?
Kim Cattrall stars as Davina, a beautiful, 50-something woman who moves to a downtown Toronto condo with her hypochondriac hubby, Al. The two are trying to change up their lives and stay relevant. The series re-teams McKellar and Bob Martin, the director/writer duo behind the Tony Award-winning "The Drowsy Chaperon" as well as a CBC series I loved but few saw, Michael: Tuesdays and Thursdays.
There are 10 producers and executive producers listed on the series, although I may have counted Hugo Blick–creator of the original British series, on which this is based–twice. When Cattrall, McKellar and Martin previewed this series last November at the inaugural Canadian International Television Festival, however, it seemed to boil down to their shared vision, so let's go with that.
I've watched the first four of six episodes and it felt like it took that long for the series to find its stride. Paul Newman once said directing yourself in a movie is "like sticking a gun in your mouth." McKellar has to perform that task here, and seems a bit over-loaded in the first two episodes. That's not to say he doesn't seize the part, especially during a hilarious scene with a drug dealer who hangs outside his condo (Cle Bennett) and later as an over-prepared book reviewer. Mary Walsh gets a star turn in the second episode but that seems six episodes too soon as we are still getting to know Davina and Al. Elliott Gould is wonderfully restrained in episode four as a quack MD. Martin also appears in the series as Davina's gallery mate and confidant.
For me, you could have stripped away a lot of this just to get to Davina. She's the one we first meet in a drug store where she has come to pick up some hormone replacement remedy and is made to feel old and wrinkled in the process. Cattrall carries her famous Sex and the City persona into the scene and bravely sheds that skin within minutes, setting up high expectations for a study of a modern, middle-aged woman.
That focus gets a bit lost in what comes next. Davina's husband Al never shuts up. Their well-to-do in-laws (Colm Feore and Joanna Gleason) are just assholes. Their son (Nicolas Wright) is a miserable jerk. Life sucks if you're a former model and actress now resigned to a part-time art gallery job and frequent visits to a salon.
As a portrait of a marriage, Sensitive Skin is not for the squeamish. Bored Davina orders a horribly uncomfortable couch that looks like a Henry Moore sculpture. The only comfortable place in their cube-like dwelling is their bed, which Al fouls with his laptop and novels. In the pilot, he keeps listening over-and-over again to Anne Murray's "Snowbird" in what seems like an elaborate Can-con joke.
Ted Whittall plays a worthy temptation for Davina by next Sunday's third episode and Marc-Andre Grondin plays a younger one in episode four. I liked these episodes better because they were more about Davina and the difficult question at hand: what does she want?
The series is beautifully designed, with the West Toronto condo maze captured in all its glass and concrete glory. If you live in downtown Toronto, you'll recognize many storefronts and streetcars. If you live outside Toronto, you'll find plenty to love/hate.
Sensitive Skin is uneven but it may just be an adaptation that needs more time to find itself as a Canadian series. It is certainly well cast and well made. It has many honest, poignant moments of boomer desperation. There are some direct hits on Toronto's hipster/condo core. A second season that took a bigger swing at Davina's personal journey would be welcomed. And, sure, more Anne Murray, although let's hear something a little more obscure, maybe Robbie's Song for Jesus.