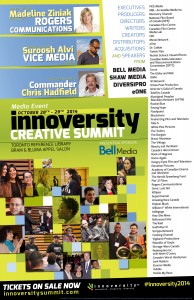 Wednesday in Toronto, I've been asked to moderate a panel of Canadian television "hitmakers" at the Innoversity Creative Summit.  The two hour discussion starts at 10 a.m. at the Toronto Reference Library just north of Bloor on Yonge.
The panel features miracle workers–individuals who not only created TV shows but got them on the air in Canada and helped turn them into hits. I'll be speaking with Tassie Cameron, creator/producer of Rookie Blue, Morwyn Brebner, creator/producer of Saving Hope, Stephanie Morgentern, creator/producer of Flashpoint and the upcoming CBC drama Camp X, Ron E. Scott, creator/producer of Blackstone and John Weber, producer of The Borgias and Vikings.
All of these shows are hits, running into third seasons and beyond. The first two regularly draw 1.5 million viewers a week. That's a real number, with no simulcast lift.  many Canadians embrace these stories and the characters in these shows.
So what keeps these folks in Canada, where, if the lack of promotion doesn't kill your show, the red tape and funding hurdles will crush your spirit? Or is that all a myth and is Canada, perhaps finally, a pretty good place to be making television?
I'm looking forward to getting the answers to these and many other questions Wednesday. The two day Innoversity Summit begins Tuesday, with sessions on The Book of Negroes, the CRTC at a crossroads, diversity in Canadian television today and the whole digital deal. A Who's Who of Canadian TV titans are either attending or engaged in sessions, including CBC Head of programming Sally Catto, Rogers/OMNI National VP Madeline Ziniak, and Vice Media co-founder Suroosh Alvi.
For more information, visit the Innoversity website here.