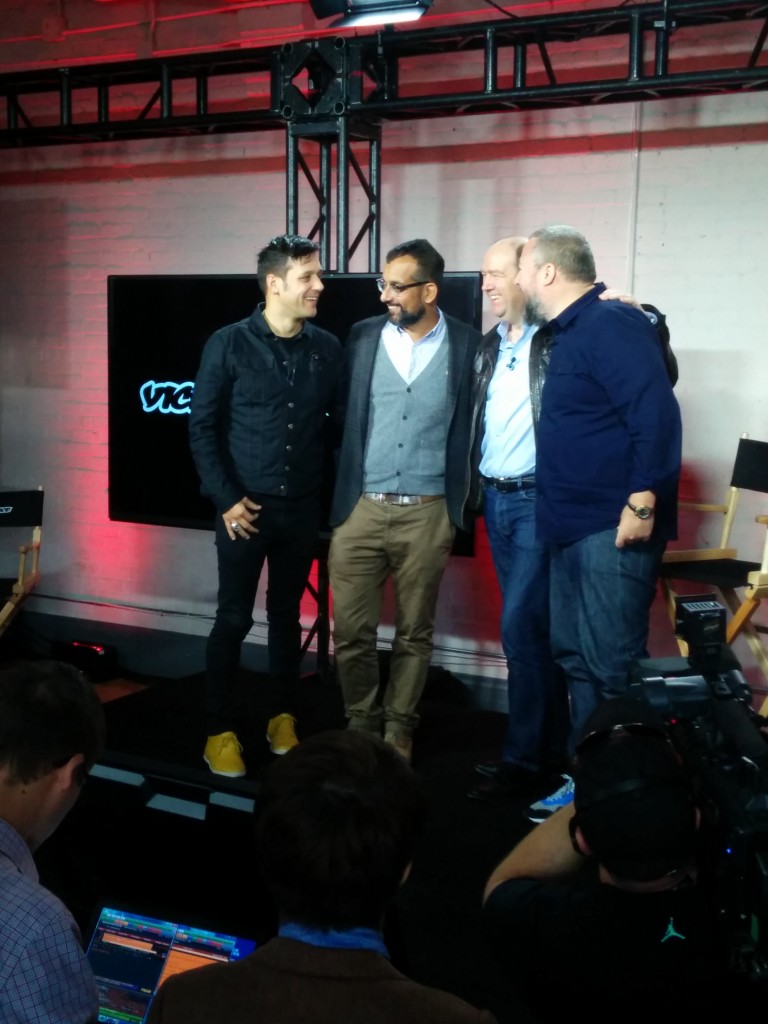 Another day, another multi-million-dollar media deal. Wednesday in Toronto, Rogers president and CEO Guy Laurence announced a three year, $100 million partnership with Vice Media. Vice, co-founded 20 years ago in Montreal by Concordia grad Shane Smith, has a proven track record delivering online news to the demo broadcasters seem unable to reach–18 to 34-year-olds. The Rogers deal will see a state-of-the-art news hub built in Toronto where the next generation of mobile news gatherers will be trained and deployed.
Vice has been headquartered in New York in recent years but Smith says he's always wanted to return to his roots and create a news operation in Canada. The Rogers alliance, he says, allows his band of renegade news gatherers access to the "holy trinity" of mobile, web and TV starting in 2015.
Vice already has a cable window in the U.S., where, partnered with Bill Maher, they've produced a news series. Smith says he's learned from the HBO experience and is ready to embrace this opportunity to partner up with a major Canadian media player in order to reach a wider audience.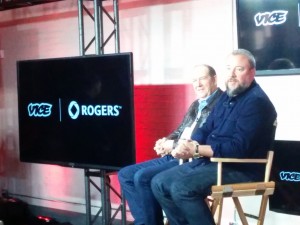 Smith–described by the New York Times as a cross between a Fortune 500 executive and a punk rocker–knows how to work a press room. He says he tells his employees every year they should blow the place up and let interns run the show. He hopes to staff his Toronto media centre with twenty-somethings straight out of Ryerson and other medias schools and also welcomes kids who've never handled a camera.
He was joined at the press conference by globe trotting associate and Vice co-founder Suroosh Alvi who sported a solid gold "Vice" ring on his finger.
Smith says he hammered out the idea of a Vice-Rogers merger over pints with Laurence in a bar in Dublin. Rogers gets plenty of digital, mobile-first content out of the deal, posted exclusively to Rogers subscribers. The association also offers Rogers a chance to reach a demo that simply eludes most broadcasters. As Laurence pointed out at the press conference, half of Canada will be in the 18 to 34 demo within the next seven years. It was suggested many in the "Gen Y" demo check their mobile devices before they even get out of bed. One of the first things they'll see under this new deal are headlines from Vice.
After the session, I asked all three if Canada's hottest news story–the Ghomeshi Affair–would be fodder for Vice. Some coverage has struck me as more a kin to the way U.K. Fleet Street press chases sordid sex stories especially if they involve celebrities. Will this be the Vice approach?
"One hundred percent not," said Smith.
"I've been in the States and watched the failure of the Fourth Estate," he says. "We have Talk Radio on the right being made fun of by comedians on the left. It's become polarized and politicized and there's a huge white space in the middle for just going to the story and press record."
Smith says Vice has been a leader is simply streaming news in what he called "immersion journalism." We were the first to live stream, to use drones, to capture news without commentary. Instead of the old "Voice of God" news delivery, Vice assumes its audience doesn't care about op. ed. or point of view. "What I care about," says Smith, is, 'Here's they story, you're savvy, you make up your own mind."
So no agenda, and, as Smith calls it, "fiercely non-political."