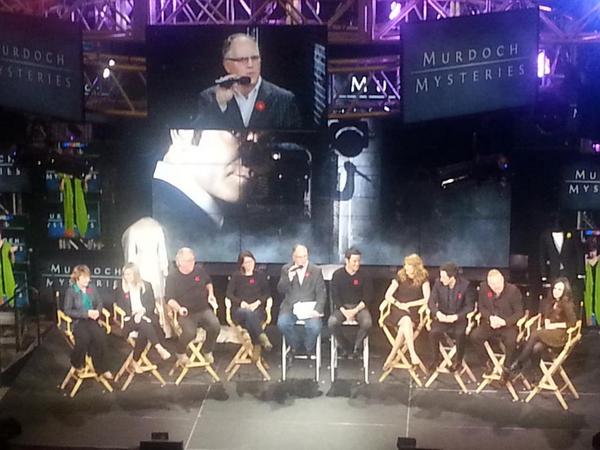 Thanks to all the fans who came out to the 100th episode screening of Murdoch Mysteries Monday night in Toronto. The screening saw 1000 fans lined up around the block outside CBC's Broadcast Centre. There were so many on the sidewalk passers by assumed it was a witness express line for former Q interns.
Inside, the atrium screening was probably the happiest occasion on any CBC property since the '90s. Fans came from as far away as Florida and Kentucky to see Murdoch cast members Yannick Bisson, Helene Joy, Thomas Craig, Jonny Harris and Georgina Reilly, along with author Maureen Jennings, showrunner Peter Mitchell, CBC exec Sarah Adams and Shaftesbury CEO Christina Jennings.
The wedding episode seems to fuel the crowd's desire to see Constable Crabtree and Dr. Emily get together next. A wedding bouquet was given away but the lady who won seemed more intent on getting to smooch Bisson.
Murdoch is one of the world's most exported TV dramas. One thing I learned at the session is that Craig's voice is dubbed in French by the same voice-actor there who does Homer Simpson! How do you say, "D'oh!" in French?
With a little prodding from me, Harris managed to work in a plug for his upcoming cross-Canada stand-up comedy series Of All Places. It will launch on Monday, Feb. 17, immediately following Murdoch.
I had a wonderful time as host and thanks again to all at Shaftesbury and CBC for allowing me to be part of a classy celebration.
UPDATE: Want to see a video of the 100th episode celebration? You'll find all 57 minutes worth right here.