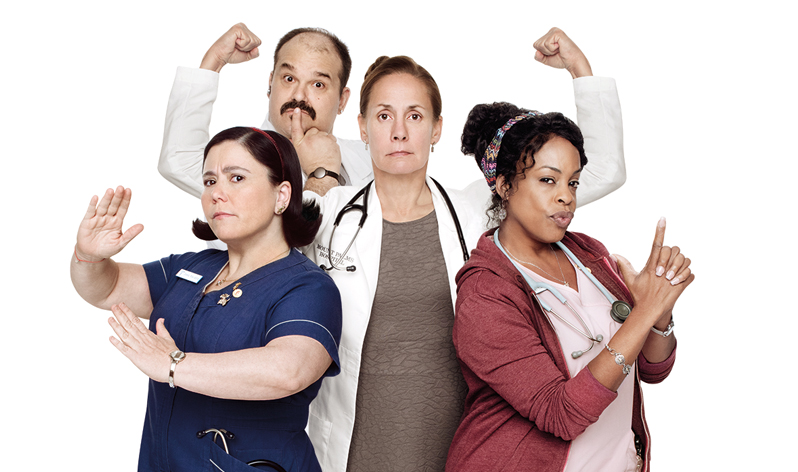 Are some topics just off limits for comedy? I've been having that conversation with several people in the funny business lately while pulling together a feature about a certain ex- CBC radio host. A good example of a TV show that tackles a taboo subject with wit and compassion is Getting On, returning for a second short season Sunday on HBO and HBO Canada.
The series, a makeover of a UK comedy, stars Laurie Metcalf, Alex Borstein and Niecy Nash as an odious doctor and two overwhelmed nurses at a geriatric care centre in California. It is a dark, unblinking comedy, offering unvarnished truths taken to extremes about subjects rarely shown on television–death and the care of the elderly.
All three of the actresses above squeezed this series around their day jobs on other series. The six episodes were shot over five weeks. Metcalf is a monster as the obsessive, dictator-like doc, oblivious to all but her own warped agenda. Nash and Borstein somehow convey compassion through all the warped weariness. More featured this season is Mel Rodriguez as a male nurse who plays doctor with Nurse Dawn (Borstein).
Zaniness aside, I saw similar care givers in action two years ago as my own father fell into palliative care at St. Joesph's Hospital in Toronto. An older hospital (hell, it was old when I was born there), the geriatric wing is hardly state of the art. Death isn't pretty, and while the place reeks of helplessness and frustration, I came to have a great deal of sympathy for these nurses and doctors who seemed to be there 24 hours a day, at all the random hours I spent looking in on my dad.
At the summer TCA press tour, Metcalf, Nash and especially Borstein shared the insights they gleaned just from the long days they spend shooting scenes in an abandoned hospital. Being surrounded by elderly actors and actresses–one a very familiar face from '60s television–added poignancy to their task.
HBO has some higher profile shows premiering and returning this month, including Olive Kitteridge (which began last Sunday with Francis McDormand), the third and final season of The Newsroom and the worthy reboot of Lisa Kudrow's The Comeback. Getting On may have the most  narrow appeal, but I think it is the best of the bunch. Read more about that here at this feature I wrote this week for The Canadian Press.