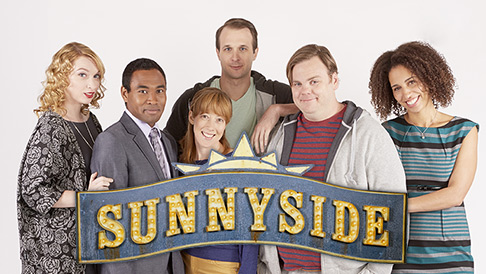 Back in late September, when I was in Winnipeg visiting the set of Sunnyside, the moon fell out of the sky. That's what the scene called for at least. A bunch of us were outside, late at night, in the dark. Actors and crew were gathered in the street and there was a great deal of commotion about the moon. Word was it had been replaced and we were all to look up.
Sunnyside, which premieres Thursday, Jan. 8 at 8 p.m. on City, is that kind of a show. A sketch/sitcom hybrid, it is all about a neighbourhood where bizarre stuff happens. The town is made up of the same six people–mainly Second City alumni–wearing different wigs and costumes: Patrice Goodman, Pat Thornton, Kathleen Phillips, Rob Norman, Kevin Vidal and Alice Moran.
Creators Dan Redican and Gary Pearson pitched two separate projects to Rogers' director of original programming Nataline Rodrigues and she wisely asked them to see if they could combine elements of both into something new. Sunnyside was the result.
Well, it was after a lot of input from writers Jan Caruana and Alastair Forbes. I spoke with them inside the Dark Roast cafe set of the series, set up inside what was once a Winnipeg neighbourhood store. Jan came up with the idea to have to town infested with ponies. The writers say no idea was too bizarre as everybody, included the sketch comedy cast, emptied their heads into the project.
You can find Pearson's unique stamp on the project on the shelves of the Dark Roast cafe–copies of his novel Slapshot of Love. The man needs to get over his shyness about promoting his books.
Read more about Pearson and Redican and Sunnyside in this feature appearing Sunday in The Toronto Star's entertainment section.