I've said it before: 1969 was an important year in the history of television.
Several quiet little comedies emerged that year, shows I feel were HBO before HBO. They were all before their time, one reason none of them lasted.
The examples I've listed before are Room 222, The Courtship of Eddie's Father and My World and Welcome to It. I've been watching another one lately, binge watching it on YouTube, flipping it up on my big screen thanks to the cool chromecast plug-in I got for Christmas (thanks, Mo). This is a show I watched in first-run back when I was 12 and 13. I enjoyed it then and it holds up today. It was one of the very first TV comedies to play completely without a laugh track and/or a studio audience. It is smart and at times touching and very true-to-life, in sharp contrast to the high concept comedies on the air at the time such as Gomer Pyle, I Dream of Jeanie, Bewitched, The Flying Nun and The Brady Bunch. It was relatable to a new generation of viewers. It starred someone who would go on to be hailed as one of TV's biggest stars ever. Plus it had the funkiest theme song in television.
It was The Bill Cosby Show.
This was 15 years before the Huxtables, when a younger Cosby was best know for his comedy albums and I Spy.
I know. Can you possibly watch this today and not think about the many, many allegations of sexual assault now swirling around Cosby? Some of the date rape was allegedly happening right when this series was being shot.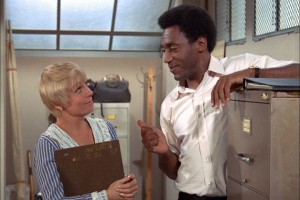 Cosby played a single man, a substitute teacher in Los Angeles. Several episodes shot over the two seasons find our hero, Chet Kincaid, dating various women (including, in one episode, a young Cecily Tyson). What seemed progressive and enlightened then–a character having a normal sex drive on a TV comedy–now may leave viewers wondering and distracted.
This week, a similar predicament saw CTV yank Spun Out off its schedule just as the Toronto-based comedy was set to return for a second season. The season opener was getting the best possible launch in the coveted post-Super Bowl slot. Less than a week before the big premiere, however, voyeurism charges were laid against one of the stars of the comedy, J.P. Manoux. The series was immediately pulled by the network and no date set for its return.
Now, these are serious allegations and justice must be served. But, holy cow, what next for Canadian television? This show already had a bit of a stink on it after one of the producers found himself in hot water over an incident on Twitter. Special interests got involved, a Toronto newspaper got a hold of the story and everything got seriously spun out.
Even before that, the series was back but already had to survive some major belt tightening. Gone was the studio audience, an element so championed in Season One as part of Canada's bold venture into traditional sitcom waters. Yet back it was and getting a big NFL push. Now it is tackled for a loss, way back in the end zone. Over a hundred people work on a show like Spun Out and, well, you can't get a third season if they won't show the second.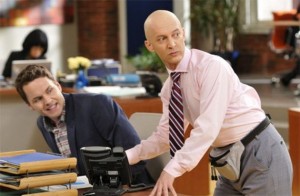 Could viewers watch Spun Out and get past Manoux as an alleged Peeping Tom? Best guess is that some viewers could not. But that is television–people vote with their remotes.
All I know is that I quickly forgot about the recent headlines in catching up with The Bill Cosby Show. Cosby, to me, was never more appealing as a performer than he was as Chet Kincaid. The character was a regular guy, had a regular job and had regular luck with the ladies. He did drive one hot set of wheels, a Shelby convertable. He did seem to have this cool rapport with kids, a charm Cosby exploited all the way to the bank in his animated Fat Albert series and through dozens of commercials for Jell-O and others.
The series also featured some terrific guest stars, including, in his last performance, Rex Ingram as a reluctant Santa Claus. That Bill Cosby Show Christmas episode, available on YouTube, is still a pretty effective little parable. Other guests include Dick Van Dyke as an alcoholic magician, Henry Fonda, Moms Mabley, Tom Bosley, Isabel Sanford, Vic Tayback and Lou Gossett.
That theme song–you'll never get it out of your head again. Quincy Jones wrote the music and Cosby wrote and sang the nonsense lyrics. It's called "Hikky Burr" and that's what it sounds like. Check it out here. The late, great jazz bassist Ray Brown was in on the score.
The executive producers included Cosby and Ed Weinberger, with both instrumental in The Cosby Show. Weinberger also wrote and produced on Taxi. There was even a Canadian connection to The Bill Cosby Show: Chet Kincaid's funky threads came from the House of Mann in Toronto.
Oh yeah–race. In 1969, race was a hot button in the United States. Richard Nixon had just been elected and Martin Luther King assassinated. Cosby had been the first black dramatic series co-star on network TV in I Spy and was the first black to headline a scripted series bearing his own name. Beyond these firsts, the series was a window on black culture rarely offered on network television. Kincaid did not draw attention to his skin colour. There were none of the stereotypical black vs. white clashes on the show. Races mixed freely and without comment (and so did generations. Parents, grandparents and children were all very much part of Kincaid's world).
The show was never preachy. What you saw were way more black folks on television. Scenes with kids in the classroom were always integrated. Kincaid volunteered at a shelter for underprivileged kids, explaining in one scene that that really meant they were poor. Almost all of the kids were black and that was no doubt the reality in East L.A. in 1969-70. Reality was a fairly radical concept on television at the end of the '60s, so, kudos to NBC executives who not only put this on the air but hammocked it on Sunday nights between The Wonderful World of Disney and Bonanza.
So you pulled for the character and you pulled for the progressive message and it is why, I think, some of us can't quite get our head around everything that is coming to light, so many years later. Allegedly.
But that's not why I have no hesitation recommending The Bill Cosby Show. See it because it is good television. If you can't watch it, don't watch it. That's how television works.