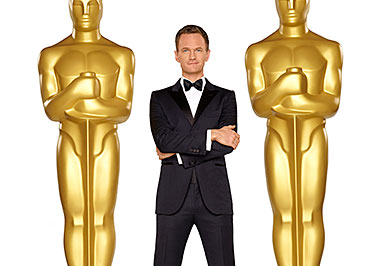 Sunday is the 87th annual Academy Awards 8:30 p.m. ET, ABC, CTV). We're supposed to just call them the Oscars now, just like we're supposed to stop using roman numerals for Super Bowl's after next year's Lth, but screw that.
If you love shampoo ads, there's a 90-minute red carpet pre-show. Ninety minutes!! So five hours of Oscars including red carpet. That's like two Coen brothers films long.
I'm more looking forward to Jimmy Kimmel Live: After the Oscars (ABC, The Comedy Network, approx. 12:05 p.m.). It will be way sillier, plus there's the added benefit of watching Kimmel tease guest John Travolta for screwing up Adina Menzel's name last year. My Canadian Press feature on Kimmel is running in Sunday's Toronto Star, you can leap to it here.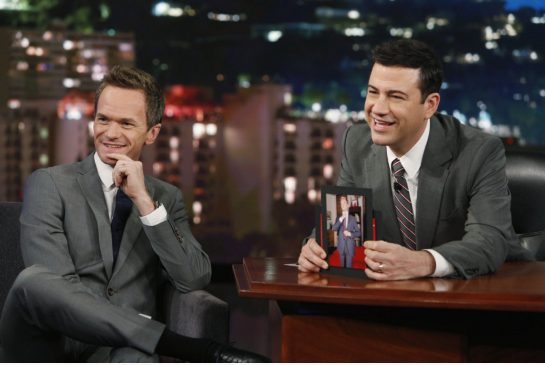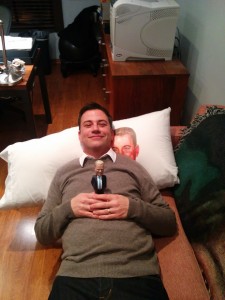 I spoke with Kimmel early in the New Year at his office in the El Capitan Theatre complex, right across from tonight's Oscar festivities. Although you might not know it from the poster on the wall heading into his office–the one-sheet for Henry Winkler's 1978 comedy "The One and Only"–Kimmel is a genuine movie buff. He watches all the screeners of the nominated films as he preps to interview guests on Jimmy Kimmel Live (weeknights at 12:05 on The Comedy Network). Before the nominations were announced, he was pulling for Jennifer Aniston to be recognized for "Cake" and Bill Murray to get a nomination for "St. Vincent." (Both were overlooked.)
Speaking of Oscar snubs, I asked him why he hasn't hosted the award show. After all, he's emceed The Emmys and The American Music Awards as well as a couple of ESPN galas. He's ABC's late night talk show host and the Oscars always air on ABC.
ABC, however, doesn't get to choose the Oscar host–that's up to the Academy of Motion Picture Arts and Science.
"Nobody asked me," is Kimmel's honest response. "Turns out you can't forcibly host the Oscars." He'd like to host though, right?
Yes, I would like to, yeah.

I mean, it's kind of a known thing–everyone gets beat up after they host it…but, I wouldn't mind being beaten up. A little bit.

Would you have an idea what you might do to stand out?

I think in a situation like that, you want to be irreverent but also respectful of the fact that these people come in and it's their show that we're watching. It's really an industry awards show. It's no different. If you really think about it, it's not much different than the Plumber of the Year Awards, you know, it's just, we happen to be interested in it,

So, I think you wanna be respectful but also irreverent, and, if you have to lean one way–towards irreverent.

Do you remember Letterman's turn at it?

I do, I remember it very well.

He beats himself up over that all the time.

I think that the reason that Letterman is remembered as being a bad host of The Oscars, is because Letterman announced that he was a bad host of the Oscars. I think, if you watch that, which I have in the last couple of years, it's very funny. And I think that if he gave that same performance now, it would be looked upon as a big success.

He turned it into a joke.

He did the Oprah – Uma, Uma – Oprah…

Everybody remembers that.

I mean, that was funny.

…and then the dog tricks.

And how can you beat Stupid Pet Tricks? There's nothing better than that.