This week, CHML's Scott Thompson wanted to ask my take on the Oscars. We went on to gab for over 16 minutes and completely ignored the awards talk.
Instead we got sidetracked yakking about last week's epic Saturday Night Live 40th anniversary special. I got a call this week from my colleague Bill Carter who, in 1975 as a young Baltimore Sun critic, was among the first to embrace SNL. Lorne Michaels never forgot, and all through Carter's tenure at the New York Times, the reporter and author had full access to the executive producer. Carter was invited to last Sunday's taping and also got waved into the after-party at the Plaza Hotel.
Carter has seen it all in 40 years on the TV beat but even he was left speechless at the number of A-listers gathered at SNL. He says that when he came back from the men's room at the after-party, there was Paul McCartney, Taylor Swift and Jimmy Fallon up on stage singing "I Saw Her Standing There."
You can listen to much more about the party, as well as a brief discussion of the Two and a Half Men finale, here.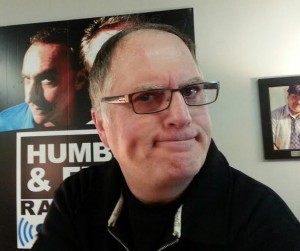 I did manage to work in a plug for Jimmy Kimmel's post-Oscar party and did it again Friday while guesting down in Etobicoke at the prestigious Five Hour Energy Studio on the Humble & Fred Radio Show.
"Humble" Howard Glassman and Fred Patterson were in a festive mood, celebrating Day Two of Chinese New Year. Besides rehashing the SNL deal again, we get sidetracked on The Beatles and specifically McCartney; seems Howard and I have similar taste when it comes to trolling for Beatles goodies on YouTube. We'd both stumbled upon this recent clip of Sir Paul telling students the stories behind the chords last October at Rollins College. Follow this link to the hour-long performance and lecture.
I also tell Humble and Fred about a similar lecture held Thursday and Friday in Toronto. Musicologist Scott Freiman was invited to Toronto by JazzFM91 and deconstructed The Beatles earliest work as well what many consider their greatest album, Revolver. Freiman's multi-media presentation is must see and even a Fab Four nerd like me learned a ton. For example: did you know John and George were singing Frere Jacques in the background on Paperback Writer?
If you've got two hours to kill you can catch Friday's entire Humble & Fred show here; or jump to around the 1:20 mark to listen in on my segment.