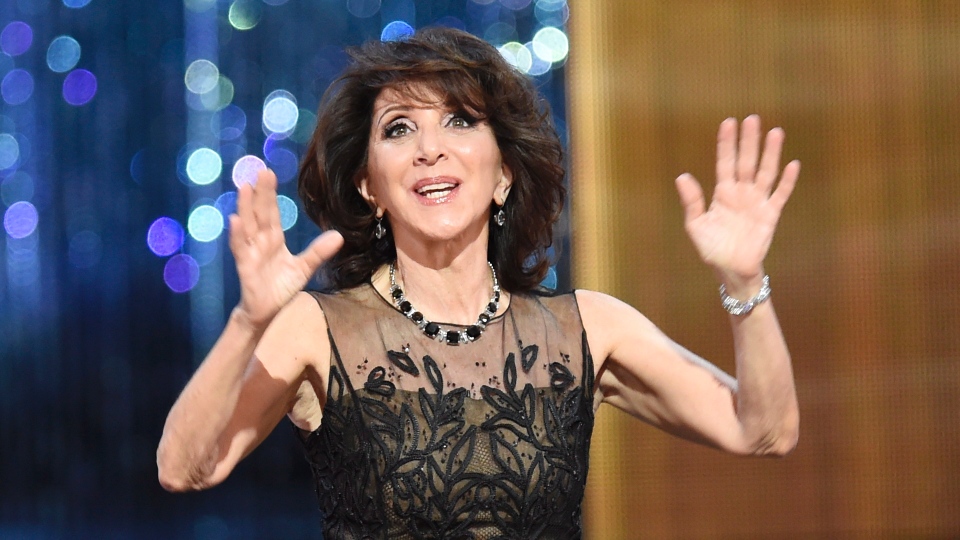 Andrea Martin is a very funny and very brave woman. She brought her anything-for-a-laugh shtick to The Canadian Screen Awards Sunday night, spilling out of a limo at the start and exposing her blurred "lady parts" for all the world (or, at least, hundreds of viewers) to see.
Martin is 68 but was rolling around like she was 28 in the Screenie opener. Her Britney Spears crotch gag was more "Blurries" or "Spreadies" than Screenies. "Talk about 50 shades of grey!" she cracked before sneaking in a Toronto tunnel reference. Like Martin Short before her, she brought a plucky edge to what otherwise seemed like a well-dressed pep rally written by network publicists.
While the bar wasn't set very high, Martin came prepared with better jokes than the recent Oscar and Grammy hosts. She joked that the Canadian Screenie gift bags were courtesy of Target. She said the Screenie red carpet was the only one where "they ask you to wipe your boots." Funny, self-deprecating stuff.
The two-hour gala, telecast not-quite-live from the Four Seasons Centre Toronto, came after a few thousand other awards had been handed out during Screenie week. When they were launched three years ago, the folks in charge at the CSAs made a promising effort to bring the number of awards down to a less laughable level. But like the price of gas it is somehow back up again–128 awards, or more than the combined trophies handed out at the Oscars (24) and the Grammys (83).
This is achieved through the folly of awarding trophies not just on merit but also on volume. Statues were handed out for most-watched in both the reality and drama categories. As was tweeted Sunday night, isn't this putting a hat on top of a hat? Isn't the fact these shows are popular reward enough? Should American Idol have won six straight Emmy Awards because it was America's most-watched show for that duration? Giving merit awards for ratings is simply finding any damn excuse to hand out more trophies.
On the other side of things, the huge number of categories translates into multiple wins for shows not even in production or on the air anymore, such as Call Me Fitz. Find another awards show defined by the perception that it tosses awards willy-nilly to most-watched and most canceled.
The statue glut, as I've argued for years, might bring affirmation to a few extra folks (and sponsors) but devalues the honour to the Canadian public looking in on the industry back-slapper. There's a perception that everybody takes home something, that these are the "Needies," not the "Screenies."
That seemed reinforced Sunday night when the first presenters were almost all American. Host Martin is American born but earned her Canuck icon status on SCTV. Michael Murphy, Julianne Moore and Joanna Cassidy are all great actors who sometimes live and work in Canada but seeing them one after another at the start (along with London-born American TV action hero Kiefer Sutherland) re-inforced the same old feeling that Canadian talent is not valued until they become American or at least get a Green Card.
At home on TV, it even sounded like somebody at the Academy turned the tinny sound up so the applause was greater when Moore deigned to grace us with her presence. To paraphrase Sally Field, "We love you, we really love you!"
Why this rankles is that it is so unnecessary. Canadian television production is thriving and booming from coast to coast. So much creativity is on display. There is plenty to celebrate without importing Americans to take our bows. That's not the impression these Screenies leave with viewers. Instead you are left with a sense that french Canada, Quebec, makes a lot of cool, award-worthy, indigenous film and TV and english Canada makes stuff we hope Americans will like (and buy).
The optics will never be right at a televised gala for these awards until those in charge simply celebrate the industry for what it is and not for what it isn't. Don't be going around like somebody who needs a diaper change complaining that a certain show shouldn't be eligible because it has outside funding. Television has become a borderless business. If your show has taken a dime from a Canadian funding agency, taken advantage of provincial tax credits and/or enjoys investment from a foreign co-producer, God bless you. That's how television gets made and seen. That's how hundreds of Canadians who deserve credit and awards made their living.
The best moment at the Screenies, for me, was when Jared Keeso accepted his trophy as Best Actor in a drama for his work last season on 19-2. Keeso thanked his brother, sister, mother dad, co-stars and producer. In that order. He thanked Listowel, Ontario. His speech was heartfelt, modest and genuine. You felt happy for him because he knew who he was, how he got there and what he had achieved. That's how to do it.