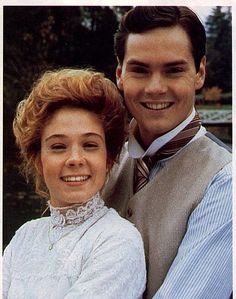 Back before Netflix, Amazon, Shomi or Crave, before DVDs and PVRs, before YouTube or Facebook, back when cable or specialty were blips on the TV landscape, there was Anne of Green Gables.
Executive producer Kevin Sullivan's sweet valentine to popular Canadian literature premiered 30 years ago this Christmas. It was an enormous hit, pulling five million viewers back when overnights meant "total." In terms of popularity it was Canada's Roots, a miniseries everybody saw and talked about around this thing called the water cooler.
News Saturday that one of the stars of the miniseries, Jonathan Crombie, had passed away from a brain hemorrhage at 48 was hard to digest for many Canadians of a certain age. Crombie played Gilbert Blythe, Anne Shirley's young love interest, a lad who made fun of her carrot-coloured hair and freckles until he could no longer hide the fact he was crazy bout the girl (played by Megan Follows, now on Reign). Crombie, still a teenager at the time, played Gilbert to earnest perfection. The two lead characters seem locked in memory, a Hallmark moment of Canada's idealized past.
We mourn the loss of an actor and individual who died too young and offer condolences to his grieving family. Canadian TV viewers feel another loss, too, one usually associated with the passing of characters on popular shows.
This was more than the loss of a second banana on an American sitcom, however. While Crombie went on to success on stage at Stratford as well as on Broadway in The Drowsy Chaperone, his appearances a generation ago over a few hours of this iconic Canadian drama remain so indelible. So many comments on Twitter identify him as a "first boyfriend." He seemed the sort of shy suitor many Canadians related to or knew, or wanted to date or were. He was Canada's boyfriend before George Stroumboulopoulos rendered the term ironic, back in a kinder, gentler time.
Maybe we mourn that loss as much as anything today, a connection to our youth and Canada's past; the passing, as Anne Shirley would put it, of a kindred spirit.