I had a great time in Nashville recently with Kortney and Dave Wilson, hosts of W Networks's new Masters of Flip. It premieres this Tuesday at 10 p.m. on W Network.
Some may know the Canadian-born country music couple from their CMT reality show of a few years back, Meet The Wilsons. The each migrated from various ends of Ontario several years ago, met in Nashville and have raised three children while pursuing music careers.
When the music business got a little tougher after the 2008 recession, they realized they had another talent to fall back on–house flipping. Dave spots houses in the US$100,000 range in Nashville, the couple design improvements and contractors would hammer them out. Kortney puts on her real estate agent hat and started selling. Soon, the Wilsons were making more money from their real estate transactions than their recording careers.
The key is finding those cheap homes in the first place. Both Dave and Kortney admit that is getting harder to do in Nashville, a booming city with great restaurants, attractions and a modern skyline. An impressive downtown features the new Country Music Hall of Fame and Museum. The Predators and Titans are top draws.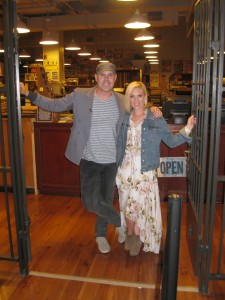 Even with house prices climbing higher, the Wilsons are still masters of flip. I was shown a duplex bought for $250,000. The Wilsons turned it into a single family dwelling, doubled the square footage with a spectacular kitchen addition in the back and a larger second story addition and transformed it from a bleak fixer-upper to a showcase special.
Standing in one of their house projects, where rooms were being stripped down to the studs, I remarked that this would be a perfect place to shoot a music video. Dave, who has a quick sense of humour, shoots that idea down fast in the video at the top of this column.
That video was shot in the dining room of their most expensive remodeling project. The Wilsons' spent $250,000 fixing the place up and were asking $699,000 for the finished dwelling. The large kitchen with its vaulted entrance, was pretty impressive.
The series features 12 houses over the 12 hour-long episodes. Read the full story here.