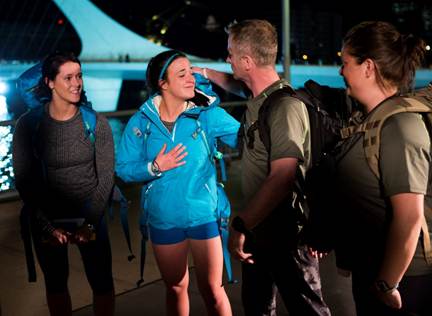 WARNING: SPOILER ALERT! If you missed last night's third episode of The Amazing Race Canada, you missed one of the most exciting finishes yet.
I was there in Buenos Aires, Argentina, last May, embedded with the cast and crew when the episode was shot. I've often wondered how "cooked" these finish line segments can get, but I can tell you it was all real as cameramen, sound crews and even host Jon Montgomery scrambled to stay on top of the dramatic race to the finish line.
The big stumbling point was a blind soccer challenge. One teammate was blindfolded and had to kick a ball around some pylons and then kick it into a net from 30 feet. If you don't think this is hard, try it.
Teams took hours to complete this task. It really screwed up Nic and Sabrina, who were cruising up to that point. Both speak Spanish, a huge advantage with the cab drivers. They had been to Buenos Aires before.
Their undoing, ironically, is that Nic is a soccer coach. He clearly expected to breaze thru this yet the blindfold took away every advantage. He jinxed himself with repeated tries, growing more and more frustrated.
A big mistake was not switching roles and coaching Sabrina through the course. It took Neil Lumsden one try before he figured out he'd be more valuable as a coach than a player. Daughter Kristin took her dad's smart instructions ("Three o'clock… now 9 o'clock..") and got smartly on their way. They won this leg, scoring trips to Beijing, China, plus six months worth of gas.
Nic and Sabrina wasted two hours and then gave up, taking a two hour penalty. This seemed like a decent move–it looked like nobody besides Neil and Kristin were going to ace the soccer challenge–and the two proceeded to the finish line, where they had to sit and watch to see who might catch up.
Nothing happened for the first hour, but then, a steady parade of contestants crossed the finish line. Nic and Sabrina looked like they could both throw up.
With less than two minutes to go, they got the signal that their penalty time was up and they were spared the agony of defeat. Thirty seconds later, Calgary police officers Brian and Cynthia could be seen crossing the Puenta de la Mujer (Woman's Bridge) in Puerto Madero, within sight of the Pit Stop. They froze, however, and started turning back. It was nighttime, quite dark, and the two later said they were confused. The signage, all in Spanish, was little help. Cynthia could see camera crews and lights but thought it might be a set up for post-race interviews (scenes grabbed as racers complete the day's run). They started crossing back over the large, cantilevered bridge–until they spotted the only other competitors left, Newfoundland cops Dana Hayward and Amanda Johnston, running their way.
The fact Dana and Amanda had their own camera crew running with them gave them away. Brian and Cynthia turned back and crossed the bridge and just made it before eliminating the Newfoundlanders from the race.
Crew members could not remember a closer finish for The Amazing Race Canada.
Wednesday night's episode will encore this Saturday, July 25 at 8 p.m. ET/PT and Sunday, July 26 at 5 p.m. ET/PT on CTV and CTV GO – and is also now available on demand at CTV GO.