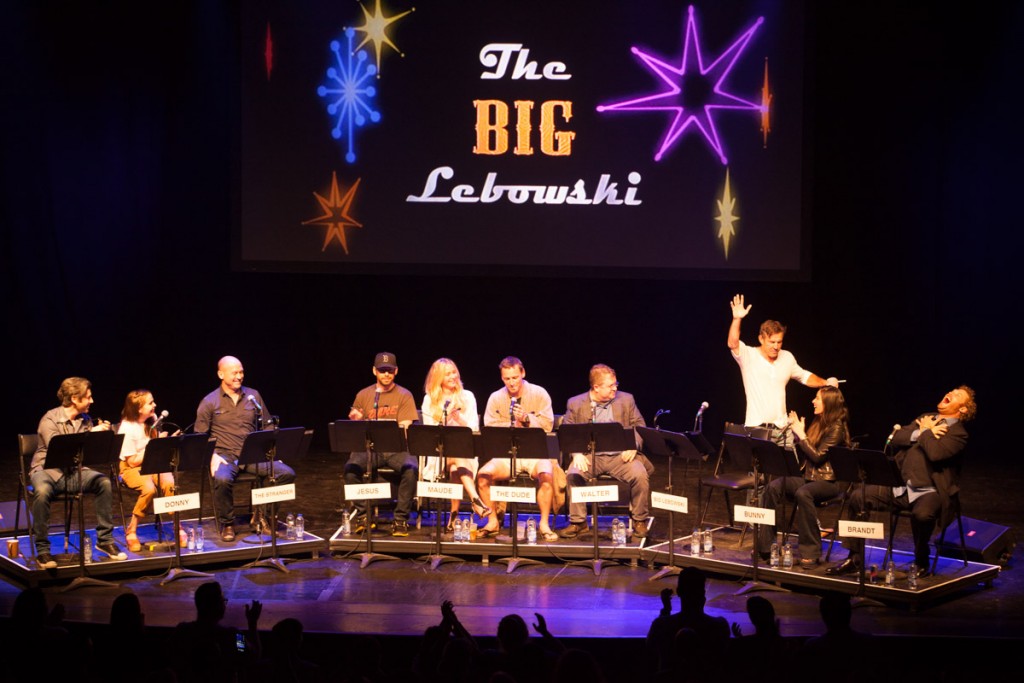 MONTREAL–Over 1700 patrons packed the Olympia Theatre Friday night to see what for many was the big draw at this 33rd annual Just For Laughs comedy festival–a live cast reading of "The Big Lebowski."
Director Jason Reitman created the Live Read Series and conducts readings once a month in Los Angeles. For this Montreal reading, sponsored by Telefilm and The Canadian Film Centre, Reitman borrowed Michael Fassbender, Jennifer Lawrence and Olivia Munn from "X-Men: Apocalypse," which is shooting in town, plus  several JFL stars. A late addition was Dennis Quaid as the Man himself, the Big Lebowski.
Fassbender got completely into his role as "The Dude" (made famous in the 1998 film by Jeff Bridges), right down to his rumpled robe and constantly lit cigarette. Patton Oswalt was Walter Sobchak (John Goodman) and Lawrence read for Maude (Julianne Moore).
Veteran voice man Mike Judge, at JFL with the cast of his HBO comedy Silicon Valley, added a great deal to the reading as the voice of the narrator/stranger, and sounded exactly like Sam Elliott. High-volume Silicon star TJ Miller was hilarious as house flunky Brandt, a part made famous by the late Philip Seymour Hoffman.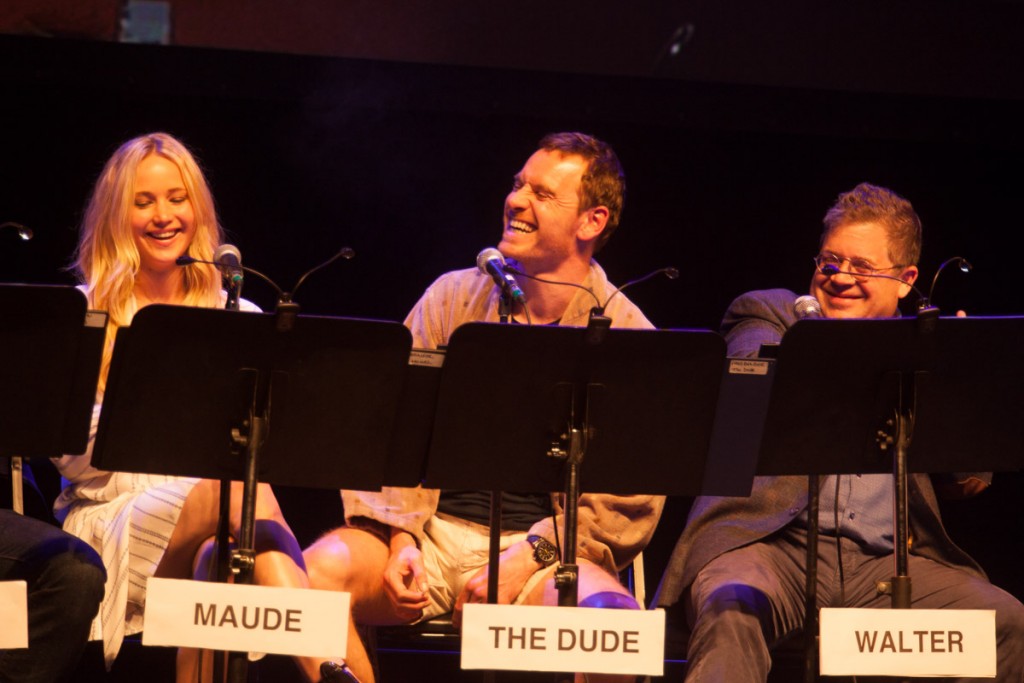 It was Oswalt, however, who stole the show. He had the audience howling as know-it-all bowling buddy Walter. At one point he asked to read the "edited for TV" version of the dialogue: "Find a stranger in the Alps" is funnier than the vulgar original.
Oswalt joked that Fassbender was getting "a little too method"–hinting that the puffs of smoke on stage might be more of the herbal variety. Fans in the second row told me after the show, however, that they didn't catch a whiff of anything too exotic.
Besides fetching smokes for Fassbender, a very blond Lawrence had less to do than the others and even had one of her few lines snatched at one point by Munn. Reitman had to set this all-star train back on the tracks.
Reitman has assembled other contemporary all-star casts to do similar readings of such film classics as "The Apartment," "The Princess Bride" and a little film his dad Ivan directed, "Ghostbusters."
The original "Lebowski" script, of course, is by Ethan and Joel Coen.