MONTREAL–They gave Mike Myers the Just For Laughs Lifetime Achievement Award Friday–and darn it if the guy didn't get all verklempt.
What he didn't get was dressed up, but there is a nice informal quality to these comedy awards. Myers was among an All-Star dais of comedy stars who sat on couches at the low-key awards ceremony, which took place at the Hyatt Regency Hotel.
The pride of Scarborough, Ont., thanked his late father "Eric Myers from Liverpool" for his sense of humour. He told a story of being taken to Expo '67 with his family and how his dad was too Scottish to spring for a hotel and they "camped" on government land. This backfired in the morning when they got crop dusted with DDT.
Myers also thanked a Who's Who of Canadian comedy legends who went before, starting with Wayne & Shuster and including Rich Little, the SCTV cast, Phil Hartman, Colin Mochrie, Scott Thompson and the other Kids in the Hall, Will Arnett and others.
Clips were shown from Myers' spectacular comedy career, from SNL through Wayne's World, Austin Powers and Shrek.
That stood in sharp contrast to Patton Oswalt's crummy clip reel, which consisted of one long, boring stand-up take, as he himself noted. Oswalt mocked the wonky "clown imp on an albino testicle on a crooked flashlight" statue but then also gave full credit to JFL for his career. His first visit to the festival was in '94 or '95 and he recalled "doing ecstasy and eating poutine" with Bob Odenkirk. Ah, the good old days. He was honoured as the Stand-up comedian of the year.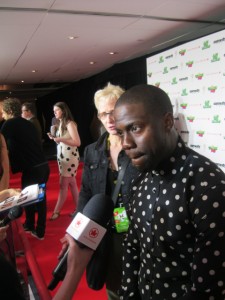 Hart also gave props to JFL."It all started for me here at this festival," he said, singling out several in the crowd as mentors. He was introduced by Dave Chappelle, who called Hart, "The Bill Cosby of his generation if Cosby had roofied himself."
Also honoured were Ellie Kemper (Unbreakable Kimmy Schmidt) as Breakout Star of the Year and Veep creator Armando Iannucci as Comedy Writer of the year.
"Thank you for your needlessly offensive and racist remarks," Iannucci told host Jeff Ross.
Ross called comedy, "Canada's greatest export." He also called Bruce Jenner, "Bruce Gender."