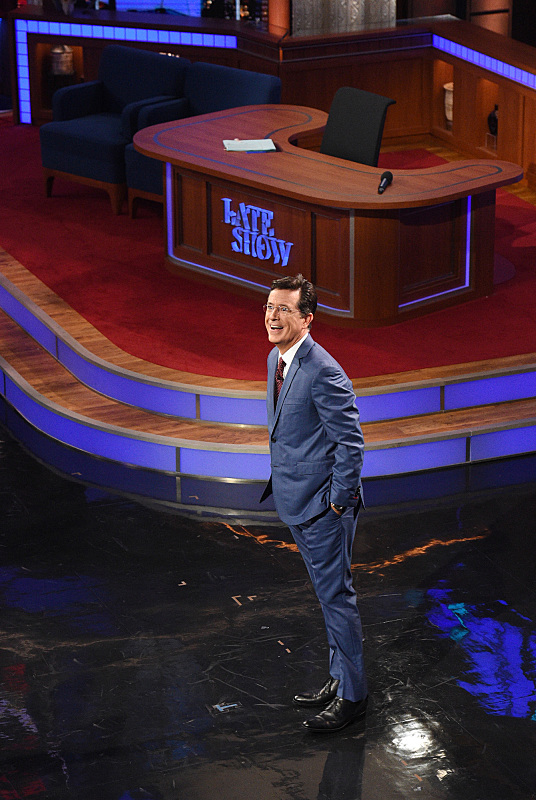 Tim Goodman has a rule: never review a new late night talk show until about 100 episodes.
That makes sense to me, especially after watching Tuesday night's premiere of The Late Show with Stephen Colbert. So consider the following just notes or observations.
The opener was overcooked. Colbert joked that doing a late night talk show episode was a breeze with nine months to prepare. Wrong–every minute was over-thought. There's just too much to get to–the new set, the new bandleader (Jon Batiste), the product placement shtick.

Colbert (right) came clean on his bias but did not go for the knock out with first political guest Jeb Bush

The show got better as it went along. Colbert looked nervous in front of 300 adoring fans in the studio audience and a bigger, broadcast network audience. The desk bit with the Oreo cookies was a mess. The first interview with George Clooney was a dud. Colbert seemed much more at home goofing on political fodder Jeb Bush, although…
We still haven't met the real Stephen Colbert. That was the promise heading into Tuesday night's opener. There were glimpses, but the show was best when he slid back into that fake anchorman character, especially in the back half of the show. He'll have to work past the temptation to reach for his more comfortable, default, fake self. (Although, it could be argued, David Letterman mainly showed us his fake self for 33 years.)
The opening, 4K, glam shots of Manhattan looked spectacular.
The opening theme song is completely forgettable.
Being back in the Ed Sullivan Theater–despite the spectacular make-over–made me miss Dave and Paul.
The gag with CBS CEO Leslie Moonves sitting in the front row ready to pull the lever for The Mentalist backfired because there were moments in the first half we all wanted him to pull the lever.
The barrage of network promos for the new shows Global has rented for fall got a bit much.
The show looked more fun for the studio audience than it did for the home viewer. Colbert played to the big room out front. He'll have to learn Letterman's trick of bringing the viewer right into the theatre.
It apparently took three hours to tape that first show. Both interviews looked choppy and the cuts killed the illusion that it was happening live–a sacred late night tradition.
Whew! Good thing I didn't really review the show, huh? Colbert will rock this, give him time. The first Kimmel, Conan and Ferguson were nothing like their shows 100 episodes in. (One of Letterman's best shows ever, however, was his first CBS night–although he had 11 years to work out the kinks on NBC).
Colbert's guests Wednesday night are Scarlet Johansson and Kendrick Lamar with Joe Biden Thursday and Amy Schumer Friday.